Augmented Reality Gets 'Sticky'

Antony Savvas
5/2/2017
Post a comment

Customer-facing organizations and others are already using augmented reality to build both their customer base and their business processes, finds Antony Savvas.
Is London Really Becoming a Smart City?

Antony Savvas
4/24/2017
3 comments

Have London's ambitions to become a 'smart city' come to anything? With some observers feeling London is lagging behind other major cities, Antony Savvas looks at what is happening on the ground.
Maria McSorley, Site Editor, TechX365, 6/18/2018
The cloud has completely changed the way we shop, from the web to mobile and now voice.
Elliott Heath, Reporter, TechX365, 6/18/2018
Blockchain can help startups gain the trust of investors and help them to attract funding, explains San Francisco-based Alexandra Alden.
Phil Oakley, Site Editor, TechX365, 6/18/2018
GoCompare has ranked each UK city in terms of broadband connectivity, mobile connectivity and WiFi hotspots. And it's bad news for Exeter...
Elin Gronow, Content Marketer, Connected Innovation, KNect365 TMT, 6/15/2018
Sam Shah from the NHS and Hayley Cochrane from the Mail Online tell the Digital CX World audience about how their organizations are undergoing digital transformations.
Phil Oakley, Site Editor, TechX365, 6/15/2018
Reporting on data and citing stats is for robots. Be a human. Tell stories. That's the advice from Emily Hunt, chief data storyteller at 36ns, who spoke at the Data Festival London this week.
All resources
Thursday, May 24, 2018
12 pm London / 7 am NY

Tech is transforming the way we live, travel and do business. Industry leaders will discuss the challenges and opportunities we're seeing as our cities become increasingly connected.
Aoife Geary, Content Editor, Jobbio, 6/13/2018
Why is London's startup scene the best in the world, bettering Silicon Valley, New York City, Tel Aviv and Beijing? Aoife Geary from Jobbio explains.
Farah Cuyvers, 6/13/2018
The global startup ecosystem is booming right now.
Joćo Fernandes, Founder, Buzzstreets, 6/13/2018
Indoor navigation is going to completely change our shopping centres and the entire retail experience.
Neil Murray, co-founder and CTO, Mimecast, 6/12/2018
How can we secure London's tech talent for future generations to benefit from?
Trak Ellis-Hill, Executive Creative Director, MOFILM, 6/12/2018
Is it possible to have a full-time job in tech and have children?
Sponsored Blogs, 6/12/2018
The Quintessence AM37 lets you try out the same boat James Bond would use in a full VR experience.
All Sponsor Blogs
Industrial IoT Usage & Maturity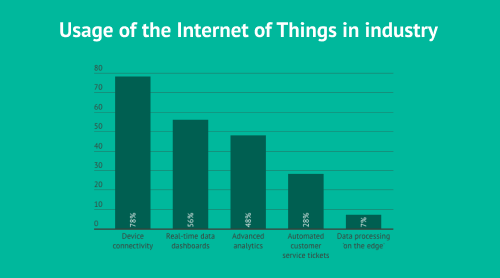 Infographics archive