Cities are "where the future happens first." An oddly contradictory statement when you consider many of our historically longstanding European cities. Often you will see brand new developments going up within meters of the medieval (and older) remnants of our cities' yesteryears. These same cities have been around for centuries; many times built up, torn down, destroyed, and always rebuilt and born again pushing their vast potential to its limitations.
And despite these limitations we continue to flock to our urban centres at an unprecedented rate. For instance, take this nugget of information: By 2050, urban centres will account for over 80% of the total European population, up from about 50% in the mid-twentieth century. And for all their continued growth, glitz and glamour, economic significance, societal innovation, and of course, their cultural and political influence, cities are facing ongoing challenges that many of us urban-dwellers take entirely for granted.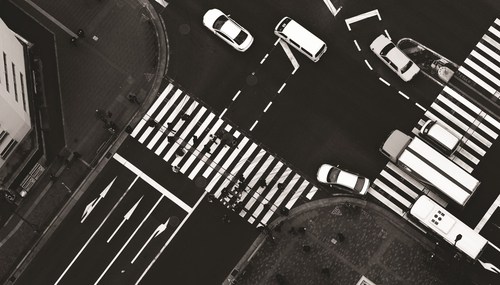 Perhaps the most oft-overlooked challenge is the less-than-sexy topic of urban logistics. Despite or because of their success, cities present particular challenges for logistics. As cities grow in population and economic activity, the demand for goods and services within them increases, leading to growing movement of both people and freight. This then leads to an increase in demand for modern transport infrastructure that our historic cities simply cannot adequately accommodate. And similarly, despite or because of technological innovation, cities are being pushed to a breaking point. For instance, the 20th century rise of the automobile has pushed emissions and air pollution to the forefront of urban policy. The dawn of the internet and rise of e-commerce has fundamentally changed both our social lives and consumption. The ubiquity of the mobile phone has turned us into an on-demand culture wanting our food, public transport and information, to arrive not now, but rather 30 minutes ago! These all present enormous logistical complications, but yet, we should not be looking to cast blame on technology, but rather leverage it to solve these complications.
The most socially-conscious innovation in the field of logistics (or at least the one I'm asked about most often) is the use of drones for delivery of our goods. Amazon has very actively pushed awareness of this idea with Jeremy Clarkson's Prime Air advertisements, yet, consider the practicality of thousands of online orders being fulfilled by thousands of drones buzzing above our heads as we navigate our city streets. It's far safer and reasonable to keep the robots on the ground, which explains why there are currently trials of automated delivery robots ongoing in London, Hamburg and Bern.

Moving this automation off the pavement and onto our congested streets may likely be the inevitable solution. We already know that autonomous vehicles could transform the way people safely and reliably travel on a day-to-day basis, but on top of this, could also revolutionize our means of freight delivery. Traditional automotive companies such as Daimler and Volvo have invested heavily in the concept, but so too has the prominent people-moving disruptor Uber. In 2016, Uber acquired U.S. based Otto, an autonomous trucking company, in an apparent attempt to corner the industry. Uber has also managed to take its popular app and software and repurpose it for logistics. It has developed UberRUSH in select US cities to do for retail what it has done for people – pair a customer with a driver for the delivery of their order in one seamless and open app. This concept of MaaS (Mobility as a Service) helps keep shipping costs low and promotes both transparency and reliability, all while relying on modern infrastructure in the form of existing drivers limiting further congestion and pollution.
And if limiting pollution and promoting more sustainable logistics is the ultimate aim, there are various innovative solutions already under way and more being actively researched and trialled. Removing diesel from the road (and most lorries are in fact, diesel) is the obvious choice here and several cities have already vowed to remove diesel from the road completely by 2030. The question becomes -- What is the most efficient way to replace the ever-reliable diesel engine? Perhaps rely on a multi-modal platform where train or water-based delivery brings goods into the city centre where they are subsequently distributed by bicycle or even electric or natural gas engines? Mercedes has already begun development of its "Urban eTruck" capable of carrying 26 tonnes, removing emissions and also the unpopular noise pollution associated with trucking. Couple a silent, electric lorry with the aforementioned autonomous-driving technology and you can consider shipments at night or other restricted hours effectively alleviating traffic.
And if traffic reduction is a goal, consider placing connected sensors throughout the city. Relying on potential IoT innovation may connect our vehicles to one another (V2V) or to our built infrastructure (V2I) and allow real-time traffic management and route management that prevents costly shipping delays and congestion.
Bottom-line, cities act as incubators for future innovation by their intrinsic nature. City planners, authorities and governing bodies often overlook innovation when it comes to logistics and often do not consider the importance of moving our people and goods within the city. Regardless, there is definitely room for an earth-shattering innovation or killer app to be developed in the next few years that helps promote sustainable and efficient urban logistics. If our longstanding cities are to effectively move into the 21st century and beyond, we have to look beyond 20th century logistics models and embrace technology as the leading enabler to do so.
Find out more: http://www.jll.eu/logistics-cities
— Ryan Loftus, Senior Analyst, EMEA Research – Industrial & Logistics – JLL
Ryan.Loftus@eu.jll.com