We have put a little infographic together to share our key highlights from 2017 so far…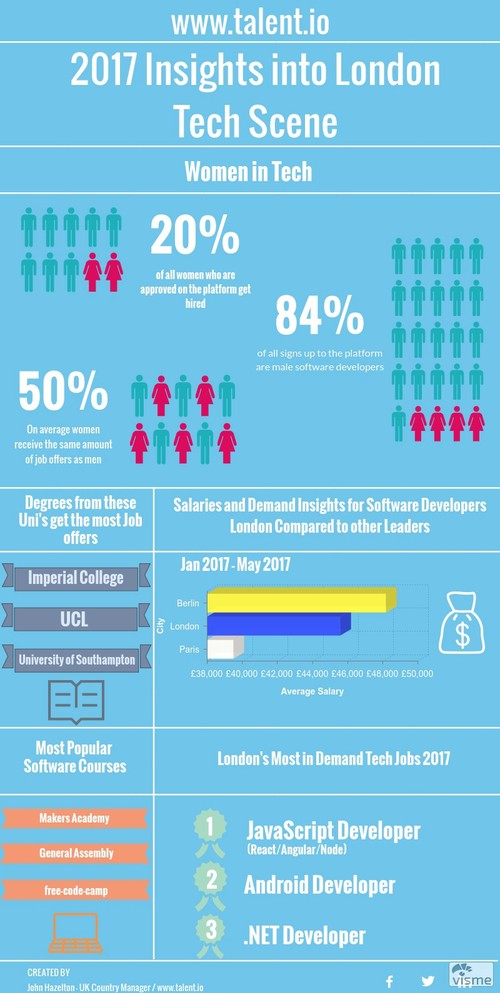 Women in tech
What our data has shown this year is that whilst there are less female engineers, which is well documented, there appears to be no bias between men and women when it comes to the number of offers they receive.
Events and partnerships with organisations like GeekGirl are helping talent.io attract a lot of female talent to the platform to help them find jobs in the London Tech Scene.
Salaries and demand
London salaries are still very competitive in comparison to it's main European rivals. What we have seen is that talent is very scarce in Berlin so this appears to drive up salaries. Where as in the UK there appears to be a lot of talent, but the companies are competing to vie position to acquire the best developers.
I don't think it will be a shock that Javascript is the most in demand tech stack at the moment from React and Angular to back end Node: What is more notably interesting is that smaller organistations are using .NET to develop their platforms in favour of more open source technologies.
Universities and courses
According to our data, if you have a computer science degree from Imperial College, UCL or The University of Southampton you are most likely to receive job offers from companies.
And if you are retraining or deciding to change the technologies you develop in, the three that appear to be very popular and well received from companies are Makers Academy, General Assembly and free-code-camp.
London Tech Week
There was a great event, "Think Different", that featured speakers from Monzo, EDITED, Neyber, Onfido, GrantTree and HustleCrew. The event was a sell-out, but you can find out what happened from our short video produced at the event:
— John Hazelton, Country Manager, talent.io