ARM Prepares to Put Chips in Your Brain

British company ARM, which was acquired by SoftBank in 2016, is mostly known for its line of low-power processor designs used in many smartphones and tablets. Now, however, the the company has announced a new partnership with the Center for Sensorimotor Neural Engineering at the University of Washington, in order to develop implantable, bio-medical chips.
This basically means that ARM is developing chips that go in your brain, providing an interface between computers and our biological control centers. This will probably be used for next-generation prosthetics, such as mind-controlled arms of hands. However, the current issue, as Engadget notes, is having sensory feeling on these prosthetics. The challenge is adding artificial nerves to the prosthetics in order that the brain chip can "feel" what it is touching, so it can pick things up or kick something as much like "the real thing" as possible.
ARM will be using its existing Cotez-M10 chips for this purpose, which is the smallest chip ARM makes. The US researchers, meanwhile, already have some "early prototype devices," Peter Ferguson, ARM's director of healthcare technologies, told the BBC. "The challenge is power consumption and the heat that generates. They needed something ultra-small, ultra-low power."
The researchers are currently working on a system which will allow patients with spinal cord injuries to control their bodies when they otherwise wouldn't be able to. This means the ARM chips need to act as an interface between the brain and the spinal cord. However, these signals are very complex and decoding them will take both the researchers and ARM time. But when it concludes, it will give these patients a much better quality of life.
— Phil Oakley, Site Editor, TechX365
Phil Oakley, Site Editor, TechX365, 8/17/2017
SoundCloud will continue as an independent company after investors agreed to inject more money, as CEO Alex Ljung steps aside.
Phil Oakley, Site Editor, TechX365, 8/16/2017
Industry research firm Gartner has projected that global spending on cybersecurity will reach $86.4 billion by the end of 2017.
Phil Oakley, Site Editor, TechX365, 8/16/2017
imin, an east London startup, is using open data to change how people think about and book physical activity sessions at their local gym, leisure center, football pitch or swimming pool.
Phil Oakley, Site Editor, TechX365, 8/16/2017
Apple R&D partner Asynchrony Labs has announced it has opened its European headquarters in London's Canary Wharf business district.
Phil Oakley, Site Editor, TechX365, 8/15/2017
UK recruitment firm Robert Half has published a report on how the executive suite and workforce in general is changing with the addition of automation, big data and analytics.
Innovation Hub, 7/19/2017
The Internet of Things, Blockchain and other drastic digital disruptors are already making big waves in the energy sector.
Microsoft reporter, 7/7/2017
The UK's history of embracing technology and innovation means its capital is well placed to benefit from the "fourth industrial revolution," says Microsoft UK CEO Cindy Rose.
Mark Miles, Rendermedia, 7/3/2017
Rendermedia's Mark Miles looks at how technology is changing the way we view content.
Emmanuel Freund, Blade, 6/19/2017
Emmanuel Freund, CEO and co-founder of the French start-up Blade, creator of Shadow, the first high-end PC entirely based in the cloud.
Ryan Loftus, JLL, 6/13/2017
JLL senior analyst Ryan Loftus looks at the potential impact of technology innovation on urban logistics.
Michael Davis, JLL, 6/13/2017
Michael Davis, Head of London Unlimited at JLL, looks at trends in PropTech.
All Sponsor Blogs
All resources
Time to Hire a Data Scientist?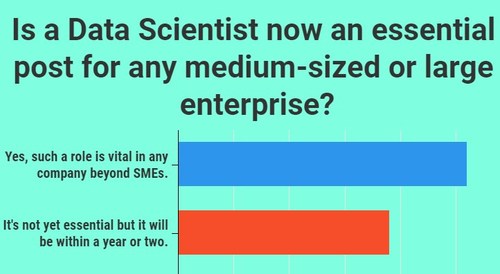 Infographics archive