There are many ways to test the capabilities of an artificial intelligence system, but there's one particular challenge that's favored by AI developers -- pitching their systems against a human counterpart.
For more than two decades, software engineers and researchers have been designing platforms that would enable computers to defeat humans at games. In 1997, IBM's Deep Blue beat chess grandmaster Garry Kasparov, and in 2011 Watson, another IBM research project, defeated its human opponents in popular US game show Jeopardy. In the past few years, the focus has been on designing a system that would be able to take on a human at Go, the ancient Chinese board game with more potential outcomes than atoms in the universe. Google acquired the company trying to achieve this, named DeepMind, and, in 2016, DeepMind's AI, AlphaGo, defeated legendary Go player Lee Se-dol 4-1.
Its next challenge was against world number one, 19-year-old Ke Jie, and today it won the first of three matches that will likely define the future of the entire game.
The game with Ke Jie was a close affair; at the end there was only half a point in it. Despite this, commentators say AlphaGo looked like winning from the early stages, with Ke Jie never really on the same page. This is significant: Ke Jie has decisively beaten Lee Se-dol on more than one occasion, so the main attention for this game was on whether AlphaGo could do the same thing to Ke Jie as it did to Se-dol. To put it bluntly, it did.
As with the former game, the moves AlphaGo makes are sometimes not comprehensible to human players, not even those on the level of Ke Jie. However, interestingly, Ke Jie had learnt from the previous AlphaGo matches, using one of the AI system's own (and previous used) moves against it early in the game. However, AlphaGo spotted this play and prevailed, stunning the Chinese prodigy, commonly called the best in the world.
AlphaGo has been taught through machine learning how to play Go at a hugely advanced level. DeepMind has used reinforcement learning to teach the AI. This involves giving the AI a task and, when completed, telling it if it did well or not. This is similar to the way humans learn -- for example, when teaching a child language, we make them work out the sounds and put it all together into a word, praising them when they get it right.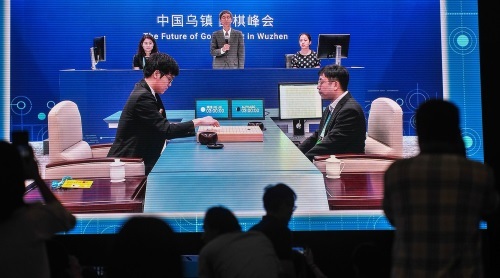 Because Go is a hugely complex game, with hundreds upon hundreds of potential plays every move, DeepMind has used two deep neural networks to simplify the moves AlphaGo can make. The first of these is the policy network. This filters down the hundreds of moves it could make to a handful that are promising or will benefit it. The value network then looks ahead to see how the game will pan out. However, the further it looks ahead, the more complex the game becomes. So instead of looking all the way to the end of the game, the value network only looks 20 or so moves ahead, evaluating who will be winning at that point.
If AlphaGo wins at least two games of the three game series, it will likely be playing above a level of human experience, leading it to be essentially unbeatable. For this to happen now is huge; it was thought, prior to the match with Lee Se-dol, that it would be at least a decade before a computer would beat humans at Go, due to the game's level of complexity and the number of possible outcomes.
"At the very beginning, I made fierce, targeted moves, two 3-3 moves. I copied some moves that AlphaGo liked to use in past games," said Ke Jie in the post-game press conference, as reported on the Deepmind website. "AlphaGo also made some unexpected moves as well. I was deeply impressed." Dennis Hassabis, DeepMind CEO, said that he had "huge respect" for Ke Jie, and it was a great game. "It was so close, and an exciting game for everyone. Huge respect to Ke Jie for pushing AG to its limits!"
Before the Le Se-dol match, many Go players privately expected AlphaGo to lose. So it's pretty fascinating to see how AlphaGo has gone from the underdog to the favorite to beat Ke Jie over three games. AlphaGo's next match against the Chinese player is on Thursday, and the finale is Saturday. The full schedule is available here, while a full AlphaGo-Ke Jie game report is on DeepMind's site.
— Phil Oakley, Site Editor, TechX365