Back in May, Mayor of London Sadiq Khan announced that he was beginning a search for a chief digital officer for London, to "make London an even smarter smart city and use our incredible technological abilities to the best effect." However, two months have now passed and, other than a passing comment at the launch of London Tech Week, the CDO role hasn't been mentioned. So where is London's CDO? (See Wanted! Chief Digital Officer for London.)
A chief digital officer may sound more like a role for a large tech company than a global city, but it might be exactly what London needs to flourish in an increasingly competitive global market. Generally, a CDO determines a company's digital strategy in relation to its business and revenue. While the role won't be exactly the same for London, it is likely that the appointed person will have dominion over all things tech in the city, whether related to funding, startups, the continuing growth of East London's Tech City hub, or the tech giants setting up shop in London, as Snap Inc. did recently.
Khan's goal is to make London the first real "smart city" in the world. While that may sound like an irritating, meaningless buzzword, it does have relevance: A smart city, for example, could use electric public transport where possible to reduce pollution and smog. As time goes on, it's likely that publicly owned vehicles or taxis would become semi-autonomous, communicating with one another to reduce congestion. A CDO would oversee this development and make sure the vehicles were safe to use on the road and to carry passengers.
Another smart city innovation might be the machine learning-powered software monitoring the hundreds of CCTV cameras in London, and making recommendations on resource allocation, traffic congestion and crime. Once again, a CDO would oversee the process, helping to negotiate technology contracts and recruit software engineers. (See Nvidia Taps AI to Monitor CCTV in Smart Cities.)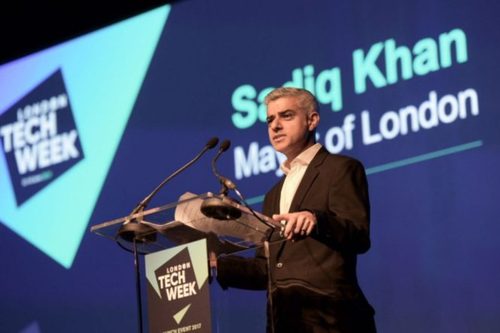 Since Khan's brief comment at London Tech Week last month, there has been no reference to a CDO's appointment, or even news on a shortlist of candidates for the position. The appointment, however, would fulfill an election pledge Khan made when campaigning for the role of Mayor of London in 2016, and therefore looks like an important obligation. When asked for comment, the Mayor of London's press office told TechX365, "We are currently in the recruitment process so there isn't more we can say at this stage." Does that mean they're having trouble identifying candidates? It's hard to tell. (See London's Mayor Unveils Clean Tech Incubator.)
Whatever the situation, the CDO could have enormous influence over London's digital future. Helping to create one of the world's first "smart cities" would surely appeal to lots of current and aspiring CDOs internationally.
— Phil Oakley, Site Editor, TechX365