Elon Musk Might Build a Hyperloop Network After All

Elon Musk, the poster boy for future tech, hasn't given much attention to hyperloop, even though SpaceX, one of three companies he leads, currently owns the trademark. But that all looks set to change. Bloomberg is reporting that Musk plans to use The Boring Company, another of his companies, to build an underground hyperloop across several American states.
Musk is currently CEO of three companies: Tesla, SpaceX and The Boring Company. The latter is designing a tunnel boring system which will be able to dig under Los Angeles and "solve" the city's chronic traffic congestion issues by using underground platforms to transport cars through the tunnels at speeds of more than 100 MPH. Bloomberg's report says that Musk now wants to build large underground tunnels across US state lines, linking major cities to a hyperloop system.
Musk has a reputation for setting hugely ambitious goals, such as getting humans to Mars by 2025. The hyperloop project is not quite as outlandish, and The Boring Company is supposed to be exploring how to build underground tunnels at a cost-effective price. Yet Musk previously complained, when publishing a white paper on hyperloop and other documents, that he did not have enough time between Tesla and SpaceX to work on building out the hyperloop.
Other companies building hyperloop systems at the moment -- including Hyperloop One and Hyperloop Transportation Technologies -- are making slow but steady progress on the technology underpinning the transport system. Hyperloop One has tested a passenger pod using a five-mile test track set up in the desert near Las Vegas, recording a speed of 192 MPH. Even so, that is nowhere near the speeds of 760 MPH that Musk anticipated in his white paper.
The latest report suggests Musk has changed his mind about not having enough time to build a hyperloop. But then this is Musk -- it's hard to know what he's planning, most of the time.
— Phil Oakley, Site Editor, TechX365
Phil Oakley, Site Editor, TechX365, 8/17/2017
SoundCloud will continue as an independent company after investors agreed to inject more money, as CEO Alex Ljung steps aside.
Phil Oakley, Site Editor, TechX365, 8/16/2017
Industry research firm Gartner has projected that global spending on cybersecurity will reach $86.4 billion by the end of 2017.
Phil Oakley, Site Editor, TechX365, 8/16/2017
imin, an east London startup, is using open data to change how people think about and book physical activity sessions at their local gym, leisure center, football pitch or swimming pool.
Phil Oakley, Site Editor, TechX365, 8/16/2017
Apple R&D partner Asynchrony Labs has announced it has opened its European headquarters in London's Canary Wharf business district.
Phil Oakley, Site Editor, TechX365, 8/15/2017
UK recruitment firm Robert Half has published a report on how the executive suite and workforce in general is changing with the addition of automation, big data and analytics.
Innovation Hub, 7/19/2017
The Internet of Things, Blockchain and other drastic digital disruptors are already making big waves in the energy sector.
Microsoft reporter, 7/7/2017
The UK's history of embracing technology and innovation means its capital is well placed to benefit from the "fourth industrial revolution," says Microsoft UK CEO Cindy Rose.
Mark Miles, Rendermedia, 7/3/2017
Rendermedia's Mark Miles looks at how technology is changing the way we view content.
Emmanuel Freund, Blade, 6/19/2017
Emmanuel Freund, CEO and co-founder of the French start-up Blade, creator of Shadow, the first high-end PC entirely based in the cloud.
Ryan Loftus, JLL, 6/13/2017
JLL senior analyst Ryan Loftus looks at the potential impact of technology innovation on urban logistics.
Michael Davis, JLL, 6/13/2017
Michael Davis, Head of London Unlimited at JLL, looks at trends in PropTech.
All Sponsor Blogs
All resources
Time to Hire a Data Scientist?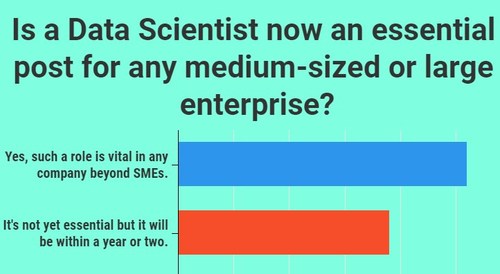 Infographics archive