WeWork, the co-working flexible office space startup with locations across Europe and North America, is investing $500 million in a new entity that will be the focus of its expansion in South East Asia and Korea.
And as part of this Asian expansion strategy, WeWork has acquired Singaporean co-working company Spacemob, whose CEO, Turochas "T" Fuad, will become managing director of South East Asia for WeWork. Spacemob has multiple locations in the Asian city-state, with more locations scheduled to open in Indonesia and Vietnam soon.
The investment in the region "reaffirms WeWork's commitment to scaling our business across Asia," noted WeWork co-founder and Chief Culture Officer Miguel McKelvey in a company statement. "We are amazed and humbled by the response to WeWork so far and look forward to continuing to build our vibrant and diverse community in the rapidly evolving region... I speak for the entire WeWork team and our 130,000 members when I say I am incredibly excited to have T and the team from Spacemob join us in our mission to create a world where people work to make a life, not just a living."
The move follows WeWork's recent funding round of $500 million from Japanese telecom giant SoftBank, which has a rich portfolio of investments, and Chinese private equity firm Hony Capital. That investment will fuel WeWork's expansion in China. (See SoftBank Acquires Robotics Firm Boston Dynamics From Alphabet.)
WeWork also recently formed a joint venture with SoftBank to bring the co-working specialist's model to Japan.
All of these developments will be of particular interest to tech startups, which often begin their lives in co-working environments that offer low-cost and no-commitment arrangements.
WeWork has operations in 12 countries, including Hong Kong, Israel, South Korea, Australia and 19 US states. Its main competitor is TechHub, which is much smaller, with two locations in London compared to WeWork's 16. However, TechHub boasts Google as a partner, with a popular hub in Campus London, Google's startup base in Shoreditch. Another competitor is RocketSpace, which will likely become of WeWork China's major competitors.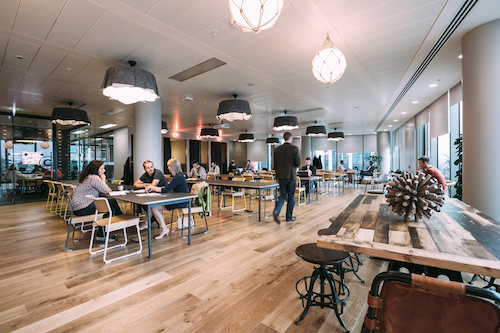 Co-working is a popular choice for many early-stage startups, as the cost is low compared to renting a full office and there is little commitment if the company decides to move or fails. In deskmag's Global Coworking Survey, it projected the number of co-working spaces worldwide will reach 13,800 by the end of 2017, compared to 8,700 in 2015. The number of users, meanwhile, is due to double since 2015, with more than 1 million projected for the end of 2017, compared with half that number in 2015.
While many major tech hub cities -- London, Tel Aviv, Berlin and multiple cities in Silicon Valley -- have been almost saturated by co-working spaces, it seems that more can be done in Asia, especially in the South East region and South Korea. WeWork has obviously spotted this opportunity and has started taking steps to expand. Co-working has fostered and incubated many successful Western startups on their path to success -- let's hope it can do the same in Asia.
— Phil Oakley, Site Editor, TechX365