Meet the Eight Startups in Verizon's New Media Startup Accelerator

Verizon may be best known as one of the largest US fixed line and network operators, but it has other divisions and interests too -- one of which is a startup accelerator. Verizon Media Tech Venture Studio has just announced the first round of startups that will be going through the accelerator, with a focus on media and analytics companies.
Each of the eight startups will receive US$100,000 in funding. The program lasts 14 weeks, and will take place at Verizon's new co-working offices, named "Alley,' in New York City's Flatiron district. Global advertising company R/GA is Verizon's partner in the accelerator; the agency will be offering its expertise in "strategic marketing, design, development, and branding services", while both Verizon and R/GA will offer partnerships and mentoring to the startups.
R/GA has experience with startup accelerators, as it already runs the successful R/GA Accelerator, which focuses on connected devices and the Internet of Things. One of TechX365's profiled startups, Chargifi, took part in the 2015 edition of that accelerator. (See Startup Profile: Chargifi.)
The startups involved in the Verizon Media Tech Venture Studio are:
It's not surprising Verizon is launching a startup accelerator and venture fund. Many large companies take startups under their wings in order to help them grow and, potentially, engage with them in the future. Large, established companies such as Verizon and R/GA find it hard to innovate within the confines of their operational structures, so they often turn to startups for innovation and then partner with them or acquire them. (See BT's Latest Infinity Lab Searches for IoT Startups.)
Verizon Media Tech Venture Studio's demo day is on 9 November. It's an invite-only affair where the eight startups will pitch to top venture capitalists, industry leaders, angel investors and key Verizon and R/GA executives in a bid to raise funding. Verizon and R/GA will continue to support the startups after the program ends, hopefully guaranteeing the long-term future of these eight promising startups.
— Phil Oakley, Site Editor, TechX365
Phil Oakley, Site Editor, TechX365, 8/17/2017
SoundCloud will continue as an independent company after investors agreed to inject more money, as CEO Alex Ljung steps aside.
Phil Oakley, Site Editor, TechX365, 8/16/2017
Industry research firm Gartner has projected that global spending on cybersecurity will reach $86.4 billion by the end of 2017.
Phil Oakley, Site Editor, TechX365, 8/16/2017
imin, an east London startup, is using open data to change how people think about and book physical activity sessions at their local gym, leisure center, football pitch or swimming pool.
Phil Oakley, Site Editor, TechX365, 8/16/2017
Apple R&D partner Asynchrony Labs has announced it has opened its European headquarters in London's Canary Wharf business district.
Phil Oakley, Site Editor, TechX365, 8/15/2017
UK recruitment firm Robert Half has published a report on how the executive suite and workforce in general is changing with the addition of automation, big data and analytics.
Phil Hails-Smith, 7/19/2017
Joelson's Phil Hails-Smith provides some key advice for tech startups.
Innovation Hub, 6/19/2017
In this podcast, UK Innovation Hub Outpost's Kate Jack shares with London Tech Week the three key attributes startups need to have, not only to survive but thrive in a market burgeoning with competitive startup talent and innovation.
Mike Jackson, Browne Jacobson, 6/6/2017
London is a great city and a tech hub but opportunities exist outside of the capital too, argues Mike Jackson.
Jessica Watkins, Tesco Labs, 6/5/2017
The seventh annual Tesco Labs hackathon, which boasted the theme of 'Future Trends,' attracted 16 teams of developers.
All Sponsor Blogs
All resources
Time to Hire a Data Scientist?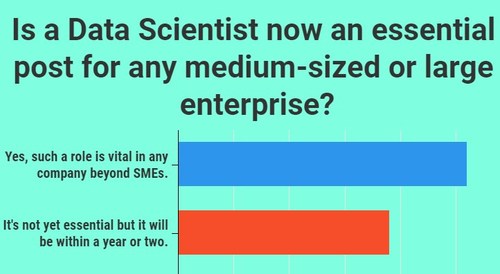 Infographics archive