Robots are one of those science fiction fantasises that, like other sci-fi dreams (such as jetpacks), has never quite come to pass, at least not in the way futurists from the late 19th century imagined. However, robots are increasingly being used all around us, right from software to building the products we use every day. One startup in London, Automata, wants to get in on that by producing inexpensive, lightweight robots that will change how small businesses use, and think about, robotics.
Automata Technologies was founded in March 2015 by Mostafa El Sayed and Suryansh Chandra, with the aim of "democratizing robotics." That may sound like a buzzword, but what it means is very real: Taking robotics from the domain of large, multinational companies and putting it in the hands of small manufacturers or individuals. These small companies can use robots to automate menial tasks and increase productivity, using Automata's robotic arm, dubbed Eva.

Eva has gone through many iterations in her two-year life. She started off as a weekend project by El Sayed and Chandra to build a robot arm. Both are qualified architects who wanted to build a robot that could be used as a low-cost solution for small manufacturing businesses. By mid-2017, they're onto the fifth iteration of Eva. Automata moves in a fashion similar to Intel's famous 'tick tock' iterating process: a big iteration, then a smaller one, then an even smaller one. Rinse and repeat. These iterations aren't on a schedule, but El Sayed says they've arrived at a rough three-month cycle that works well for the company.
When I saw the robot, she was quite different from the ones I'd seen before on the website and in Automata's promotional videos. Instead of a straight up arm that could twist and bend down to pick up objects, Eva now had a 3-part arm that curves around and connects via two joints. The 'head' of the robot, meanwhile, is much higher than in previous iterations. It gives it a much more "human" look, somehow, perhaps due to the curves.
What's unique about Eva is the lightweight, hackable design she possesses, making it easy for customers to modify her functions if needed. A photographer could purchase one of the robots and, instead of using her for manufacturing, position a camera on the arm, ensuring a solid, steady base for a camera. Similarly, a stop-motion animation studio could use Eva as a movable tripod for a camera, for use in tracking shots or the like.
However, Eva's real use is for use in manufacturing studios that need an inexpensive robotics arm for basic, repetitive tasks, like putting objects into a tray or positioning them on a board ready for moulding. El Sayed told me that Eva's tolerances are not as low as the more expensive, commercially available arms, purely because that's not what Automata is trying to do. It's trying to appeal to companies that don't need a tolerance level of 0.001mm, and instead need maybe within 1mm. El Sayed says there is big demand for this kind of product. The company has a few clients working with them to refine Eva and get customer feedback, straight from the source, meaning they can tailor the robot to what its customers want.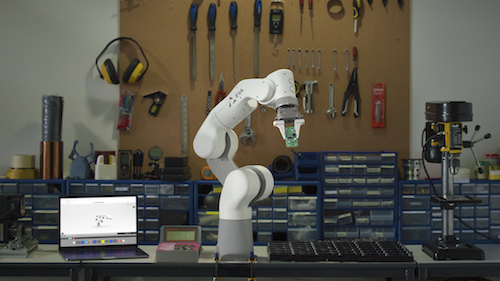 If Eva's first disruptive component is her price, the second is her software. Automata has designed a bespoke software package for Eva, named Choreograph. Instead of being a large, cumbersome programme for a PC or Mac, it's a web-based product that connects wirelessly to Eva over a WiFi connection. It can be used on almost any platform with a Web browser, including mobile phones and tablets. The interface is much like a 3D modelling program, such as Blender or Maya. Eva is in the middle, and when her arm is moved in real life, it moves in Choreograph almost instantaneously. It works in the other direction too: drag Eva's arm in Choreograph and the real thing will move too.
But the best thing about Eva is how she can be taught to carry out a task. By using the buttons on the front of her arm, you can show her what to do and the positions needed. The user records the key "waypoints in space" using one of the two buttons, telling Eva to record that point's 3D properties and location. Once the waypoints have been recorded, she will repeat the sequence and, if the waypoints have been recorded correctly, carry out a menial, repetitive task. This might be placing parts to be resin moulded into a tray, or it could be moving a small metal part from one position to another.
In the past, these are jobs that human workers would have done. But if a company only has one or two staff and one of those people is carrying out a menial, repetitive task -- moving 100 small metal parts and laying them out in a tray to be resin moulded, for example -- that is taking time away from an employee doing something more productive. If Eva can do these jobs, a human can do something a robot cannot do (yet) and therefore the productivity of the company will increase.
This is the core issue that El Sayad and Chandra are aiming to solve. El Sayad told me that, in theory, a small business buying Eva to automate menial tasks should be able to pay for itself through the extra revenue that could potentially be generated, much like how solar panels pay for themselves as the unused energy is sold back to the grid.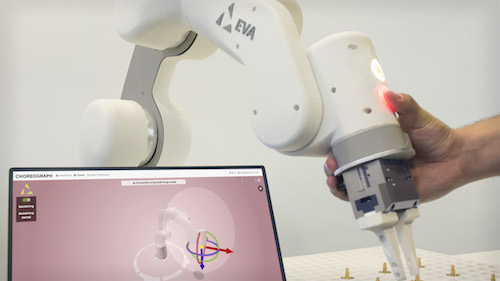 This doesn't necessarily mean people will lose their jobs: employees will likely be retrained if needed in a new role, especially if they are skilled worker already. This is especially true in small manufacturing businesses; while robots such as Eva can do some of the work, humans are still needed for the more advanced jobs and situations where robots can not help.
Eva is currently available for pre-order for £3,990 - that's £1,000 cheaper than the final price of £4,990. She'll ship in June 2018. A pre-order registration costs £250.
Robots such as Eva will bring big change to manufacturing and the wider economy in the next few years. Automata is fully aware of this fact: hopefully, it can stay ahead of the curve and keep producing robots like Eva that work alongside humanity to increase our output and productivity.
— Phil Oakley, Site Editor, TechX365