Startup Profile: Engie

If you have a car, you'll know how annoying and costly it is when it breaks down. Tel Aviv, Israel-based Engie is here to help, with some hardware and software that can monitor your car's health and provide you with invaluable data, all accessible on your smartphone.
Engie's core product is a small, palm-sized device that connects to a car's on-board computer (which can be found in petrol cars made after 2002 and diesel cars manufactured after 2005). By syncing with the Engie app (available for Android and iOS devices) through Bluetooth, the device can tell a driver about more than 10,000 issues, problems or faults with their car, from the battery running low, to dangerous emissions, to overall car performance. It's remarkable that such a small device can do this amount of diagnostic work on an item as complex as a car.
The Engie app on an Android device. Click images to enlarge.
The way Engie works is fairly simple: Once connected to the car's computer, the device does an initial scan of the vehicle, upon which it begins to measure the different variables and collect data. Once synced to the user's phone via Bluetooth, it begins to populate the app with the different variables such as data about engine health, temperature, fuel, brakes and battery. In addition, it'll remember the vehicle is located, a particularly useful function when a large car park has to be used.
The Engie device, which connects to a car's internal computer, and accompanying packaging. Click images to enlarge.
Engie was founded by Gal Aharon, Alon Hendelman and Yarden Gross in 2014. They teamed up with Waze co-founder Uri Levine to create what became Engie, with Levine the first investor and now Chairman of the Board. Engie was born out of the pain of a car breaking down and needing to be in the garage for days at a time; the co-founders thought they could do better, so created Engie. It launched in the UK in March 2017, and was present at TechXLR8 during London Tech Week, participating in the startup-focused Project Kairos.

The company has so far raised $3.5 million in funding. It has 20 full-time employees and is based in Tel Aviv, Israel, one of the world's key technology startup hubs. Also based there is Levine's Waze, which was acquired by Google in 2013 for $966 million. Other investors in Engie include Alrai Capital, Elevator Fund, and 8VC.
Also worth noting is that the company's Chief Product Officer, Alon Hendelman, participated in the Zell Entreprenuership Program, a top startup accelerator in Israel, in 2014.
Phil Oakley, Site Editor, TechX365, 9/20/2017
AmberBox uses machine learning to detect gunfire, meaning police turn up to a shooting faster.
Phil Oakley, Site Editor, TechX365, 9/19/2017
What does the public think about 'superintelligence' and its development?
Phil Oakley, Site Editor, TechX365, 9/18/2017
TechX365 talks to Christian Hernandez, co-founder and managing partner of White Star Capital, a venture capital firm with offices in London, Paris, Montreal and New York.
Phil Oakley, Site Editor, TechX365, 9/15/2017
According to a report from TalkTalk Business, only 18% of UK companies believe investment in artificial intelligence is a priority, while 3% of employees believe their company is "leading edge."
Phil Oakley, Site Editor, TechX365, 9/14/2017
Samsung is launching a new 'Automotive Innovation Fund' in order to accelerate the development of its autonomous driving technology and catch up with its rivals.
Wednesday, September 20, 2017
11am BST
The brutal truth for any startup is that the chances of long-term success are relatively slim – factors such as a lack of access to capital, poor management skills, a misguided business plan or sheer bad luck all weigh against fledgling companies. So what can startups do to maximize their survival potential? Tesco Technology, an influential and experienced organization, will talk about what they look for in a successful startup, how and why they work with startups and how rookie companies can make the grade and be a long-term survivor. This is a highly relevant webinar for any startup but a 'must attend' for any young company in the energy and retail technology sectors.
All resources
Phil Hails-Smith, 7/19/2017
Joelson's Phil Hails-Smith provides some key advice for tech startups.
Innovation Hub, 6/19/2017
In this podcast, UK Innovation Hub Outpost's Kate Jack shares with London Tech Week the three key attributes startups need to have, not only to survive but thrive in a market burgeoning with competitive startup talent and innovation.
Mike Jackson, Browne Jacobson, 6/6/2017
London is a great city and a tech hub but opportunities exist outside of the capital too, argues Mike Jackson.
Jessica Watkins, Tesco Labs, 6/5/2017
The seventh annual Tesco Labs hackathon, which boasted the theme of 'Future Trends,' attracted 16 teams of developers.
All Sponsor Blogs
Public Opinion of Superintelligence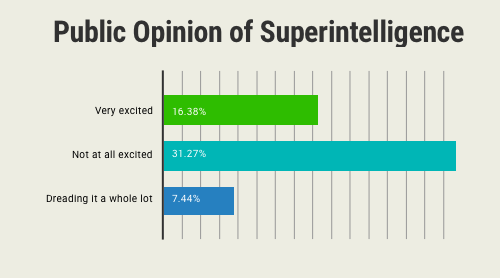 Infographics archive