There are not many autonomous vehicle startups in the UK, but one has just raised a serious chunk of cash. Cambridge-based FiveAI has scooped £14 million ($18.3 million) in Series A funding, which follows a £12.8 million ($16.7 million) government grant in April for StreetWise, FiveAI's driverless car consortium.
The Series A round was led by Lakestar Capital, founded by serial entrepreneur and investor Klaus Hommels. Amadeus Capital Partners, Notion Capital and Kindred also participated. As part of the investment, Lakestar Capital general partner Dharmash Mistry will join the FiveAI board.
FiveAI is working on autonomous vehicle technology for vehicle OEMs and manufacturers, or transportation companies. However, the company has more ambitious aims: it wants to enter the ride-sharing market with driverless cars, taking on Uber and Waymo by launching a driverless taxi service through the StreetWise project.
As the leader of the StreetWise consortium, FiveAI has been collaborating with various organizations, including McLaren Applied Technologies and Transport for London. The project's backers aim to test a driverless car service in London by the end of 2019, and reckon they can take on Uber in a "city-by-city battle." The company only has 30 employees compared with Uber's hundreds. But with the weight of McLaren Applied Technology, Transport for London and others behind it, StreetWise has a chance of overtaking Uber at the head of the ride-sharing market.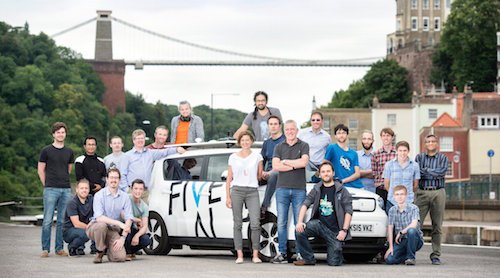 Driverless taxis are the holy grail for the ride-sharing industry, with both Uber and Waymo investing heavily in autonomous driving R&D. Both companies also looking into self-driving trucks, which are seen as a major growth opportunity in future. (See Google's Waymo Could Be Worth $70B by 2030 – Analysts.)
In an interview with TechCrunch, FiveAI co-founder and CEO Stan Boland said that "it's time Europe built a big tech company." That could be a company in the technology transport sector, which is "ready for change," he added.
FiveAI will be an interesting player to watch as it continues to develop its driverless vehicle technology and prepare StreetWise for the testing phase in 2019.
— Phil Oakley, Site Editor, TechX365