UK Driverless Car Startup FiveAI Raises £14M Series A

There are not many autonomous vehicle startups in the UK, but one has just raised a serious chunk of cash. Cambridge-based FiveAI has scooped £14 million ($18.3 million) in Series A funding, which follows a £12.8 million ($16.7 million) government grant in April for StreetWise, FiveAI's driverless car consortium.
The Series A round was led by Lakestar Capital, founded by serial entrepreneur and investor Klaus Hommels. Amadeus Capital Partners, Notion Capital and Kindred also participated. As part of the investment, Lakestar Capital general partner Dharmash Mistry will join the FiveAI board.
FiveAI is working on autonomous vehicle technology for vehicle OEMs and manufacturers, or transportation companies. However, the company has more ambitious aims: it wants to enter the ride-sharing market with driverless cars, taking on Uber and Waymo by launching a driverless taxi service through the StreetWise project.
As the leader of the StreetWise consortium, FiveAI has been collaborating with various organizations, including McLaren Applied Technologies and Transport for London. The project's backers aim to test a driverless car service in London by the end of 2019, and reckon they can take on Uber in a "city-by-city battle." The company only has 30 employees compared with Uber's hundreds. But with the weight of McLaren Applied Technology, Transport for London and others behind it, StreetWise has a chance of overtaking Uber at the head of the ride-sharing market.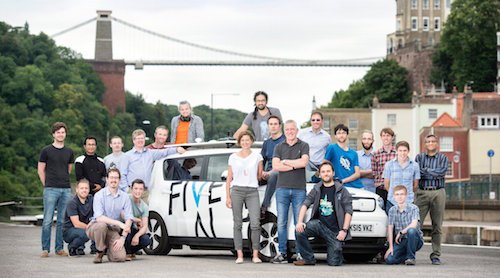 Driverless taxis are the holy grail for the ride-sharing industry, with both Uber and Waymo investing heavily in autonomous driving R&D. Both companies also looking into self-driving trucks, which are seen as a major growth opportunity in future. (See Google's Waymo Could Be Worth $70B by 2030 – Analysts.)
In an interview with TechCrunch, FiveAI co-founder and CEO Stan Boland said that "it's time Europe built a big tech company." That could be a company in the technology transport sector, which is "ready for change," he added.
FiveAI will be an interesting player to watch as it continues to develop its driverless vehicle technology and prepare StreetWise for the testing phase in 2019.
— Phil Oakley, Site Editor, TechX365
Phil Oakley, Site Editor, TechX365, 11/21/2017
Deliveroo has raised a further $98 million to close out its Series F funding round, after initially raising $385 million in September.
Phil Oakley, Site Editor, TechX365, 11/20/2017
Spotify is relocating to a new office in London, where it will have a renewed focus on R&D and engineering, and reportedly double its workforce.
Phil Oakley, Site Editor, TechX365, 11/17/2017
Close to 100 speakers discussed the challenges facing the Global Tech Industry at the Tech London Advocates 'Tech World Tour' at Here East in London.
Phil Oakley, Site Editor, TechX365, 11/16/2017
The UK government is supporting the tech industry with £61 million, which will see Tech City UK become Tech Nation, plus the doubling of talent visas to 2,000.
Phil Oakley, Site Editor, TechX365, 11/15/2017
Greengame aims to help people live sustainably by 'gamifying' the experience and rewarding people through brand participation.
Wednesday, September 20, 2017
11am BST
The brutal truth for any startup is that the chances of long-term success are relatively slim – factors such as a lack of access to capital, poor management skills, a misguided business plan or sheer bad luck all weigh against fledgling companies. So what can startups do to maximize their survival potential? Tesco Technology, an influential and experienced organization, will talk about what they look for in a successful startup, how and why they work with startups and how rookie companies can make the grade and be a long-term survivor. This is a highly relevant webinar for any startup but a 'must attend' for any young company in the energy and retail technology sectors.
All resources
+rehabstudio, 6/19/2017
It's going to become increasingly hard for brands to stay relevant by only selling their physical goods without also creating useful services that consumers invite into their lives.
Ryan Loftus, JLL, 6/13/2017
JLL senior analyst Ryan Loftus looks at the potential impact of technology innovation on urban logistics.
Amanda Eliason, New Zealand Trade & Enterprise, 6/13/2017
Technology development is bringing New Zealand and the UK closer together, notes Amanda Eliason of New Zealand Trade & Enterprise (NZTE).
Michael Davis, JLL, 6/13/2017
Michael Davis, Head of London Unlimited at JLL, looks at trends in PropTech.
Innovation Hub, 6/12/2017
Seizing the potential of Big Data is critical to the future of many businesses but it's best to start small.
BlueCurrent, 6/9/2017
And why you should come find out how to do world class PR at the London Tech Week event.
All Sponsor Blogs
Cloud Infrastructure: A Priority?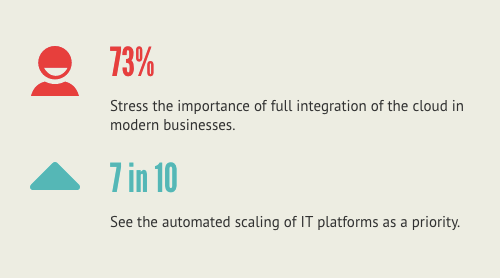 Infographics archive