In the world of venture capital, it pays to know the sector in which you plan to invest. That's the case with Christian Hernandez, co-founder and Managing Partner of White Star Capital, which has offices in London, Montreal, New York and Paris. We sat down with him to have a chat about technology, startups and, of course, venture capital.
Hernandez formerly worked at Microsoft, Google and Facebook before founding White Star, so he boasts plenty of very relevant industry experience. However, he notes that many startup founders actually question his experience, as he has not taken the classic entrepreneur route before becoming a venture capitalist, but because his roles at the three web services and technology giants involved international expansion, he has experience that directly relates to many of the startups in which he invests.
Hernandez says that, initially, being a VC founder is very similar to being a startup founder: You're taking an entrepreneurial risk by starting a company from scratch, upon which you've then got to raise your fund, which is similar to a startup raising the initial seed funding they need. Hernandez co-founded White Star Capital with Eric Martineau-Fortin in August 2013, although Martineau-Fortin had been investing in technology startups for a while under the White Star brand.
White Star's current fund invests in early-stage startups, either at late seed or Series A level. Hernandez says the thesis behind White Star is focused on two things: Funding startups in well-developed and under-served hubs, two of which are London and New York, "both of which have a fraction of the funding opportunities available in [Silicon] Valley"; and to help startups build a team so they can go global. The team at White Star all have experience in building a company that went global or scaling an already existing business globally; Edouard Gaussen, an associate who joined in January 2016, was employee number 12 at Tinder and helped grow the app which turned the dating industry on its head internationally, while Hernandez sold the Windows Mobile brand internationally while at Microsoft in the mid 2000s.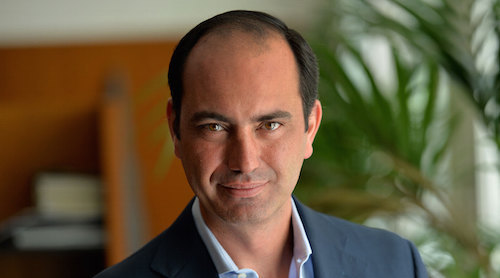 Many of the startups in which White Star, and specifically Hernandez, invests have data at their heart. Hernandez started out building corporate databases during his first job at MicroStrategy, at a time when these companies were only just starting to use data for analysis and forward planning. At this point, the largest database warehouse in the world was only 1 Terabyte in size -- 20 years on, you can have double that on a hard drive in your pocket.
Twenty years ago developers had to write the algorithms that would analyze this data -- nowadays, machine learning can take the data, write an algorithm and continue improving and fine-tuning it while it is in use. "The combination of super low-cost storage, plenty of other data sources -- first-party here, third-party there, etc -- and the algorithms that bring it all to life, underpins everything that we invest in," says Hernandez. "We like companies that are either collecting data or building algorithms that bring that data to life."
Hernandez's portfolio at White Star includes companies such as Aire, Red Sift, AdGlow and Dice. Both Aire and Red Sift utilise AI and machine learning in different ways -- Aire to analyse risk-based credit scoring and Red Sift for cybersecurity, a hugely lucrative market. AdGlow, meanwhile, is a social media advertising company based in Madrid that has built its own platform for social media analytics, upscaling clients' social media campaigns accordingly.
Finally, Dice is a mobile ticketing that displays data and analytics to events organizers, enabling them to make informed decisions about location, price and the demographics they should market the event to.
Data is clearly the key differentiator for Hernandez's investment strategy. But what does all it all lead to? Machine learning, at least in some cases. Hernandez calls this an "enabling technology," similar to mobile or enterprise resource planning (ERP). "AI is going to be democratized," says Hernandez, echoing many industry leaders.
He speaks highly of New York-based KeyMe -- a startup he has also invested in -- which uses deep neural networks to identify and cut a key from a picture, as an example of how AI is going to solve everyday problems, such as being locked out of your house. "What I love about that is KeyMe could not do what it does without AI," says the VC. For Hernandez, it is the technology which is going to change everything, and as a venture capitalist, he wants to be there when the AI filters down, invisibly, into everyday life.
With Brexit looming, it is possible London and the UK may lose its place as a top AI powerhouse. Why? Talent. The UK has some of the best universities in the world, but if -- or when, at this point -- the UK is cut off from Europe, that talent may leave, if working in, and traveling to and from, the UK becomes problematic. "Each [European] hub has its own issues," Hernandez told me, adding that Dublin is "interesting, because it's English-speaking, is inside Europe, already has a big presence from the likes of Google, and Facebook and Microsoft."
With operations on both sides of the Atlantic, it doesn't look like White Star, or Hernandez, is going to be held up by Brexit or much else. With AI, data and innovative tech developments on its radar, White Star is certainly a name to watch in the VC world.
— Phil Oakley, Site Editor, TechX365