London is one of the world's hotbeds for artificial intelligence (AI) development, so it's no big surprise to see a foreign company setting up shop in the UK capital. Databricks is doing just that, having announced it has recently opened its European, Middle East and Africa (EMEA) headquarters in London.
Databricks is an artificial intelligence company founded by the creators of Apache Spark, a hugely popular open source processing engine. Databricks utilizes Spark to build its Unified Analytics Platform, which helps other companies to develop intelligent solutions. Ninety-nine percent of companies do not have the capability to develop AI, Databricks Chief Marketing Officer Rick Schulz told TechX365 in an interview. These companies -- Databricks' customers -- simply do not have the funds or the resources to compete with the likes of Google, Facebook, Amazon, Apple or Uber to develop these solutions. Instead, Schulz said, Databricks can provide these same capabilities with the Unified Analytics Platform, giving companies intelligent technology for a fraction of the cost.
The service Databricks provides is simple: intelligent analytics that can expose weakness in a network, prevent cyber attacks, or help with drug discovery for medical purposes. Schulz said that healthcare customers are using the platform for investigating "personalized medicine", while a gaming company used it to prevent abusive language in multiplayer gaming lobbies -- a particularly hard challenge, Schulz said, due to the different languages and acronyms gamers frequently use.
With the $140 million in funding Databricks raised in August this year, it is expanding into the EMEA region. The company is aiming to build the new London base, hiring talent from both the UK and from all over Europe. The new vice president of EMEA for Databricks, David Wyatt, told TechX365 that "London is a great hub for tech", because it is "economically strong" and has a strong AI presence already, with companies such as DeepMind, Darktrace, Benevolent and many more all based in London. (See AI Startup Databricks Raises $144M in Series D Round.)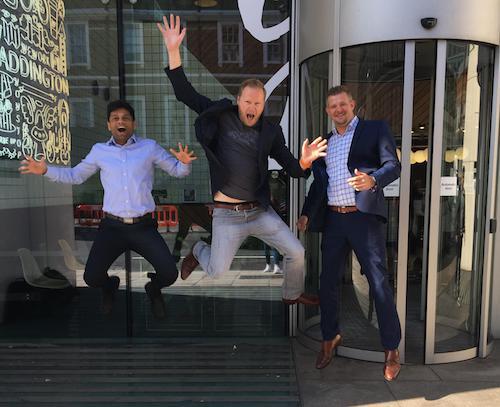 The talent question is especially intriguing. Wyatt told TechX365 that there are two main sources of technology talent: universities, both in London and elsewhere in the UK, and other companies. The London universities -- Kings, Imperial and UCL -- are outputting exceptional talent, while there is also great talent coming from other sectors, such as healthcare and life sciences, and banking or fintech. By hiring from sectors other than the technology industry, Databricks is ensuring it has an equal balance in all areas, Schulz said.
In a statement, Daniel Jeavons, general manager of the Advanced Analytics Centre of Excellence at Shell, said, "Working with Databricks to unlock the power of big data insights across our business created operational efficiencies in our supply chain that resulted in immediate business value. The local office opening complements existing relationships we have with the company, and will help us in our own global growth using analytics to make better decisions."
Meanwhile, Rajesh Agrawal, deputy mayor of London for Business, said, "For an innovative company like Databricks to choose the capital as its European headquarters shows that London is open to talent and open to helping companies grow. This investment is yet more proof that London is the tech capital of Europe."
Databricks is showing no sign of stopping as it expands in Europe, the Middle East and Africa. Wyatt told TechX365 that the company was focusing on establishing the London base first, but but he could see expanding to continental Europe in the future, with France and Germany "on the horizon". As artificial intelligence and analytics continue to grow in importance in the business world, the Databricks platform will become ever more valuable to the companies which use it.
— Phil Oakley, Site Editor, TechX365