Microsoft CEO Satya Nadella is known as an extremely articulate speaker. He demonstrated that quality recently at the Vanity Fair New Establishment Summit, where he provided some great answers and viewpoints on leadership, innovation, and artificial intelligence.
The first thing Nadella discussed during his on-stage interview with US TV reporter Willow Bay was his thoughts on leadership, and how the experience of having his first child, Zain, changed him. Nadella said that becoming a parent to Zain, who has cerebral palsy, taught him empathy, which has subsequently led to him becoming "a better parent, a better husband, but more importantly, a better leader and, also, a better innovator." When asked how empathy made him a better innovator, Nadella said that it means you have the ability to see the "un-met, un-articulated needs of the customer." He went on to say that, in Microsoft's case, it's about "taking a tech trend and intersecting it with a deep understanding of the un-met, un-articulated need."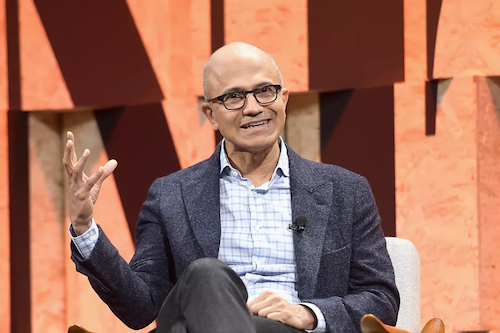 As all executives, leaders, and startup founders will know, internal culture is incredibly important to how well a company performs. Nadella said that while every company wants a "learning culture," you can't get this by having "x, y, z attributes on posters in conference rooms, because you forget."
Instead, Nadella took inspiration from a book, Mindset, by Carol Dweck, to instigate a change from Microsoft's engineering culture to a "growth culture," similar to the ethos many startups use. He also said that any growth change has to be given "breathing space," that "you don't want to exhibit growth mindset for some new dogma from me -- instead, it's got to appeal to you individually." (See JLL's Neil Murray on How Companies Can Transform Internal Culture.)
Finally, Nadella spoke about the impact of AI on jobs, saying that instead of a job killer, he sees it as invigorating the workforce. "Clearly, we should have a very clear-eyed view of what automation does to displacement and we should get to it, but one of the things that I also hope is we can take advantage of AI to get more people into the workforce," he told the audience.
It has been often said that AI will kill many jobs -- taxi/Uber drivers or truck drivers once autonomous vehicles are safe and operational, for example -- but it's clear Nadella doesn't see it this way. Instead, he sees it as helping people get jobs done.
He used the example of an app Microsoft recently released, Seeing AI, to illustrate his point. This uses the computer vision and machine learning to identify objects in front of a device's camera. Nadella says this is primarily used by people with visual impairment to help them see and identify objects, people, or text in front of them. This, Nadella said, can help people "see, with confidence, what they are doing," and therefore enables them to do a lot more.
The entire half hour interview is available to watch on Vanity Fair's site. For anyone struggling with company culture, it is an informative and engaging watch.
— Phil Oakley, Site Editor, TechX365