The human stomach is a fascinating thing. It makes sense, then, that scientists want to understand more about it. To do this, a team from MIT and Brigham and Women's Hospital has developed an edible, flexible sensor to observe goings-on in the gut, in the hope of finding treatments for conditions and illnesses.
The sensor clings to the intestinal wall in your gut, monitoring the rhythmic contraction of the digestive tract as well as what comes in and what goes out. It's made from materials that are "piezoelectric," meaning they develop a current and voltage when deformed, so they can be powered in the gut for up to two days, or 48 hours. It also incorporates polymers that imitate the human skin, so that when the digestive tract the sensor is clinging to stretches, the sensor stretches too.
The research was published in the October 10 edition of Nature Biomedical Engineering. The researchers say that the flexible sensor could improve health and safety, "simply because it makes it easier to transit through the GI tract," said Giovanni Traverso, one of the study's senior authors and a biomedical engineer at Brigham and Women's Hospital.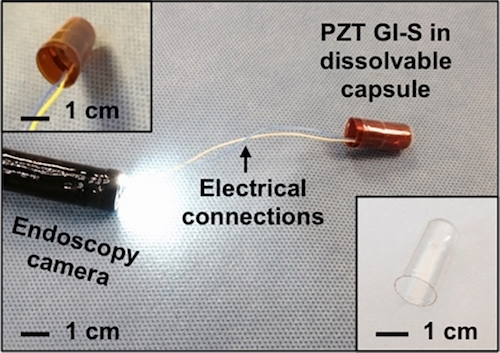 The sensor is 2cm by 2.5cm. It can be rolled in a material that dissolves when ingested, leaving the sensor to cling to the digestive wall and do its thing. In the paper accompanying the study, the researchers said the sensor survived with no mechanical or electrical degradation over the two days it was in the stomach of pigs. Using "external cables," they were able to read the voltage of the sensor and monitor when and how much the stomach lining was moving, which enabled them to tell when food or drink was being ingested by the pigs in question.
The uses for this kind of sensor are broad: it could be used to monitor digestive illnesses or diseases, or monitor the intake of food for those being treated for obesity. In the future, the researchers say they want to use the piezoelectric materials to provide power for things like wireless transmitters, negating the need for external cables, or other sensors. The possibilities are endless, and it will only lead to us understanding our guts even more.
— Phil Oakley, Site Editor, TechX365