Spotters, a London-based startup, is looking to capitalize on soccer's popularity by building a youth-orientated social network for young players to share their achievements and for coaches to spot potential new recruits.
The social network is built for soccer players aged 9-16 who want to be able to share their achievements, but otherwise don't have anywhere to do this. These achievements could include player of the match, or a video of a great goal or a trophy. In addition, coaches can use the network to highlight a team's overall achievements or to recommend a player to a professional club. Finally, clubs can use the network to promote themselves, find new players, post about new social community initiatives or to keep players up to date with news.
Left: A players' profile. Middle: Challenges for players to complete. Right: The newsfeed. Click images to enlarge.
While the app is only in the early stages at the moment, the future seems promising for Spotters. The company has recently been accepted into London Sport's "Sport Tech Hub" accelerator program, which sees Spotters work with the organization behind much of the sport and fitness infrastructure in the UK capital. This will enable the young startup to make a lot of contacts in the sporting industry and, hopefully, find further investment to make it the app for the youth football community. (See Game On for London's Sport Tech Hub .)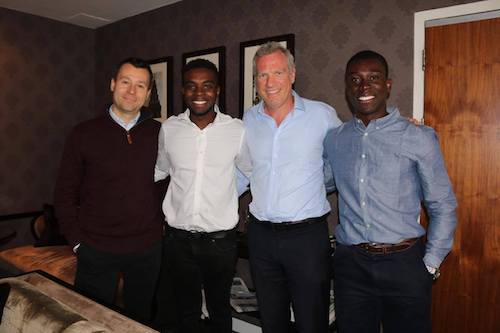 Spotters was founded by Darrell Cooker (head of product), Nii Cleland (CEO) and Lee Gould (CTO) in January 2017. Coker says the way Spotters came about was "a family affair." He and Cleland are cousins, and saw how their 11-year-old cousin, David, spoke so passionately about his soccer achievements in his youth team. The elder cousins noticed that David didn't have anywhere to share these, other than telling people, and realized that with the success of other niche social networks, such as Strava, a soccer networking app aimed at the youth community of players could work. What Coker calls "the mainstream social networks" don't have specific soccer features like a place to upload stats, what team you play for, trophies or competitions won, or when you're next playing, meaning they're not fit for purpose. Perhaps more importantly, parents may not want young children on Facebook, but as Spotters has child safety protections, parents will be more comfortable letting their soccer-mad kids use it.
Spotters will be in the Sport Tech Hub until January, when it will demo its app to interested investors and other participants in the Sport Tech Hub.
— Phil Oakley, Site Editor, TechX365