UK Not Ready for Fourth Industrial Revolution – Report

The UK is less prepared for the so-called Fourth Industrial Revolution than other countries that are competing for manufacturing jobs, such as China and the US, according to a new report called "Made Smarter," which recommends the use of Industrial Digital Technologies (IDTs) to increase efficiency and productivity within the industry, and to upskill workers whose jobs may be replaced by robots.
According to the report, overseen by Siemens UK CEO Juergen Maier and commissioned by the UK government, the UK's manufacturing industry could grow by £445 million (US$591 million) if it were to adopt IDTs and innovate faster and harder, which in turn would mean that productivity could increase by up to 25% by 2025.
The Fourth Industrial Revolution is the continuation of the Digital Revolution, and will see the digitalization of industry through the introduction of technologies such as artificial intelligence and robotics, which will become commonplace in factories, replacing jobs and leaving some factories to become largely automated.
The report has four main recommendations, listed below:
Create a much more visible and effective digital ecosystem to accelerate the innovation and diffusion of Industrial Digital Technologies (IDTs)
Upskill 1 million industrial workers to enable digital technologies to be successfully exploited
Inspire the UK's next industrial revolution with stronger leadership and branding of the country's ambition to be a global pioneer in IDTs
Address the key barriers preventing adoption of IDTs
IDTs are concepts whereby robotics and artificial intelligence take over many manufacturing tasks currently undertaken by humans. While this means that thousands or even millions of workers might lose their jobs, the report recommends that those workers who are affected should be retrained to do jobs that robots cannot do. This of course means that, at least in theory, more work gets done and productivity increases, which is a good thing for everyone involved in the UK manufacturing industry.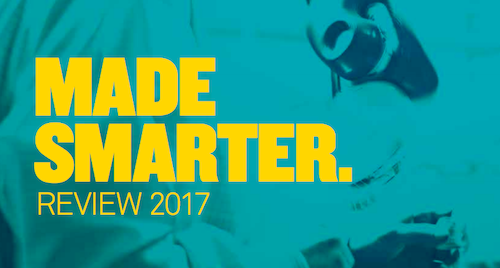 Click the image above to access the report.
The report also makes it clear that the UK is lagging behind other countries, such as China, the US and Germany when it comes to developing a manufacturing plan for the next decade. Those countries all have strategic plans in place for how to tackle the Fourth Industrial Revolution -- Made in China 2025, Industrie 4.0 and America Makes -- while the UK does not. There is also no effective leadership for showing the public what the UK does well in manufacturing, and why the development of IDTs are so important, the report notes. That in turn means there is no vision to attract the workforce of the future to the UK, making it likely that the UK will be leapfrogged by other countries better prepared for the Fourth Industrial Revolution.
— Phil Oakley, Site Editor, TechX365
Phil Oakley, Site Editor, TechX365, 11/21/2017
Deliveroo has raised a further $98 million to close out its Series F funding round, after initially raising $385 million in September.
Phil Oakley, Site Editor, TechX365, 11/20/2017
Spotify is relocating to a new office in London, where it will have a renewed focus on R&D and engineering, and reportedly double its workforce.
Phil Oakley, Site Editor, TechX365, 11/17/2017
Close to 100 speakers discussed the challenges facing the Global Tech Industry at the Tech London Advocates 'Tech World Tour' at Here East in London.
Phil Oakley, Site Editor, TechX365, 11/16/2017
The UK government is supporting the tech industry with £61 million, which will see Tech City UK become Tech Nation, plus the doubling of talent visas to 2,000.
Phil Oakley, Site Editor, TechX365, 11/15/2017
Greengame aims to help people live sustainably by 'gamifying' the experience and rewarding people through brand participation.
Wednesday, September 20, 2017
11am BST
The brutal truth for any startup is that the chances of long-term success are relatively slim – factors such as a lack of access to capital, poor management skills, a misguided business plan or sheer bad luck all weigh against fledgling companies. So what can startups do to maximize their survival potential? Tesco Technology, an influential and experienced organization, will talk about what they look for in a successful startup, how and why they work with startups and how rookie companies can make the grade and be a long-term survivor. This is a highly relevant webinar for any startup but a 'must attend' for any young company in the energy and retail technology sectors.
All resources
+rehabstudio, 6/19/2017
It's going to become increasingly hard for brands to stay relevant by only selling their physical goods without also creating useful services that consumers invite into their lives.
Ryan Loftus, JLL, 6/13/2017
JLL senior analyst Ryan Loftus looks at the potential impact of technology innovation on urban logistics.
Amanda Eliason, New Zealand Trade & Enterprise, 6/13/2017
Technology development is bringing New Zealand and the UK closer together, notes Amanda Eliason of New Zealand Trade & Enterprise (NZTE).
Michael Davis, JLL, 6/13/2017
Michael Davis, Head of London Unlimited at JLL, looks at trends in PropTech.
Innovation Hub, 6/12/2017
Seizing the potential of Big Data is critical to the future of many businesses but it's best to start small.
BlueCurrent, 6/9/2017
And why you should come find out how to do world class PR at the London Tech Week event.
All Sponsor Blogs
Cloud Infrastructure: A Priority?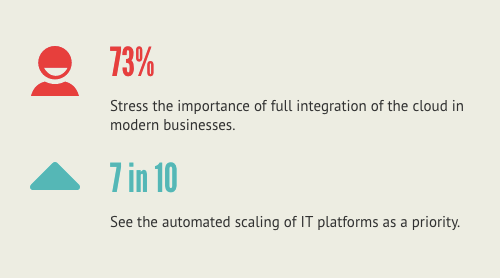 Infographics archive