Almost a third of British workers believe AI will help them be better at their jobs, a new report, "Tomorrow's Vision: Business Ex-Machina," from TalkTalk Business has revealed. In a stark gender gap, 39% of male British workers believe that AI will go some way to helping them in day-to-day tasks, while only 24% of female workers believe the same.
These statistics are revealed in part two of the Workforces 2025 report, which we covered back in September. In another interesting statistic, 28% of male workers, in comparison to 19% of female workers, believe AI will help reduce errors in their work and improve their attention to detail. Meanwhile, a third of men -- 33% -- believe that AI will have a positive impact on their jobs, as opposed to a quarter, 25%, of women. (See Only 18% of UK Firms Believe AI Investment Is a Priority.)
It's interesting to note the gap here between the two genders, with women seemingly more cynical or skeptical of the positive role AI could have in the workplace and at society at large while men are more forthcoming to accept it. To illustrate this, the report says that 29%, across the board, are aware AI could have a positive and negative impact, while only 15% -- one in seven -- think AI could replace their job completely.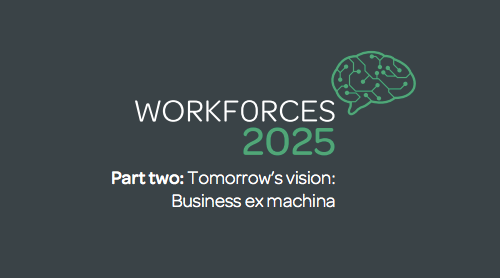 Click the image above to access the report.
Finally, 38% of workers believe their job will still exist in 2032 -- 15 years time -- and only 12% think theirs will disappear in the same timescale. This is stark contrast to much of the existing research; for example, a report from UK Economic Outlook in March said that as many as 30% of jobs may be at risk of being automated, but in many cases, the nature of jobs will change and not be entirely replaced. In particular, jobs such as waste and sewage management, transportation, manufacturing, and retail trade are all at risk of being automated, says the latter report.
— Phil Oakley, Site Editor, TechX365