Ethics in the tech industry is mainly kept to controversial topics such as artificial intelligence research. However, London-based startup Good-Loop wants to change this by bringing ethical advertising to the world, by giving money to charity for every video ad viewed.
Ethical advertising may seem something of a misnomer, but the intention of Good-Loop is clear: to stop the merry-go-round between the "Big 5" advertising companies and try and use this huge industry to do some good in the world. The basic premise is this: every time a viewer chooses to watch an ad (all Good-Loop's ads are opt-in, not opt-out), after 15 seconds, a sum of money will be given to a charity. The brand will choose three charities and then the viewer can pick one -- "like the Waitrose green pill things," was the way co-founder Amy Williams explained it to me.
Good-Loop was founded by Amy Williams and Daniel Winterstein in October 2016 -- in fact, I met Williams on the day the two registered the newly formed company with Companies House one year before. The two took a somewhat unusual route to co-founding a startup -- Williams posted on popular startup jobs website Workinstartups.com looking for a technical co-founder, saying she was tired of the advertising industry and its unethical practices, wanting to build a better company. Within a week, Winterstein, who was and is based in Edinburgh, responded saying he wanted to do the same thing. The rest, as they say is history, and a year on, Good-Loop is going from strength to strength.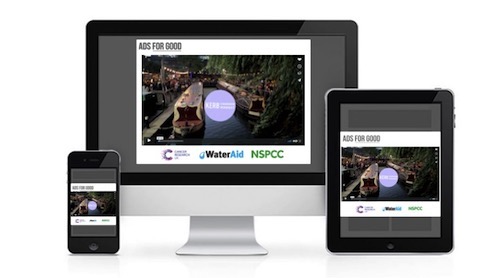 Good-Loop went through the Collider accelerator for MadTech in 2016, honing the product and business model. A business model in a company trying to make advertising ethical may sound, well, unethical, but at the end of the day it's still a business. Williams said that Good-Loop will never, ever force anyone to watch an ad -- the opposite of most of the industry, with autoplaying adverts on seemingly every website affecting the user experience -- and that users are eight times more likely to engage in a video ad if the ad is opt-in instead of opt-out. This means, then, that if a user clicks on a Good-Loop ad, they have consciously committed to watching it for 15 seconds. It's also fairly likely that they clicked because they saw they can donate to a charity, possibly one they are familiar with and like. In this model 50% of the fee goes to the charity, 40% to the content creator or brand or who placed it there, and 10% to Good-Loop.
Unsurprisingly, the global advertising industry is made up of a few big giants -- the aforementioned "Big 5," comprising WPP, Omnicom, Publicis Groupe, Interpublic and Dentsu. Williams used to work for Oglivy, owned by WPP, and so knows how money in the advertising world is mostly traded in a sort of loop, rarely if ever actually exiting the system. This was her fundamental reason for setting up Good-Loop -- to have the money in advertising do some good. And it's working: while Williams wasn't prepared to tell me how many customers Good-Loop has, she did say it's a good number and it's always increasing.
Left: Daniel Winterstein (CTO) and Amy Williams (CEO), Good-Loop co-founders. Right: Williams and Winterstein at Y Combinator recently. Click images to enlarge. Images: Good-Loop
Winterstein, meanwhile, holds a PhD in Artificial Intelligence from the University of Edinburgh -- something that Williams described as Good-Loop's crown jewel, and a key for the future of the company as it looks towards machine learning to determine best ad placement and which users to show an ad to. Profiling and targeting is a big part of the ad industry, says Winterstein, and while Good-Loop does things differently, it's still more cost-effective to target ads at users who like certain things.
The company served over a million ads in September, and while Winterstein says that's going to get a lot bigger, it's important the technology stack he's built scales at the right speed, which at least partially means targeting users using AI. He ultimately wants to build a user portal where users can control this data, because "it's your data" and the user deserves to have the ultimate say in what Good-Loop and the content provider can see.
The ultimate message here is something is wrong with how advertising, especially web or mobile-based advertising, works, and there is an increasing number of disillusioned individuals quitting good jobs at the large, global giants to found startups dedicated to solving these issues. Good-Loop is one of these companies, and there are a lot more, both in London and around the world.
— Phil Oakley, Site Editor, TechX365