Data powers much of the world's technology, so the process of archiving and storing it for future use is incredibly important. Manchester-based UK startup MirrorWeb is taking this to heart, backing up clients' websites and social media accounts while indexing billions of documents in its database.
Archiving data is, arguably, what may save some startups from failing. MirrorWeb's technology takes a daily backup of a client's website, meaning there is a complete store of the changes made and the items added or removed. This can help protect against legal challenges. For example, if a competitor challenges another company on something that was on their website a few months ago, the competitor can use the data backups to verify or deny the story.
What's more, MirrorWeb has created an web app for this archiving, allowing users to visually search through backups of websites and social media accounts to find what they're looking for. The website archive can also be seen online if the client chooses.
Possibly MirrorWeb's biggest client is the UK government, having archived some of the Parliamentary Archives on the web.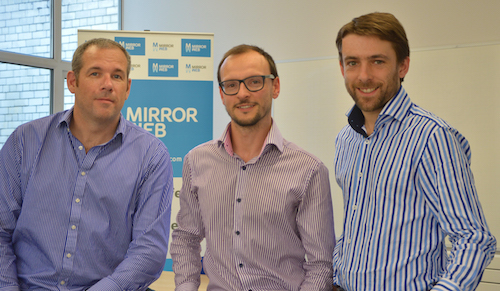 Social media archiving, meanwhile, is much the same. It's all accessible through a software-as-a-service web app, meaning just like the website archive, it can be searched by keyword or date, or "replayed." This is available for any social media account, whether it be Twitter, Facebook, Instagram, Google+, Tumblr, YouTube, Pinterest or a lot more.
David Clee (CEO), Karl Stringer (CPO) and Phil Clegg (CTO) founded the company in May 2012, when they realized there were no digital archiving companies based in the UK and saw the gap in the market when the Financial Conduct Authority opened up regulations on archiving. They have since expanded into the public sector, becoming the UK government's official archive solution and are now working on cloud-based platforms that will power the next generation of digital archiving.