This AI-Powered Chatbot Will Talk to Email Scammers for You

Email scammers are annoying, but replying to them and wasting their time is great fun. Maybe even more fun is letting the scammer talk to a bot, which has the potential to waste a scammer's time infinitely.
That's exactly the thought New Zealand-based cybersecurity firm Netsafe has had, creating Re:scam, a chatbot that will talk to email scammers for you.
Chatbots have slowly been getting more and more mainstream in the last few years, with startups such as Cleo using them as the sole provider of their business and others (Twilio, for example), making development kits and tools for them. Re:scam works by having people forward any email scams they receive to it, upon which the chatbot will reply and start talking to them, wasting their time.
It uses AI and machine learning to know what to say and how to reply, meaning that as people forward more and more emails to it, the chatbot should improve and get better and better at sounding like a real person.
It's a genius solution that shows how far we've come in researching machine learning and other "deep tech" in the past few years, so much so that the chatbot's responses are almost indistinguishable from a "real" human's answers. If you want to waste an email scammer's time, forward the emails on to me@rescam.org, and it'll take care of the rest.
— Phil Oakley, Site Editor, TechX365
Maria McSorley, Site Editor, TechX365, 6/18/2018
The cloud has completely changed the way we shop, from the web to mobile and now voice.
Phil Oakley, Site Editor, TechX365, 6/18/2018
GoCompare has ranked each UK city in terms of broadband connectivity, mobile connectivity and WiFi hotspots. And it's bad news for Exeter...
Phil Oakley, Site Editor, TechX365, 6/15/2018
Reporting on data and citing stats is for robots. Be a human. Tell stories. That's the advice from Emily Hunt, chief data storyteller at 36ns, who spoke at the Data Festival London this week.
Phil Oakley, Site Editor, TechX365, 6/14/2018
Online collaboration tools and AI-based platforms are vital to engaging an increasingly unfocused workforce, says Microsoft's Angela Evans.
Phil Oakley, Site Editor, TechX365, 6/13/2018
Tech Nation's first growth program will focus on fintech, something at which the UK is particularly good.
All resources
Thursday, May 24, 2018
12 pm London / 7 am NY

Tech is transforming the way we live, travel and do business. Industry leaders will discuss the challenges and opportunities we're seeing as our cities become increasingly connected.
Neil Dodd, Associate Director, BGL Group, 6/7/2018
What is a Usability Lab? Neil Dodd from BGL Group explains.
Sponsored Blogs, 6/7/2018
How can the UK lead the world in M-Commerce?
Richard Orme, CTO, Photobox Group, 5/31/2018
Ai is incredible and can do things humans can't. But can it be emotional?
Innovation Hub, 7/19/2017
The Internet of Things, Blockchain and other drastic digital disruptors are already making big waves in the energy sector.
Microsoft reporter, 7/7/2017
The UK's history of embracing technology and innovation means its capital is well placed to benefit from the "fourth industrial revolution," says Microsoft UK CEO Cindy Rose.
Mark Miles, Rendermedia, 7/3/2017
Rendermedia's Mark Miles looks at how technology is changing the way we view content.
All Sponsor Blogs
Industrial IoT Usage & Maturity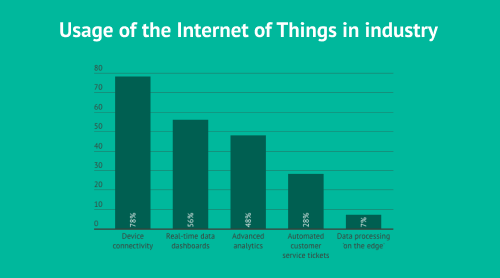 Infographics archive