Bristol has overtaken London as the UK's smartest city, according to the UK Smart Cities Index 2017 report from Huawei and Navigant Consulting. UK capital London was a surprise second, while Manchester was third.
The criteria going into the findings were based on two dimensions: strategy and execution. The former assesses each city's vision and goals and how it is reaching its objectives, while the latter looks at the actual achievements and practical use cases of innovative technologies and services in each city.
Both of these are then split into a further five categories, evaluating the technological infrastructure in each city on the index. For strategy, it looks at vision, digital innovation, service innovation, sustainability plans and stakeholder engagement. Execution, meanwhile, is split up into implementation, digital delivery, service delivery, environmental impact and community reach. Each city is assessed against these in-depth criteria and evaluations, getting a score for both strategy and execution, which are then plotted on a graph (see below).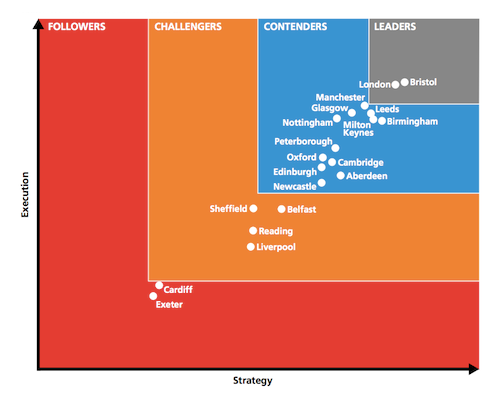 There are four categories a city can fall into: leaders, contenders, challengers and followers. Twenty cities in total were taken into account from all across the UK, from as far north as Aberdeen to Reading in the south. Cambridge has entered the top ten despite not featuring at all last year, while Bristol has leapfrogged London to take the top spot, owing to the momentum the city has shown in its smart city projects. Manchester has also jumped two spots to take third, overtaking Glasgow, which has fallen back to seventh.
So what can the leaders of these cities, and other cities that haven't been listed, do to make their cities smarter? The report says that leaders need to have a coherent vision to execute strong, sustainable paths to making a city progressively more smart. Bridges also need to built between innovators within the city and the operators who can carry this out and see a project to completion.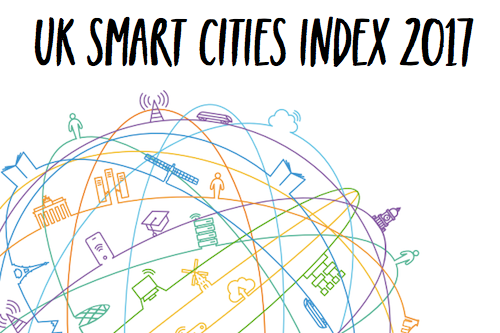 Click here to access the full index.
A few areas were highlighted in the report for special mention. Milton Keynes won the award for innovation in transport -- maybe its upcoming AI-powered traffic lights had something to do with it -- while Nottingham won in energy, Peterborough for sustainability, and, maybe predictably, London in data and analytics. (See Milton Keynes Will Have AI Traffic Lights by Next Year.)
In a statement, Matt Hancock, the UK government's minister of state for Digital and Culture, said, "The digital revolution is gaining momentum all over the UK -- smarter cities can improve people's everyday lives from accessing healthcare to simplifying waste management and streamlining public services. We are backing smart cities, and the recent review into artificial intelligence highlighted how we can establish ourselves as the world leader in this area of emerging technology."
— Phil Oakley, Site Editor, TechX365