Foxconn, one of the world's largest technology product manufacturers, is to invest $340 million into AI during the next five years, in order to diversify its business and become an AI platform, Nikkei reports.
Foxconn manufactures phones for many well-known global brands, including the iPhone for Apple, but there are signs that the device market is approaching saturation and is starting to stagnate. Smartphone sales dropped by 9% in the fourth quarter of 2017 compared with the same period a year earlier, a dip that has been attributed to suppressed demand in China. Even Apple reported a dip in iPhone sales in its recent earnings report.
Meanwhile, Benedict Evans, of venture capital firm Andreesen Horowitz, tweeted recently that almost two thirds of adults globally now have a smartphone, with more than 90% having a mobile device of some sort.
Such trends suggest that smartphone manufacturers that do not develop their own products, of which Foxconn is the largest, need to diversify and explore new business opportunities. Foxconn clearly believes AI is one of these opportunities. "We will at least invest some 10 billion New Taiwan dollars [US$342M] over five years to recruit top talent and deploy artificial intelligence applications in all the manufacturing sites," said Foxconn chairman Terry Gou.
"We will become a global innovative AI platform rather than just a manufacturing company," added Gou.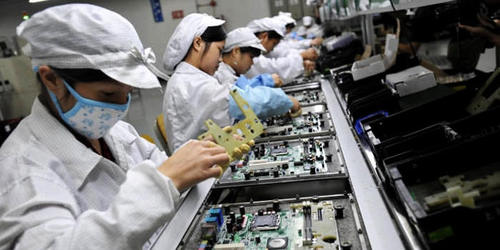 Foxconn has been working since July last year with Andrew Ng's startup, Landing.AI, which plans to introduce AI capabilities to industry verticals yet to be disrupted by the technology. The company also plans to recruit 100 AI experts and many more lesser-skilled developers to work on developing machine learning and deep learning applications, for deployment across the company. (See Andrew Ng's AI Fund has $175M to Build Transformative AI Products.)
According to Ng, Foxconn has a great opportunity to become a leading AI platform as it has huge amounts of data from its manufacturing business.
— Phil Oakley, Site Editor, TechX365