As with many other industries, technology is having a huge effect on the health and medical sector, and so, naturally, startups have sprung up to take advantage of the changing nature of healthcare. One that is poised to make a big difference is HS., an accelerator for the medtech industry.
London-based HS. has two programs: Build and Scale. They essentially do what they say on the tin: Build is the early-stage program devoted to putting individuals together into teams and building a product, while Scale is for growing a health startup up into a platform that can be used by the likes of the NHS or the private sector.
HS. has been accepting applications into its inaugural Build program since late last year. It's important to note the influence of individuals as well as pre-existing startups here. While other accelerators will only take applications from already-formed companies, HS. is different: It specifically looks for PhD students, technical developers, doctors with a technical background or interest, and marketers, and will help them find a team to build a product over an intensive 12-week program. In co-founder Dr. James Somauroo's words, "HS.Build connects talented individuals together, because it's often difficult to find co-founders. We like tech co-founders, PhDs, business and healthcare experts, but most of all we look for talent. We also take early stage teams."
Throughout the 12-week program, HS. will help teams to build a product to solve a "core problem" in the NHS. Somauroo stresses that it has to be about solving a problem, and that often, because healthcare is literally a life-or-death industry, startups do not know how to begin. HS. can help with this, and it can also help a startup to change direction or refocus. Somauroo also says that, in regards to HS., "once you're in, you're in", meaning there's as lifetime of support.
Core amongst HS.'s aims is to integrate a startup into the healthcare industry and to help wherever it can in getting the technology into the hands of medical professionals, whether that's in the public or private sector. But because the NHS has a problem with innovation, and both co-founders Somauroo and Dr Alex Young have actively worked in the NHS as clinicians, that is where much of the focus lies.
Dr James Somauroo (left) and Dr Alex Young, HS. co-founders.
When considering the public health behemoth that is the NHS, it is important to note that, as Somauroo explains, "there is no such thing as the NHS" -- just thousands of organizations which sit under the same umbrella branding. However, the lack of internal innovation and use of technology under this umbrella is well-known to many in the UK, with the cybersecurity hack in 2017 affecting a large number of NHS computers, many still running the long since unsupported Windows XP. To add to that, many doctors still use the quintessential 90s technology, the pager, to communicate, and clipboards, paper, and pen are still overwhelmingly used for regular inspections. (See NHS England Hit by a 'Large-Scale' Cyberattack.)
While this may seem crazy for a national healthcare provider known all over the world, there is a reason, as Somauroo told me: "While some other industries might be able to stop, change something, and start again, healthcare, the NHS especially, cannot do that." The NHS, as a nationwide public healthcare provider serving thousands of people a minute, cannot afford to stop for any length of time to update its technology or processes. "As such, I'd say that truly disruptive technology is very rare in the NHS, which might be why it doesn't feel as though healthcare is as innovative as other industries," Somauroo said. "NHS organisations have to be respected -- they are responsible for the safety of their patients and if they take risks on unproven innovations, people could get genuinely unwell," he added.
While other, private healthcare providers can update their technology frequently, making use of the latest and greatest, the NHS cannot do this. As such, a process which works -- such as pagers -- keeps being used, and XP is used predominantly because the NHS cannot stop and update its PCs. Instead the organization has to do it one by one, which makes for a very slow process with the tens of thousands of computers the NHS uses nationwide.
As with the rest of the tech industry, medtech is currently drooling over artificial intelligence and the advantages it could bring to health. The simple facts are these: artificial intelligence -- machine learning, deep learning and neural networks, to be more precise -- is, gradually, changing the way computers work and how we interact with technology. This could have huge implications for the global health industry; as Somaruoo puts it, "we are approaching the redefinition of what it is to be a doctor -- technological advances will not only reduce the burden of paperwork, but remove how dependent we are on human memory and processing power. Clinicians will finally have more time to actually care for their patients."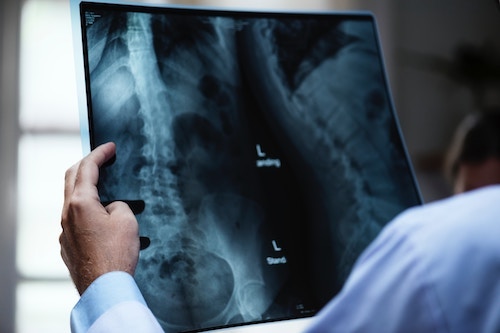 We've already seen how DeepMind's extremely powerful machine learning-powered AI is changing the way patients are diagnosed, with the AI diagnosing various eye diseases more accurately than humans. Somauroo said of DeepMind's involvement with healthcare, "if done safely with positive results, it could pave the way for other innovators to do similar things". That is exactly what many health startups are doing, with the massive opportunity AI and its associated technologies brings. (See DeepMind's AI May Be Better at Spotting Eye Disease Than Doctors – Study.)
AI from Oxford based Ultromics can diagnose cancer and heart disease, while Skin Analytics can diagnose melanoma -- skin cancer -- with its computer vision-powered app. All this points towards one single fact: a time when a computer diagnoses an illness and the doctor administers care is rapidly approaching, although there's still a long way to go until that is commonplace in hospitals, especially in the NHS.
Somauroo believes there are two types of health startups: the "exciting" ones and the "less exciting" ones (although he clarifies this by saying as a former practicing doctor and anaesthetist, he finds them all exciting). The exciting ones, by his definition, are startups that use machine learning, or neural networks, or computer vision, to diagnose patients or replace "front and center" jobs. The "less exciting" startups are revolutionizing the "back end" on the NHS; the administration and the form-filling. This could save doctors and nurses hours of time and the NHS millions of pounds, because advancement in technology means that some of the job is already done before it's even started.
Take ward inspections: Somauroo cites the ward inspection process as an example of where a less exciting startup could come in and innovate. "At the moment, to inspect a hospital," Somauroo says, "you might need to go on a computer, open a spreadsheet, print it off, write on it by hand, go round the ward, tick things off, scan it back into the computer, and print it out for the board meeting." He used the word "crazy" to describe this process, and many in the tech world would likely agree.
The startup Somauroo had in mind is named Perfect Ward. Perfect Ward has developed an app which can be used on a tablet or smartphone and makes inspections much more efficient and less time-consuming, with the ability to upload photos and see previous reports easily from within the app. For healthcare professionals and technology advocates this is a hugely exciting prospect, but for a consumer it is easy to see why Somauroo labels it "less exciting".
The work HS. is doing within the healthcare and medtech sector is vital for the future of health not only in the UK, but worldwide; Somauroo wants the companies HS. takes in to look at the European and US markets and not just the UK. The first HS. Build's cohort of startups is due to be announced in March, with the 12-week program getting underway shortly after.
— Phil Oakley, Site Editor, TechX365