School classrooms all over the world have gone from textbooks and chalkboards to iPads and Chromebooks. London-based EdTech company Mangahigh powers some of these devices with its math-based learning platform, and in doing so, is educating the next generation of developers, designers, scientists and mathematicians.
Mangahigh develops a platform for school-aged children to learn math on, using games as the way to entice them into playing, and therefore learning. It has a range of games, 18 at the last count, and is adding more all the time.
This is indicative of current trends, with both Google and Apple announcing new education and school-focused devices lately and Microsoft also looking at the marketplace as a place for expansion. Mangahigh initially focused on parents as its primary users when the company launched in 2008, but pivoted to sell to schools when it noticed teachers were using the product to teach their students in the classroom, and has been doing so ever since.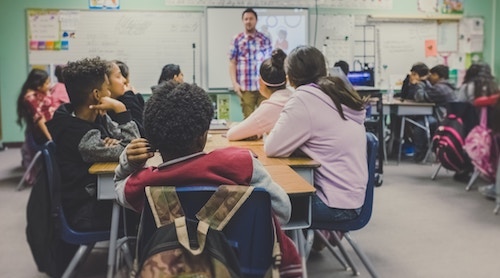 Mangahigh was founded by King.com Co-Founders Toby Rowland and Marcus du Sauvoy in 2008, after King.com's success and Rowland's partial exit in 2005. He planned to use the same process with Mangahigh -- addictive games, but for learning, and aimed at students, not adults. He left the company in 2009. Around that time, Adobe's Flash, once the de facto multimedia software, was starting to be abandoned after Apple's iOS devices stopped using the platform in its mobile Safari browsers. Mangahigh floundered for a few years until current CEO Mohit Midha took over in 2013 and relaunched the company with an emphasis on HTML5 games. Five years later and Mangahigh is doing better than ever, with a global market and steady growth.
Just like Mangahigh, the web has changed massively in the last five years. Adobe Flash, once a mainstay on the web, is now a niche, with websites, web apps and games being written in HTML5, CSS and JavaScript, with libraries like Facebook's React and Vue being hugely popular. Mangahigh CTO Alec Salmon told TechX365 that the company decided to move away from Flash-based games in 2013, moving towards web-based technologies. Looking back, Salmon says the decision was "a little premature," as games being coded in HTML, CSS and JavaScript were at the very beginning of their development back in 2013. Now that bet is paying off as many more apps are written in these languages.
Salmon said another challenge for Mangahigh had been the split between schools and education establishments using tablets, such as Apple's iPad, or laptops, such as Google's popular Chromebook-based platform. Because the main input method on a Chromebook, or indeed most other laptops, is a keyboard and trackpad or mouse, Mangahigh's product team has needed to design for both this and for touchscreens on tablets or phones. The team got around this by developing bigger UI elements and placing them further apart. As part of the ongoing shift to mobile, Mangahigh's games are now designed mobile-first, meaning the games are kept simple and easy to use on tablets and other touch-enabled devices.
Mangahigh's platform and games. (Images: Mangahigh)
Another development question was what library to use for the education platform, where teachers can see the progress students are making -- for example how many students have completed a homework task -- or students can see the tasks they have to complete for the next lesson. The company decided to use a GiantJS, a JavaScript library which Salmon described as "a great library which almost no one else is using." He went further into this, saying that it was both a blessing and a curse, as it allows Mangahigh to do some unique things with its platform, at the expense of needing to train developers in the library when they arrive at Mangahigh. Moreover, since GiantJS's main developer stopped work on the project some time ago, Mangahigh has become the main project retainer, submitting bug fixes where needed.
Technology has irrevocably changed how we educate our children and Mangahigh is an exciting example of just how much things have changed. With its games-based approach, students are doing more than just listening to lectures and repeating facts. They're testing out ideas, applying strategy and learning their core subjects in a new way, while using the devices and tools that they'll no doubt need as adults.
— Phil Oakley, Site Editor, TechX365