Met's Facial Recognition Tech Incorrect 98% of Time

Despite the excellent machine-learning technology that is available nowadays, the facial recognition system used by London's Metropolitan Police has incorrectly identified a suspect 98% of the time, according to a report from The Independent.
According to a freedom of information request made by the newspaper, out of 104 times the facial recognition system was used, it only correctly identified a suspect twice -- the rest were "false positives." The Metropolitan Police denies these are not false positives, however, because the results of the system are tested a second time. In another slightly better (but still bad) comparison, the South Wales police force has been trialing the same system, getting more than 2,400 false positives and 234 matches, which adds up to a shade fewer than 10%.
This is despite the increasingly impressive consumer versions of facial recognition and machine-learning technology, including that used on Google Photos to accurately identify people in personal photos.
A video from Brit Lab explaining how facial recognition by machines works.
Furthermore, those opposed to the technology say that police forces' use of facial recognition is "Orwellian" and should be scrapped. While a consumer using facial recognition to identify similar faces in photos and then categorizing them as such -- i.e. personal use -- the police service using it in attempts to apprehend criminals is seen as a different matter, especially if the software being used is wildly inaccurate.
TechX365 asked SmilePass, a UK-based biometrics company, how the Metropolitan Police and South Wales Police services could solve these issues, and if going to a large tech company with advanced machine learning was the answer, as the NHS is doing with DeepMind currently. SmilePass Chief Executive Grant Crow told TechX365: "Setting Orwellian concerns aside, one of the biggest issues is that public sector bodies will only engage with older, established biometric vendors. The reasons for this are fairly obvious as these vendors are large and represent less procurement risk. A good example is the automated passport gates at UK airports. Most frequent travellers would agree that these gates are really version 1 of an interesting technology, when there are much better applications available.
"The downside of this 'be safe' procurement approach is that the real innovation in biometrics is not available to public sector bodies. There are dozens of early-stage biometrics companies with superior capability driven by elements such as artificial intelligence and computer vision. Perhaps part of the solution is to encourage partnerships between traditional and new vendors to offer the best of both worlds -- reduced risk and best possible solution for customers."
— Phil Oakley, Site Editor, TechX365
Phil Oakley, Site Editor, TechX365, 10/4/2018
This doesn't align with UK Prime Minister Theresa May's 'Global Britain' vision post-Brexit.
Phil Oakley, Site Editor, TechX365, 10/3/2018
Locum's Nest helps locum doctors find work in hospitals, cutting out inefficient agency middlemen and making the process less expensive for everyone.
Phil Oakley, Site Editor, TechX365, 10/2/2018
With 71% of organizations using a BYOD policy, millennials want more options on flexible working and access to better technology, according to a new report.
Phil Oakley, Site Editor, TechX365, 10/1/2018
Acquiring Deliveroo would give Uber a significant foothold in Europe's food delivery market, which it has struggled to do so far.
Phil Oakley, Site Editor, TechX365, 10/1/2018
According to the Times Higher Education 2019 rankings, Oxford and Cambridge lead the way in computer science research, ahead of big-name US institutions.
All resources
Joćo Fernandes, Founder, Buzzstreets, 6/13/2018
Indoor navigation is going to completely change our shopping centres and the entire retail experience.
Neil Murray, co-founder and CTO, Mimecast, 6/12/2018
How can we secure London's tech talent for future generations to benefit from?
Sponsored Blogs, 6/12/2018
The Quintessence AM37 lets you try out the same boat James Bond would use in a full VR experience.
Roger Vigilance, Marketing Director, Vonage UK, 6/12/2018
Companies need to get ahead of the cloud competitors in order to win over customers.
Rob Mellor, VP & GM EMEA, WhereScape, 6/8/2018
Why are hackathons all the rage amongst developers and startups?
Salman Khan, Toronto Global, 6/8/2018
Why is Toronto the place to be for artificial intelligence developers? Salman Khan from Toronto Global explains.
All Sponsor Blogs
Industrial IoT Usage & Maturity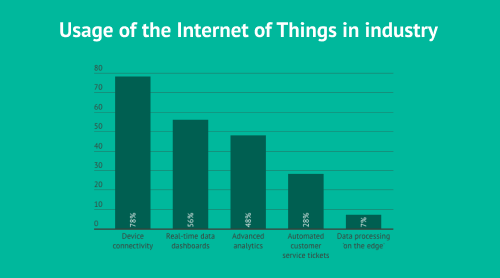 Infographics archive