Facebook May Acquire London-Based AI Startup to Help Combat 'Fake News'

Facebook is looking at buying London-based startup Bloomsbury AI, which develops advanced natural language processing technology (NLP), according to TechCrunch.
TechCrunch reports that the social media giant may offer up to $30 million for the young company, using its technology to help combat the problem of so-called "fake news."
Bloomsbury AI has been funded by an impressive list of investors, including Seedcamp, IQ Capital and Fly Venture. It's also an alumnus of Entrepreneur First, the pre-seed investment program for technical founders, which counts fellow London startup Automata among the founders which have been through its ranks. (See Meet Eva: London-Based Automata Is Building the Robot Arm of the Future.)
As for what Facebook would get by acquiring Bloomsbury AI: the company has a platform named Cape, which can read a document and then answer questions about the contents. This is an impressive display of NLP, because not only is the technology reading the document and converting it to a format readable by a computer -- that's just a fancy version of OCR -- but is also digesting the contents and understanding them.
With this in mind, it's easy to see why Facebook is interested in paying tens of millions for the startup. We've contacted Bloomsbury AI for comment and will update if we hear back.
— Phil Oakley, Site Editor, TechX365
Phil Oakley, Site Editor, TechX365, 11/12/2018
The number of deals, meanwhile, has decreased, pointing to larger average deal sizes, which is good news for growth prospects.
Phil Oakley, Site Editor, TechX365, 11/7/2018
There were fewer deals and less money invested from the second quarter to the third quarter of this year, but the average deal size rose substantially.
Phil Oakley, Site Editor, TechX365, 11/6/2018
Atom bank will build a blockchain mortgage product, drawing on the expertise from Newcastle University.
Phil Oakley, Site Editor, TechX365, 11/5/2018
The UK is the startup factory of Europe, and has no problems scaling up these startups to become billion-dollar unicorns. But what happens after that?
Phil Oakley, Site Editor, TechX365, 10/31/2018
Monzo is acquiring 100,000 customers a month, and has promised a new crowdfunding round for later this year.
All resources
Joćo Fernandes, Founder, Buzzstreets, 6/13/2018
Indoor navigation is going to completely change our shopping centres and the entire retail experience.
Neil Murray, co-founder and CTO, Mimecast, 6/12/2018
How can we secure London's tech talent for future generations to benefit from?
Sponsored Blogs, 6/12/2018
The Quintessence AM37 lets you try out the same boat James Bond would use in a full VR experience.
Roger Vigilance, Marketing Director, Vonage UK, 6/12/2018
Companies need to get ahead of the cloud competitors in order to win over customers.
Rob Mellor, VP & GM EMEA, WhereScape, 6/8/2018
Why are hackathons all the rage amongst developers and startups?
Salman Khan, Toronto Global, 6/8/2018
Why is Toronto the place to be for artificial intelligence developers? Salman Khan from Toronto Global explains.
All Sponsor Blogs
Industrial IoT Usage & Maturity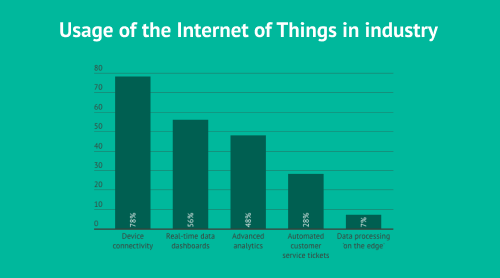 Infographics archive