Monzo Steamrollers On With 'Big List' of Features, Uncovering Fraud Attacks

Digital bank Monzo has been on a charge in recent weeks, adding major features to its service and platform, ticking off items on its "Big List" at a rate of knots, and uncovering a serious fraud attack on a major, well known website.
Monzo's aim since May has been to add features that it feels it needs compete with the traditional high street banks -- it has been referring to these features as its "Big List." This includes things like "basic" direct debit management, or the ability to delete previous payees. These are all features that the big high street banks have as part of their online banking services -- or at least, should have -- but which have not been previously prioritized by Monzo, which has been focused on adding "futuristic" features, like the ability to estimate you how much money you'll have until you next get paid. (See Monzo: The Future of Banking?)
The other items on Monzo's Big List are things the company specifically wants to add to improve basic, but unique, aspects of its platform -- like using fingerprint recognition to authenticate in-app payments or adding a PIN lock for phones without fingerprint scanners. Possibly the biggest feature on the list is support for joint accounts, which has been the most requested feature on Monzo's feature tracker for some time, and will soon be in the experimental "Labs" section to be tested by users.
Monzo is also continuing on its transparency push, aiming to be the most transparent and user friendly bank in the UK. It recently announced it would be making its formerly internal quarterly goals public, publishing its annual financial results and unveiling the aforementioned Big List. It means users know what to expect in the coming months in terms of features and company aims, something current banks struggle with, informing users of impending changes to their accounts almost when they're happening, and usually by post.
The young bank is also uncovering hacks and scams at other companies. Monzo published a blog post about how it used its data to discover many customers who were reporting fraud attacks had also used Ticketmaster to buy tickets to an event. Monzo alerted Ticketmaster to this and directly shared the data with them, with Ticketmaster's security team telling Monzo they'd investigate internally. However, Ticketmaster's team later told Monzo they'd found no evidence of a breach, only for the company later to publicly announce in late June that they'd suffered a security breach due to malware, advising customers to replace any cards used on the Ticketmaster website.
Finally, fintech chatbot Plum has announced it now has complete integration with Monzo and fellow digital bank Starling, meaning users can now connect their digital bank accounts to Plum and start saving. (See Startup Profile: Plum.)
— Phil Oakley, Site Editor, TechX365
Phil Oakley, Site Editor, TechX365, 11/12/2018
The number of deals, meanwhile, has decreased, pointing to larger average deal sizes, which is good news for growth prospects.
Phil Oakley, Site Editor, TechX365, 11/7/2018
There were fewer deals and less money invested from the second quarter to the third quarter of this year, but the average deal size rose substantially.
Phil Oakley, Site Editor, TechX365, 11/6/2018
Atom bank will build a blockchain mortgage product, drawing on the expertise from Newcastle University.
Phil Oakley, Site Editor, TechX365, 11/5/2018
The UK is the startup factory of Europe, and has no problems scaling up these startups to become billion-dollar unicorns. But what happens after that?
Phil Oakley, Site Editor, TechX365, 10/31/2018
Monzo is acquiring 100,000 customers a month, and has promised a new crowdfunding round for later this year.
All resources
Joćo Fernandes, Founder, Buzzstreets, 6/13/2018
Indoor navigation is going to completely change our shopping centres and the entire retail experience.
Neil Murray, co-founder and CTO, Mimecast, 6/12/2018
How can we secure London's tech talent for future generations to benefit from?
Sponsored Blogs, 6/12/2018
The Quintessence AM37 lets you try out the same boat James Bond would use in a full VR experience.
Roger Vigilance, Marketing Director, Vonage UK, 6/12/2018
Companies need to get ahead of the cloud competitors in order to win over customers.
Rob Mellor, VP & GM EMEA, WhereScape, 6/8/2018
Why are hackathons all the rage amongst developers and startups?
Salman Khan, Toronto Global, 6/8/2018
Why is Toronto the place to be for artificial intelligence developers? Salman Khan from Toronto Global explains.
All Sponsor Blogs
Industrial IoT Usage & Maturity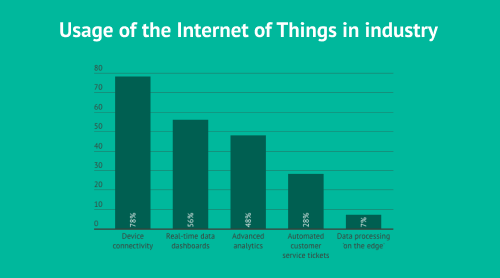 Infographics archive