LG Opens New AI Research Lab in Toronto

LG is opening a new artificial intelligence research lab in Toronto later this year, as the company looks to beat rivals such as fellow South Korean tech giant Samsung, Google, Facebook, Amazon and Apple.
The company is also entering into a five-year partnership with the University of Toronto -- itself a leading AI research hub -- to advance deep-learning and machine-learning research and allow LG to use this technology in its products.
The lab will serve as an extension to LG's current research base in Silicon Valley, and will employ "several dozen people," according to Bloomberg, under the terms of LG's aforementioned partnership with the University of Toronto.
Toronto has been called an "artificial intelligence powerhouse," with many companies having operations there, including Google, which has a Google Brain team situated in the city, and Samsung, which has an AI center there. Toronto is also home to a thriving AI-focused startup scene, including Integrate.ai which raised a massive $5 million seed round in February 2017.
"AI will ultimately touch everybody's lives, transforming the way we live, work and play," said LG Electronics President and Chief Technology Officer Dr. I.P. Park in a statement. "Early implementations of AI in connected devices today are setting the stage for tomorrow's smart cities, smart homes, smart businesses and smart devices, all with capabilities that no one has even dreamed of yet."
University of Toronto President Meric Gertler, meanwhile, said: "The University of Toronto looks forward to partnering with an innovative global company like LG as our researchers continue to advance the boundaries of artificial intelligence. The presence of such leading, multi-national firms in our innovation ecosystem strengthens opportunities for our faculty, students and startup companies across a whole range of disciplines."
Phil Oakley, Site Editor, TechX365
Phil Oakley, Site Editor, TechX365, 10/4/2018
This doesn't align with UK Prime Minister Theresa May's 'Global Britain' vision post-Brexit.
Phil Oakley, Site Editor, TechX365, 10/3/2018
Locum's Nest helps locum doctors find work in hospitals, cutting out inefficient agency middlemen and making the process less expensive for everyone.
Phil Oakley, Site Editor, TechX365, 10/2/2018
With 71% of organizations using a BYOD policy, millennials want more options on flexible working and access to better technology, according to a new report.
Phil Oakley, Site Editor, TechX365, 10/1/2018
Acquiring Deliveroo would give Uber a significant foothold in Europe's food delivery market, which it has struggled to do so far.
Phil Oakley, Site Editor, TechX365, 10/1/2018
According to the Times Higher Education 2019 rankings, Oxford and Cambridge lead the way in computer science research, ahead of big-name US institutions.
All resources
Neil Dodd, Associate Director, BGL Group, 6/7/2018
What is a Usability Lab? Neil Dodd from BGL Group explains.
Sponsored Blogs, 6/7/2018
How can the UK lead the world in M-Commerce?
Richard Orme, CTO, Photobox Group, 5/31/2018
Ai is incredible and can do things humans can't. But can it be emotional?
Innovation Hub, 7/19/2017
The Internet of Things, Blockchain and other drastic digital disruptors are already making big waves in the energy sector.
Microsoft reporter, 7/7/2017
The UK's history of embracing technology and innovation means its capital is well placed to benefit from the "fourth industrial revolution," says Microsoft UK CEO Cindy Rose.
Mark Miles, Rendermedia, 7/3/2017
Rendermedia's Mark Miles looks at how technology is changing the way we view content.
All Sponsor Blogs
Industrial IoT Usage & Maturity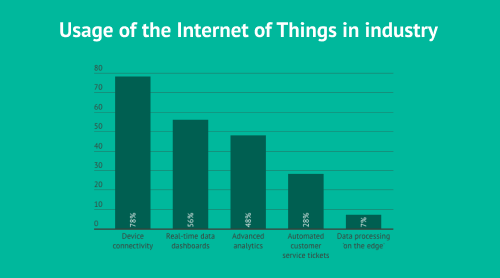 Infographics archive