It's safe to say that transportation has come a long way since we were hopping on a horse-drawn cart to take us from A to B. Whether we are hailing a taxi from an app, discussing how driverless cars are set to take to the roads or how we can now own a car on subscription, how we travel and own a vehicle is changing like never before.
Car manufacturers and those in the industry are no longer creating vehicles which take us to and from work, to run errands or on a road trip. They have become driven by technology, and push the boundaries of what can be achieved, in order to provide the user with all that they could possibly desire on wheels. So, just what does the future look like?
From electric to whisky
The number of registered electric or hybrid cars rose by more than 50% last year, yet could a whisky-fueled car be the future? Just this month a UK-based startup became the first organization to test fueling a car with whisky residue biofuel -- and it proved to be a success.
Produced using a combination of draff and pot ale, the team at Celtic Renewables teamed up with Tullibardine Distillery to use their wastage. Looking to explore the future of renewable energy, the startup wants to reduce consumer reliance on petrol.
With Volvo announcing it plans to become the first major car manufacturer to go all electric by 2019, petrol could become a thing of the past sooner than we think.
Driverless cars
Driverless technology has been a discussion topic for a while; in April 2017 Apple was given the go-ahead to test autonomous vehicles in California. Meanwhile, UK motorway trials have a date set for 2019.
Arguably, driverless cars are already on the roads, with many models able to drive themselves on motorways or with as little human interaction as possible -- keyless technology, stop and start, cruise control and lane guidance being prime examples. In order for cars to become fully self-sufficient, testing is currently taking place in urban and suburban areas where traffic lights, pedestrians and complex road systems are prevalent. Once these have been successfully executed, drivers will soon be able to complete their journey without having to do a thing -- or the very minimum at least.
General Motors has been working on semi-autonomous vehicle technology which is set for motorway use only and is set to debut on the Cadillac CT6. The autopilot functionality is only available to be turned on when the vehicle reaches a highway, with built-in sensors tracking drivers head movements to keep them focused on the road and alert.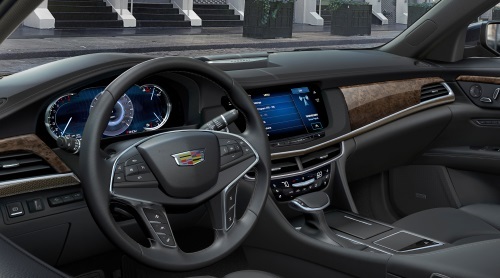 Car and ride sharing
With Uber transforming the taxi industry and Lyft following suit, attention is turning to how ride-sharing is aiming to reduce traffic on our streets and lessen the environmental impact vehicles have. With both companies allowing users the chance to share rides with others who are travelling to similar locations, users are becoming accustomed to sharing their vehicle and the fare too.
Similarly, with driverless technology becoming a reality, people are becoming used to the idea that if their car doesn't require them to use it, car sharing becomes increasingly logical.
One of the driverless technology vehicles being tested, Arma, has a top speed of 28mph, and is being marketed for use in areas where a fixed-route or on-demand service is required; such as an industrial park or university campus. With 30 vehicles across the world, Narva, the parent company, are set to increase the fleet over the next year.
Vehicle ownership
How we own vehicles is changing too. With Cadillac launching their subscription service in the US in January of this year, and now with Wagonex in the UK. Cars are a depreciating asset, costing more to maintain and upkeep the older they become, yet subscription services are allowing users to manage costs such as these under one monthly payment.
The ownership industry is lacking both financial innovation and a digital customer journey, something which subscription services can change, putting the consumer experience into the heart of the industry once more.
One of the increasingly common issues customers are facing when they take a car out on a PCP model is that the advertised price doesn't include additional upfront fees. They are also tied in for a set period and have set mileage limits which mean the user incurs additional charges.
When owned on a subscription basis, users are being provided with the opportunity to change their vehicle depending on their circumstance. Whether it's a convertible for summer or a 4x4 for winter, or if a people carrier is required as a surprise -- users aren't tied into being stuck with the same car for the foreseeable future.
With 75% of industry leaders accepting that less than 50% of cars will be owned by 2025, the subscription economy has real power to change the future of car ownership.
The car industry is on the cusp of real change, whether it's disrupting how we own cars or how we drive them, the automotive industry is awaiting its grand transformation.
— Toby Kernon, CEO and founder, Wagonex