Large, established companies need to innovate fast in our ever-changing world. We spoke to George Goley, CTO at Sainsbury's-owned Argos, about his efforts to roll out digital transformation and new technologies.
What are your priorities for innovation in 2018?
Argos has made significant progress in the last few years in its evolution from a catalog-led business, to a digital-first, multi-channel retailer. Thanks to our ongoing digital transformation, around 60% of sales at Argos now start and/or finish online, and more than 80% of those transactions occur on mobile phones and tablets. In 2017, we were named Retail Week's Tech Retailer of the Year, and with the Sainsbury's acquisition of Argos in 2016 came a renewed commitment to serving customers whenever and wherever they want across the entire Sainsbury's group.
However, there is always more to do and this year our focus is to continue evolving the people, processes and platforms necessary to support tech innovation across the Argos organization. That evolution encompasses everything from hiring tech talent rather than renting it, to funding teams rather than projects, to building technologies that are easy to connect and therefore easy to leverage in the creation of innovative new customer-facing, colleague-facing, supplier-facing and vendor-facing tech functionalities.
On top of that, this year I'm focused on how to effectively explore more ideas with three internal programs designed to provide our colleagues with the information, tech foundations, collaborations and funding to pursue innovative new approaches to creating a better shopping experience for our customers.
As part of those efforts to nurture the innovation that drives Argos, a great number of our best engineers will be focused on our big data, analytics and machine learning efforts. Their aim will be to not only provide insights that spark innovation, but also provide reporting that helps us refine innovation efforts and make machine-learned decisions as part of those innovations.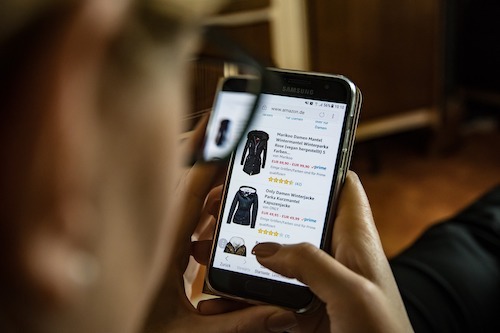 How can large companies prioritize tech self-disruption?
For large companies, we start by identifying the many points that we occupy on the continuum of tech importance that runs from Tech-Phobic to Tech Aware, to Tech Driven to Tech Company. Small companies may occupy only one point on that spectrum, but large companies have sections of the company that inevitably fall on different points of the spectrum. That gives large companies the opportunity to understand the pros and cons of each point on the continuum and to decide for themselves where they want the majority of the company to land.
One key to the process is to spend more time building and delivering valuable tech, rather than debating or predicting the value of tech. Being willing to change direction when evidence suggests that there is something more valuable to pursue is the key to real agility, not just in technology, but throughout a business. At Argos, we've adopted very agile ways of working, which means our teams are empowered to be brave, experiment and even fail. This approach enables them to get ideas out there faster and learn very quickly what works for customers and what they want.
What are the key changes in consumer behaviour that tech development is creating right now?
First, it's critical to remember that every consumer is an individual and that no blanket statement about consumer behaviour applies to all. That said, here are some key examples of changes that we attribute to tech development:
Mobile: customers expect that everything can be done not just online, but on their mobile device too. More than 70% of our online sales come via mobile devices so we know this is how a very large proportion of the UK public want to shop.
Single customer view: when interacting with a company, customers expect every colleague and system to have instant access to every historic interaction that ever occurred between the customer and the company. Creating a joined-up, single customer view is one of the big challenges for businesses, especially established retailers and those with legacy infrastructure systems.
Predictions: customers expect that every recommendation or suggestion a retailer makes will be an accurate one. We're using technologies such as machine learning to help us better understand what our customers want and therefore make more accurate predictions.
Data: the recent Facebook data scandal has placed even greater scrutiny on how companies harvest data, what it is used for, and how they control its dissemination. So there's never been a higher expectation from consumers to have complete control over their personal data.
New technologies: as customers become more digitally aware and familiar with new technologies, they want to be able to use technologies such as voice recognition and AR when shopping and often expect those experiences to be better than they are. These emerging technologies are still in their infancy and many companies are still testing what works.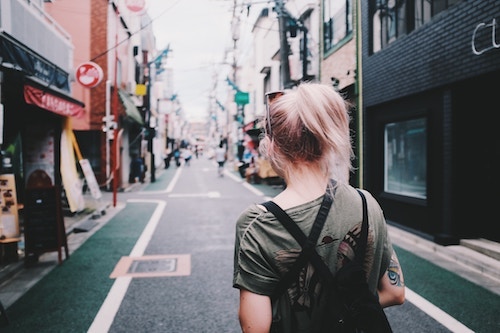 Where do you see the most reluctance to innovate?
I see it in companies that have made investments in technology that have not translated to business performance in the way the business anticipated.
I also see it when companies look to rent, buy or outsource their innovation and take a leap of faith that requires the kind of huge upfront investment that makes innovation both daunting and unlikely to succeed.
What will be your key message at London Tech Week this year?
Great tech is a function of great tech talent. Great tech talent is in demand everywhere and can therefore work anywhere. If we think about tech talent in the right way, we can make the UK the most attractive place on the planet for tech talent, and that's really exciting. Recently, we announced the creation of 150 new permanent tech roles at Argos which demonstrates the importance we place on growing and nurturing our own tech talent. We're proud to be a British business leading in tech and making this investment in our people.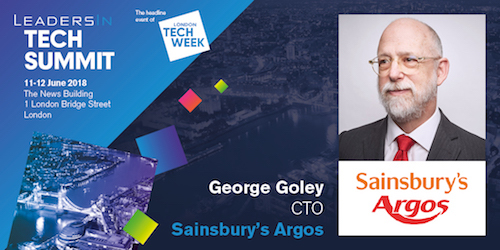 George Goley will be taking part in a panel discussion on "Balancing Execution with Innovation" at the LeadersIn Tech Summit 2018, the headline thought-leadership event of London Tech Week.
— Gabriella Jeakins, Digital Content Marketer, London Tech Week