This month marked the fifth year of the world's biggest IoT event. Internet of Things World 2018 -- the flagship event of the IoT World Series and sister-show of IoT World Europe (which takes place this June as part of the TechXLR8 event in London) -- was the most vertically focused yet, sharing success stories tailored to each industry where the IoT is gaining traction.
The California-based show provided insights of great relevance to every business in Europe. Fortunately, those insights will also be front and center at IoT World Europe next month.
IoT: There's something for everyone
Some of the key lessons came from well-known brands not usually associated with IoT. Meg Goldthwraite, chief marketing officer at NPR (National Public Radio), took the IoT World stage to explain how her company's new marketing strategy accounts for the uptake of smart home technology.
Most wouldn't expect to see NPR speaking at an Internet of Things trade show. However, the media organization says its ultimate "mission" is to have its content seen and listened to by as many people as possible, and NPR sees smart speakers and AI in the smart home as critical means to that end. Goldthwraite and her team are spreading the word that much of NPR's content is available on smart home devices, and NPR has created a short podcast made specifically for smart speakers.

Watch out for 'pilot purgatory'
This year, "pilot purgatory" joined "interoperability," "holistic," "5G" and "blockchain" as a prime buzz phrase bandied about during IoT World. But its fashionable status doesn't mean it should be dismissed simply as industry jargon. Many businesses that have shifted from grand intentions to actual IoT implementation have hit a new hurdle: Their pilots have taken off but aren't being rolled out in full, either because the additional costs are too onerous or the route to a return on investment (ROI) isn't clear.
Claire Curry, head of emerging technology analysis at Bloomberg New Energy Finance, acknowledged that energy pilots often slip into this "valley of death." The inability to scale is sometimes due to engagement with IoT technology startups, which can manage small pilots but that struggle with anything much bigger. Trust and regulation are also common blockers, but sometimes even relatively successful pilot results still don't justify additional investment.
There's no easy solution, yet. The best advice was to be transparent with the wider company about expectations and results before and during the pilot, and having realistic objectives that, if met, would justify scaling up later. Beyond that, learn from those that have tried and failed before, and avoid making the same mistakes.
There's been progress on the whole IT vs OT issue
Who owns IoT initiatives at a company and the data collected? The IT department, operational technology (OT), or a marriage of the two? The rift between IT and OT is prevalent at many companies pursuing IoT initiatives and has led to security flaws and projects being isolated.
It's been a problem for a while and a few companies have now made serious headway. JoAnna Sohovich, CEO at Chamberlain Group, says it's a pricing decision. Do you just want access, do you want to own an application, or do you want exclusivity? Once this has been clarified and negotiated between user and provider, it will help ultimately indicate which team is best placed to take the lead.
IoT World Europe is the TechXLR8 event where industrial IoT is put into action. Get 20% off your conference pass as a TechX365 reader with VIP code "IOTWS20" -- book here and that code will be automatically applied.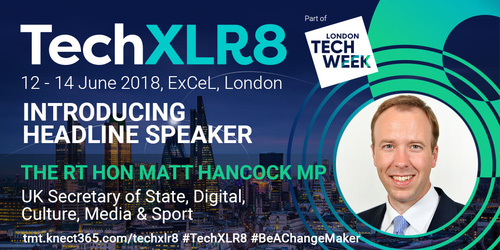 — Jeremy Coward, Marketing, Content & Communities Lead, Internet of Things World Europe