Augmented reality, such as it is, has brought about new incredible innovations in the world of mobile gaming. AR allows the user to move about their physical space -- largely headset free -- and interact with virtual entities.
This can come in many forms practically as we have seen with recent business AR programs like the IKEA kitchen. Other AR business apps have allowed the user to browse catalogs in 3D or go furniture shopping by placing the potential objects in their home in real time.
All of these have obvious advantages and functional application. Some of the most creative AR advancements however, can be seen in the mobile gaming market. As augmented reality has begun to take over the mobile space and utilize smartphones the way games are played is changing.
They are no longer top-down or removed experiences but rather entirely absorbing applications that showcase how truly innovative AR has become.
There are a few ways that players can interact with games via AR and one of the coolest is showcased in the game and global phenomenon Pokémon Go.
In Pokémon Go, players walk around their communities or parks and look for Pokémon -- creatures that inhabit a fictional world -- with their smartphones. This occurs by the player holding up their smartphone camera toward a certain location around them physically and watching as a creature pops up on the screen. At that point the player can then attempt to capture the Pokémon by swiping up on their phone and watching as a Pokéball flies out onto the landscape in front of them.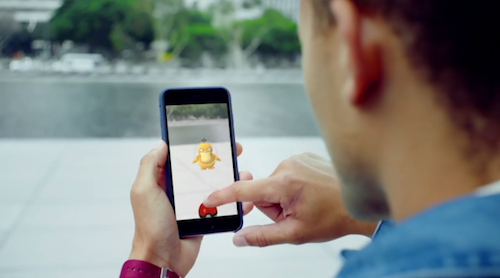 This provides players with the feeling of being in a world inhabited by creatures that they can interact with. This level of gaming encourages the player to walk around their surrounding and scan their environment for Pokemon like in the shows by the same name. It has an incredible tie in connection as well as provoking otherwise sedentary players into exercise.
In the AR game called Hologrid, players lay down a chess-like board, which they can then throw creatures onto as combatants. In this way, the game plays like a virtual board game whereby players can interact with a still object in their physical space and then manipulate it to create change.
This allows players to play a more traditional game in a new and inventive way that infuses the best parts of Augmented Reality with the best parts of board games. This infusion is an example of what mobile AR is capable of being in the future.
There are innovations being made to more modern mobile game genres as well. For instance, the game Ghosts 'N Guns puts players into a still position in which they have to look around for ghosts to shoot. This occurs by players first placing a portal onto the ground through which ghosts can enter. This locks players in place and forces them to keep their head on swivel so as not to lose health and perish to the chagrin of digital specters.
In the game dARk, another AR mobile game, players place a portal and the ground and then explore a rift between worlds to find a missing person. This uses the portal mechanic, which gives the game something to manipulate in real time.
In a more lighthearted style, the game ARise let's players set down a large and beautiful ancient building floating in whatever space you choose. From that point the player then has to figure out what path would most benefit their miniature centurion companion as he ventures to find the end of his journey.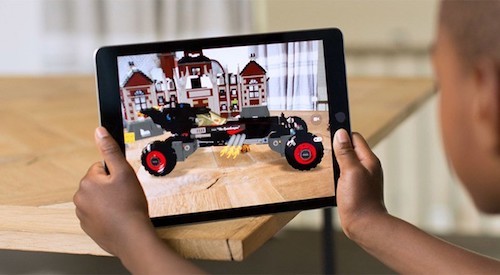 In the vein of that family slanted affair there is also the game AR Dragon, which allows the player to feed and play with a small dragon. The player can watch as the creature runs around whichever space was chosen. It immediately harkens back to images of tamagotchi and other pet simulation games.
All of these recent gaming innovations lead to harrowing experiences and fulfilling challenges that take advantage of AR in an exciting way. This market is far from saturated and seemingly increases daily. What we have now on the market hasn't even begun to push the limits of what Augmented Reality can do but it's certainly excites and interacts with the technology.
There is a clear technological revolution coming that will affect how we do everything, but which might affect gaming the most. The way we play is changing and being challenged all of the time. It is a simple fact that in due time all games will be more than meets the eye and that with proper development we may have fully sensory worlds where we can live out our greatest fantasies forever.

— Charles Dearing, technology journalist