Virtual reality is being picked up by companies left, right and center as the technology starts to become mainstream and businesses start to figure out how to use it to their advantage. One particular place where it could be hugely beneficial is in the training industry, as it allows people to train and learn in a stress-free but incredibly immersive and realistic environment. We heard from Christina Corbat from V-Armed about how the company is talking to the US Army about using its tech, and the direction the VR industry is moving in.
Can you describe your role and what you are currently working on?
I'm the director of business development at V-Armed, a role that has three prongs: strategic partnerships, operations and business strategy/marketing. As you may have already ascertained from the list of hats I wear, we do not have venture capital backing us, so we have to be very disciplined and aggressive to make the biggest impact possible.
We started conducting market research a little over one year ago while simultaneously building our brand awareness and relationships within the communities we've been targeting. And that process was essentially gearing up for the proposal process, which is where we are today. You may have heard defense contracting is fiercely competitive; a company doesn't just drop in from out of the sky, submit a bid, and win. An awful lot of strategy goes into the lead-up. There is very little room for failure here because the timing is everything, and a lot of VR/AR opportunities are just now starting to hit the wire.
In order to not miss out on the highest value opportunities, we are devoting the majority of our effort to preparing for a US Army bid for the Synthetic Training Environment. By that, we mean we are improving our capability to integrate with content and VR hardware, all the demands the soldiers, marines and military police have for training in simulated environments. And it also means we must do our market research on numerous other contractors who might help us reach the end goal. It's called teaming, so we've been doing a lot of dating on the way to finding our perfect partners for this bid.
There are similar, but smaller-scale projects happening in the Federal law enforcement space that we are actively bidding on with our subject matter expert teammates, and then there are research opportunities with the Department of Homeland Security that we are engaging in to validate our technology for wider dissemination among the State and Local levels of law enforcement. We are also in negotiation with a university to co-create an active shooter training test-drive in VR for law enforcement professionals across the US.
One can never stop marketing and developing new leads, so we are actively learning about the US Navy this year, as the Navy and Marine Corps are the focus of the I/ITSEC trade show in 2018—I -- ITSEC is the Interservice/Industry Training, Simulation, and Education Conference. It's the most important show for us and we'll be co-hosting a booth with OptiTrack this year again to show the art of the possible -- with a naval theme this year.
I'm also looking forward to launching a recruiting series that connects the gaming community with the defense modeling and simulation community because these two worlds could really benefit from knowing each other better. Some great defense contractors and military academies have expressed interest in participating, so stay tuned for news about that. It will, of course, include craft beer and great music since our studio is, after all, in a warehouse in Brooklyn.
There is a lot of focus on what the future holds for VR. How are you using the tech now?
The simple answer is that we are using it to replace outdated projection screen technology for training law enforcement and defense professionals. The more nuanced answer is that we're changing the way people think, we're suspending disbelief, we're saving lives, and we're hopefully making the world a better place because we can now practice difficult decision making in the most realistic rehearsal settings available today, repeatedly, affordably and at scale.
How do you manage people's expectations of what VR technology is available now instead of looking too far into the future?
For V-Armed, managing expectations is more about actively contributing to the current discussion across the Federal Government, particularly the US Army, about the long acquisition cycles. We repeat back what the customer wants: Over-match against an adversary through expert training and top of the line technology. We then segue that desire into a comparison.
The private sector beats out competition by adopting what advantageous technology is available now, then mastering it, and spiraling in new technology as it becomes available and so on. Sometimes, we would like to wait for a cheaper, more comprehensive version of said technology down the road to arrive on the market, but if we wait we could fall behind and lose that advantage, so we move forward in micro steps with our imperfect technologies.
That's not the traditional way of thinking in the Federal government, and even though the US Army understands that it has a cumbersome acquisition processes that can curb innovation. It's making a valiant effort right now to nurture rapid innovation and acquisition, but they aren't universally cognizant yet of just how rapidly VR/AR technology is developing.
I said universally, so that means there are divisions within the US Army and the Department of Defense that are in fact very aware and open to a discussion about how to help them field the latest in AR/VR in a responsible, cost-effective, evolutionary fashion, and we devote a good deal of energy to keeping the lines of communication open with these groups, so they can refine their requests as they ramp up for the formal RFP process.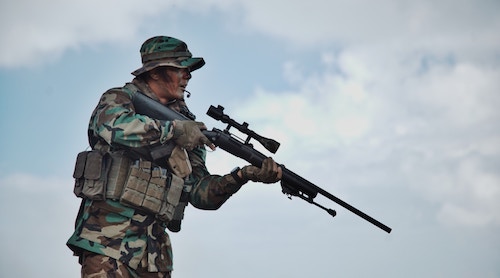 How do we communicate the message to such a large agency? We use the legal mechanisms available to us. We attend Industry Days, we submit questions that are publicly solicited, we raise our hands and ask questions at public updates, and we call the acquisitions people, the PdDs, and the requirements developers that we're allowed to speak with when we have questions or get stumped. Our questions definitely shift the course of the discussion and influences expectations of the customers.
That's not just for the US Army, there are other agencies that have similar mechanisms for communicating with them. Once you've exchanged business cards after, say, a Demo Day at a training academy, you simply stay in touch and check-in with each other about new opportunities or technological advancements at trade shows, symposia, conferences because we're all trying to crack the same code together. Industry also communicates frequently about how we think this new technology could or should be adopted, and eventually that discourse gets carried up to the higher levels of government.

You're speaking at AR & VR World in June. Why are conferences like this important for you?
I'm an arts and education professional by training, so I have an interest in sharing with the public how the creative arts -- animation in our case -- is being used to tackle some very high stakes learning objectives. I love telling the world about who we are collaborating with and why it's exciting. But more specifically, I attend conferences to help me process what I am hearing in the field from customers. It's vital to informing the business strategy and communicating to my leadership that we aren't crazy after all: we're all still waiting for this technology to take off, or that we made the right decision by focusing on enterprise in a niche market that already has a nomenclature for and openness to training in simulated environments.
Who are you most looking forward to meeting at AR & VR World 2018?
Ever since I attended a presentation by Elizabeth Baron at Ford Motor Company, I've looked forward to seeing her at other conferences. She's not waiting for anyone to tell her how VR can help her company. Richard Rabbitz is another ace. I met him at an NVIDIA conference and see him as an exemplar of doing VR right.
Some people in the defense marketplace need to conduct months of research or wait for the Department of Defense to issue requirements before they will touch VR. Richard Rabbitz just does it and with great purpose. I haven't met Lariane Rossanese, a UX Designer and Researcher at Samsung, but I'd like to. We care an awful lot about UX at V-Armed, and Samsung is a company we are just getting to know and develop a relationship with. They are also very eager to help fighters and the first responder/law enforcement community get to the next level technologically.

— Elin Gronow, KNect365 TMT