The way we shop has already been permanently altered by technology, but with next-gen tech such as machine learning and augmented reality beginning to go mainstream, what will the next few years mean for the local high street and big shopping centers? Julian Bennett, retail tech expert, explains how tech could mean positive -- and negative -- experiences for customers.
Can you tell me a bit about your career in tech and the kind of projects you're working on at the moment?
I've spent most of my 30-year career in technology roles, moving between industry and consultancy, and covering a range of market sectors. For the last 15 years, I've focused on retail and the wider market ecosystem of consumer products, distribution and logistics and have lived through and led organizations through the first, the second and now third wave of digital retail transformation. I'm involved in quite a few different things right now, mostly a bit secret, in relation to mergers, acquisitions, turnarounds and high-growth startups.
How have IT and data teams' roles changed in the past five years, with respect to delivering better customer experiences?
I think ten years ago there was a huge rush to focus tech and data investment into the front end of retailers' operating models -- concentrating on websites, mobile apps, customer engagement and marketing automation. That focus has only quite recently started to shift back towards the core operating areas of buying, merchandising and supply chain. To get a business properly growing profitably both demand and supply side need to be kept in sync, so I'm pleased to see more balance in retailers' investment portfolios. Digital disruption can sometimes be digital distraction in my experience.
Marketing technology is getting smarter -- what do you think is the most interesting development in customer experience technology?
Interesting or profitable? Interesting has to be the AI-driven visual and natural language search and merchandising tools that have merged in the last few years. But I think they may have unintended and potentially negative consequences on customer choice that retailers need to get their heads around. I think the tech with the most potential to drive profitability from customer experience actually sits behind the scenes rather than at the front end. Demand-Supply synchronization is notoriously difficult to achieve at scale. Tech applied there so that companies that can tighten up their performance, ensuring optimal stock levels to meet demand at attractive prices with adequate intake margin and reduced working capital requirements, will see improvements in customer experience leading directly to improved profitability. This is the heartland application area for AI, machine learning and a new wave of retail tech and data thinking.
How would you say the relationship between consumer and technology, in retail, has changed over the past few years?
We consumers have more powerful technologies and networks available to us now than most big retail businesses. The power has shifted to the consumer as a result. Smartphones created the impetus for that shift. Responsive site design and progressive apps have had an amazing effect too, often rendering very expensively developed mobile apps redundant very quickly. The great experiment of social commerce is starting to show some signs of potentially being a red herring for retailers, with consumers increasingly wise to the business models operated by the big social networks. That said, social remains a huge area of leverage for consumers.
What is the biggest challenge facing retail over the next five years? How can tech help?
Wow -- that's a very big question and it really depends on the last five years on a case by case basis for every retailer, because they can respond differently depending on where they have go to with their core business capability and efficiency. The macro challenges in common are Brexit and the uncertainty that that is creating plus a lot of other cost increasing headwinds. For example, distribution and logistics costs are increasing as a result of that Brexit uncertainty due to labor shortages at peak periods and the continued shift to e-commerce. There is excess retail space in the market and long leases are causing a drain on cashflow, working capital and investment budgets, while business rates and living wage levels are putting pressure on profitability, as is supply chain transparency demanded by the Modern Slavery Act. GDPR is a huge risk and cost that needs to be managed. Most retailers are behind the curve on that. Intense competition will see consolidation become an absolute necessity and that will demand a lot of time, attention and investment to get right. I could go on and on...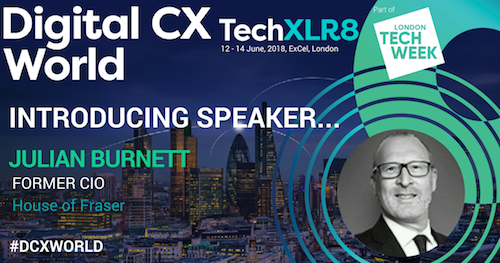 See Julian Burnett speak at this year's Digital CX World at the ExCel this June. Find out more and book your conference pass here.
From a tech and data perspective, anything that drives demand transparency and accuracy, end-to-end supply chain efficiency and labor optimization will be very welcome by retailers. AI will play a big part here. AR, VR and CGI technologies will find a home in some retailers offering products that need to be visualized in context -- on you, at home, in your garden, etc -- but they aren't for everyone. Trying to use AR to sell more broccoli probably isn't the best use of that kind of tech! Blockchain offers some big potential too, particularly in supply chain transparency. I think the big unserved population in most retailers -- store colleagues -- will need to be supported better with technology in the next five years too. Not just to help them do their jobs but also to help retailers tap into the vast reserves of customer loyalty and business knowledge that they possess. I could go on and on here too...
What other industries and fields do you look into for inspiration?
Pharma and Life sciences, because they've got multi-party, non-sequential, knowledge intensive, collaborative process management down to a tee. In retail the whole end-to-end process of buying, merchandising and selling could do with a massive overhaul quite frankly and could be much more effective if we adopted similar characteristics to the product development approach that industry uses.
You're speaking at Digital CX World in June. Why do you feel events like this are important to be involved with?
I like to help people rethink problems, challenges and opportunities by taking different perspectives and approaches to the conventional. I hope by attending events like CX World I'm able to do that. I'm a great believe in outside-in and counter-intuitive thinking. Big stuff gets solved much faster if you throw away preconceptions formed over the long history of retail.
Who are you most looking forward to meeting at Digital CX World 2018?
Everyone!

If cutting-edge technologies are of interest to you, be at the forefront of change and see first-hand how technology is transforming industry, lives and society at Digital CX World 2018. Digital CX World is taking place June 12-14, 2018. To find out more, click here. Pre-registration is now open and it's free – register your interest here.
— Elin Gronow, KNect365 TMT