Pierre-Henri Chuet is a former French fighter pilot turned entrepreneur, founding a company that enables people to fly fighter jets in virtual reality and experience the gut-wrenching sensations that comes with flying superfast fighter jets.
Can you describe your role and what you are currently working on?
I am a French Navy Rafale fighter pilot leaving active service and creating Mach 3 Management, in the UK. We named the company Mach 3 Management in reference to the pace at which fighter pilots have to manage multiple tasks, at speeds of over 900 metres per second.
We are working to enable the corporate world to take advantage of the training methods and lessons learned in aviation. The military spends millions of pounds to create the curriculum and train its fighter pilots to make them as efficient as humanly possible. Our goal is to give to the corporate world the opportunity to experience those methods at a fraction of the cost.
The best part? You don't need a secret clearance to attend our training session! Using combat decorated fast jet instructors and virtual reality simulators, we deliver the world of aviation to your meeting room.
The future of AR and VR looks promising and although the market is moving forward, neither AR nor VR has reached its full potential. Rather than focus on the future of this technology, how is it benefiting your company now? 
It is the VR technology that enabled us to create the company. We believe in hands-on training, not only do we share our experiences but we have our trainees apply our methods and techniques themselves in our simulators. It wouldn't be possible in a meeting room without virtual reality.
Furthermore, thanks to VR there is no need for us to convince anyone about the efficiency of our techniques. Trainees try them for themselves, we discuss individual adaptations to make them more efficient and they walk out of the room with something they can use immediately.
I would love to take each trainee for a flight in a fighter aircraft. It actually is possible and we do offer this to our clients, but for most of them the VR experience makes it less time consuming, and it is weather proof!
How are you using AR and VR now?
We have mock cockpits of fighter aircraft that are 1.7m long and 1.2 wide with (fake!) ejector seats to enhance the sensation. We currently have 3 simulators, with 2 scheduled to be on display at AR & VR world June 12 to June 14.
They are linked together, enabling trainees to fly in the same world, fly close to each other, or work together. The VR really puts you IN the cockpit and enables you to go through a range of motions that wouldn't be possible without VR.
This enables us to work on subject like decision making, stress and workload management or mission execution training. 
How do you manage people's expectations of what VR/AR technology is available now instead of looking too far into the future?
A vast majority of employees in most corporate environment have never spend more than a couple minutes using VR. Furthermore, most of them has never used a flight simulator before.
So far 100% of our trainees were highly impressed by the way they felt enveloped by the cockpit, making it easy to deliver an immersive training. But the best way about our business is that if clients aren't satisfied with the VR experience we can always schedule them for a flight in a real plane... but nobody has complained so far!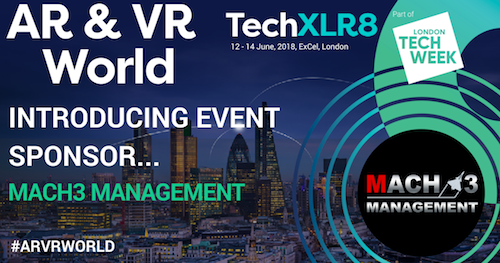 You're at AR & VR World in June. Why do you feel events like this are important to be involved with?
"If you are the smartest person in the room, then you are in the wrong room." I think this says it all -- opportunities to access the right room must be cherished. Even VR can't compete with a face-to-face meeting yet.
Who are you most looking forward to meeting at AR & VR World 2018?
Mach 3 Management is interested in meeting people and companies that understand the importance of making their team supersonic! To get the most out of technology and help your business flourish, your staff has to be "Combat ready."
Visit us at our stand in the AR & VR world to see how we can help you. You can also book an appointment with us.
We are combat proven!

Meet MACH3 Management at AR & VR World 2018 at TechXLR8, London Tech Week's headline event. Find out more here.
— Elin Gronow, KNect365 TMT