After a few years of steadily gaining traction, virtual reality is slowly taking off. However, high-quality content is still the bottleneck to a high-growth spurt in VR. In light of this, we asked Pontus Blomberg, founder of 3D Studio Blomberg, about how AR/VR entrepreneurs can move the sector forwards with more content and even better experiences.
Can you describe your role and what you are currently working on?
I head up Business Development for 3D Studio Blomberg, focusing on helping to not only develop the right products and services for our customers, but also to build trusting relationships with them at the same time.
Aside from our business-as-usual activities and core services, we're currently developing two new, exciting products. One of these involves the use of VR in an interactive tool which can be used across all industries to help organizations with a range of activities from the virtual tour of a factory plant, helping recruitment, through to health and safety and remote product training. The other addresses a key problem for making AR an enterprise reality via automation. I can't say too much about these at the moment -- you'll have to wait for the event in June!
How is your company using VR to benefit the industry and to grow your business?
We believe the world is on the cusp of going mainstream with both AR and VR but yes, the industry will continue to evolve. Being at the forefront of developments and opportunities, building our knowledge and expertise with both technologies and piloting products and services in order to offer products that will make a difference is where our focus currently lies.
This puts us in a very strong position as, by understanding the needs of industrial enterprises, we're delivering products to our customers who themselves want to embrace these new technologies to complement and expand their current business processes.
In the Nordics, we're working hard to transform industrial customer requirements into new and innovative products in order to stay at the front of the AR and VR race and to be the natural supplier of choice in this part of the world.
What's the current use case for AR?
As mentioned, we're currently developing a very exciting product which has VR at its very core and which we believe will create enormous value for a range of industries.
AR is rapidly maturing as the big players have taken the technology under their wings and we've developed a number of applications targeted at our customers' needs. The AR ecosystem benefits from organizations like the AREA [Augmented Reality for Enterprise Alliance] which are absolutely critical in terms of connecting organizations and people who are on the same technology journey. It's essential to belong to a network like this in order to keep building experience and expertise and make that step change sooner rather than later. In addition to this, we have managed to establish a global partner network consisting of leading, best-in-class technology companies and experts, which is a valuable asset when developing products that have to answer real needs.
Content is the bottleneck for AR/VR -- how can those in the industry create high-quality content?
We believe that re-use of existing enterprise data assets coupled with automation are key enablers to enterprise adoption of AR. There are a number of technical challenges in some use cases, but at the end of the day, the needs of scalability and cost-control will be a major factor to making AR an achievable tool in the arsenal of corporate productivity drivers.
More broadly, companies really have to immerse themselves in the technology and new developments within it across the world but, at the same time, they have to be realistic about what's possible right now and in turn manage the expectations of customers. Things are changing so rapidly; we're on a fast-moving train which is not stopping at all the stations and keeping up involves dedication, patience and building trusting relationships within the community itself and between yourself and your customers. At the same time, building that sense of community with other providers and developers of the technology is absolutely imperative to future success.
How do you manage people's expectations of what VR/AR technology is available now instead of looking too far into the future?
We talk to a lot of very enthusiastic customers and sometimes their expectations are unrealistic, at least in the short term. Ensuring they have confidence in us, in our ability and in our vision is important. They have to feel like they're on the same journey as us. That we're all travelling on that fast-moving train together, building that sense of vision together. At the same time, we always try to share something tangible with them, whether it's a demonstration, a customer case study, a new use case or an idea. This helps them see that whilst the technology is real, it's also continuously improving and therefore strategically important for them to invest now.
AR users need to be able to make a stop every now and then in order to really embrace and take advantage of the current technology state. Sometimes it feels like we are moving so fast that we forget to highlight the value of use cases that can be supported today.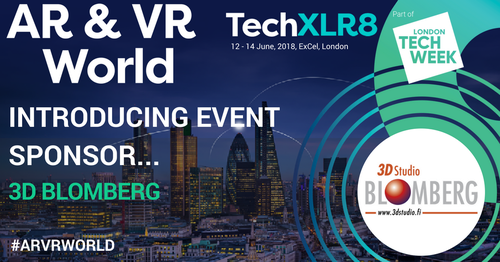 You're at AR & VR World in June. Why do you feel events like this are important to be involved with?
Events like this are really about bringing the community together in one space, sharing ideas and recent developments. Sometimes just one conversation at an event like this can be the catalyst that brings about a new idea, which evolves into a new product. At the same time, we have a platform which should be used to tell the world about what's happening, an opportunity to talk about the current state of the industry. Sharing, learning and innovating together -- that's what it's really all about.
Who are you most looking forward to meeting at AR & VR World 2018?
I'm very excited about AR & VR World and connecting with others in the industry to network, learn and to share our product strategy and vision with new and existing partners and customers.
The enterprise speakers and sessions are of particular interest to me as that's where our product strategy lies. These meetings are often great learning experiences from which to draw inspiration in order to build better products.
I'm also looking forward to seeing some of the technologies in action, being able to experience that first-hand through product demos and prototypes is really exciting. Often, productive partner relationships are born from a chance viewing of a demonstration.


If unlocking the commercial potential of augmented and virtual reality is of interest to you, hear from other industry professionals at TechXLR8 2018. TechXLR8 is taking place June 12-14, 2018. To find out more, click here. Book your pass to AR & VR World here.
— Elin Gronow, KNect365 TMT