Private Equity Tech M&A Activity Surges in Q1: Report
There was a sharp year-on-year rise in the number of technology acquisitions made by private equity (PE) firms during the first quarter of 2017, according to 451 Research.
Data collected by the research house's M&A KnowledgeBase team shows 184 transactions by PE firms and their portfolio companies during the first three months of this year, a 26% rise compared with the first quarter of 2016.
Key reasons for the increase are that there are simply more PE firms active in the tech sector and they have a significant M&A war chest at their disposal.
"In the history of the industry, there have never been more tech-focused buyout shops with access to more capital, collectively, than right now," according to Brenon Daly, Research Director, Financials, at 451 Research. "New PE firms have popped up, while existing shops have put even more money to work in the tech industry," he noted in a media release issued by the research house.
The trend appears to be limited to PE firms, though: "Cash-rich financial acquirers represent the only significant group that's accelerating activity in an otherwise slowing tech M&A market," notes 451 Research in a media release.
That can be seen in the graph below, which shows that during 2016 and in the early months of this year, the number of tech acquisitions made by US-listed companies is on the decline.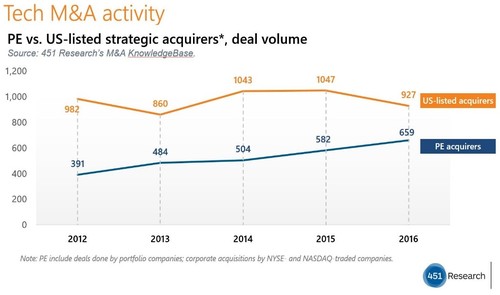 In total, according to 451 Research, global spending on tech and telecom deals during the first quarter of 2017 hit $77bn, about the same as a year earlier. For more, see this blog by Brenon Daly.
— Ray Le Maistre,
, International Group Editor, Light Reading for TechX365.
Phil Oakley, Site Editor, TechX365, 11/21/2017
Deliveroo has raised a further $98 million to close out its Series F funding round, after initially raising $385 million in September.
Ray Le Maistre, International Group Editor, 11/20/2017
UK chancellor seems set to provide financial and legislative support to the 5G, AI and connected car sectors in his budget on Wednesday, but the devil will be in the detail.
Phil Oakley, Site Editor, TechX365, 11/20/2017
Spotify is relocating to a new office in London, where it will have a renewed focus on R&D and engineering, and reportedly double its workforce.
Phil Oakley, Site Editor, TechX365, 11/17/2017
Close to 100 speakers discussed the challenges facing the Global Tech Industry at the Tech London Advocates 'Tech World Tour' at Here East in London.
Phil Oakley, Site Editor, TechX365, 11/16/2017
The UK government is supporting the tech industry with £61 million, which will see Tech City UK become Tech Nation, plus the doubling of talent visas to 2,000.
Wednesday, September 20, 2017
11am BST
The brutal truth for any startup is that the chances of long-term success are relatively slim – factors such as a lack of access to capital, poor management skills, a misguided business plan or sheer bad luck all weigh against fledgling companies. So what can startups do to maximize their survival potential? Tesco Technology, an influential and experienced organization, will talk about what they look for in a successful startup, how and why they work with startups and how rookie companies can make the grade and be a long-term survivor. This is a highly relevant webinar for any startup but a 'must attend' for any young company in the energy and retail technology sectors.
All resources
Phil Hails-Smith, 7/19/2017
Joelson's Phil Hails-Smith provides some key advice for tech startups.
Innovation Hub, 6/19/2017
In this podcast, UK Innovation Hub Outpost's Kate Jack shares with London Tech Week the three key attributes startups need to have, not only to survive but thrive in a market burgeoning with competitive startup talent and innovation.
Mike Jackson, Browne Jacobson, 6/6/2017
London is a great city and a tech hub but opportunities exist outside of the capital too, argues Mike Jackson.
Jessica Watkins, Tesco Labs, 6/5/2017
The seventh annual Tesco Labs hackathon, which boasted the theme of 'Future Trends,' attracted 16 teams of developers.
All Sponsor Blogs
Cloud Infrastructure: A Priority?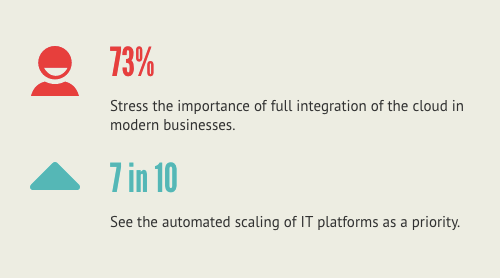 Infographics archive