There was a sharp year-on-year rise in the number of technology acquisitions made by private equity (PE) firms during the first quarter of 2017, according to 451 Research.
Data collected by the research house's M&A KnowledgeBase team shows 184 transactions by PE firms and their portfolio companies during the first three months of this year, a 26% rise compared with the first quarter of 2016.
Key reasons for the increase are that there are simply more PE firms active in the tech sector and they have a significant M&A war chest at their disposal.
"In the history of the industry, there have never been more tech-focused buyout shops with access to more capital, collectively, than right now," according to Brenon Daly, Research Director, Financials, at 451 Research. "New PE firms have popped up, while existing shops have put even more money to work in the tech industry," he noted in a media release issued by the research house.
The trend appears to be limited to PE firms, though: "Cash-rich financial acquirers represent the only significant group that's accelerating activity in an otherwise slowing tech M&A market," notes 451 Research in a media release.
That can be seen in the graph below, which shows that during 2016 and in the early months of this year, the number of tech acquisitions made by US-listed companies is on the decline.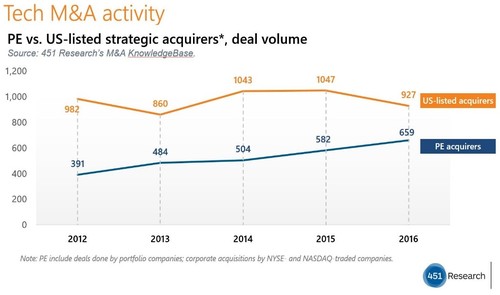 In total, according to 451 Research, global spending on tech and telecom deals during the first quarter of 2017 hit $77bn, about the same as a year earlier. For more, see this blog by Brenon Daly.
— Ray Le Maistre,
, International Group Editor, Light Reading for TechX365.