We had a chat with Karen Harris (below), MD at intu Digital, ahead of her VR & AR World session at TechXLR8, London Tech Week's headline expo. Intu Digital is a responsive digital platform that hosts 14 of the UK's largest shopping centers. Karen will be discussing the potential deployments of virtual and augmented reality in retail at the event this June 13-15.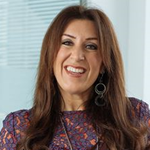 Being the largest owner of shopping centers in the UK, intu is primed to engage with the technologies designed to enhance the retail experience. No stranger to hard work, Harris knows the ins and outs of "e-tail" intimately, and having set up an online shopping center from her kitchen, she says she is very much a believer in "doing is learning."
More than half of the UK population shops with intu, so there's more than a 50/50 chance you've already encountered some of Harris's work.
"Innovation is the other string to my bow; for me technology is all about testing in a live environment. And I'm privileged to have the nation flowing through our shopping centers in a perfect testing environment," Harris says.
intu's vision for the future is one that merges the physical and virtual worlds for the consumer. As Harris describes it, you'll be able to walk into intu Lakeside wearing your Rayban mixed reality glasses and your holographic shopping assistant will greet you to assist with your experience.
"Currently the issue is the form factor -- the glasses are just too big and the field of view too limiting, but we have everything else," says Harris, "the WiFi is already there in our shopping centers with blue dot location technology, we already have access to all our retailers' online catalogs and offers, we're just waiting for the glasses to catch up!"
"Joy," the holographic shopping assistant Harris refers to, will be able to assist your entire shopping journey. If you tell her you need a housewarming present for your friend Jenny, she'll be able to use your publicly available social information to let you know that you and Jenny both liked the Game of Thrones page on Facebook, and that three shops in the center currently have merchandise that might be right for a gift.
Joy can then help you find the products in store, and, when you've chosen one, she can order it to be delivered to your home. No more carrying heavy boxes around the shopping center.
This marriage of AI and AR is going to be integral to the way we shop in the future if everything Harris predicts comes true.
Implementations of VR are already happening across intu centers, to great success.
"We ran a VR leisure pilot at intu Victoria Centre in Nottingham using HTC Vive, and we created a physical log cabin. It was a free two-minute experience. Visitors where able to decorate a virtual Christmas tree, then pick up a virtual Polaroid camera and snap a photo of it. We then email that photo to the visitor. It was one of the most highly rated shopping center experiences we've ever run -- it got over an 98% satisfaction rating."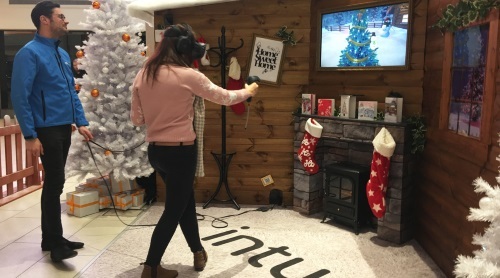 Run on a small scale with just a few participants at a time, Harris says they think they could have definitely increased their capacity, because there was a lot of foot traffic passing by, but also dwelling on the experience. It drew people in, but equally, she acknowledges there are still lots of nerves around putting on a VR headset. Doing so at the moment essentially makes you blind, which is uncomfortable in a space as public as a shopping center.
"Shopping centers have changed a lot, it's not just about retail anymore, it's about leisure and dining too. People want experiences. I think that people used to feel that digital was taking over the world and keeping people in their bedrooms, but the best tech works when it's blended with the physical environment. There is a kind of layering of experiences that is very interesting."
This evolution of experience is what interests Harris most with the development of virtual and augmented realities for business.
"I am most interested in discovering the next disruption, and seeing where it can take us as human beings, there is a good and bad side to technology, but we owe it to ourselves as the to find the good and see how this can benefit the human race."

"It's about asking ourselves, how can we save people with this technology? Companies like Fundamental VR are exploring virtual reality surgeries that could better train doctors and end up saving lives. So, it's about asking ourselves where can we go from here? How can we really enhance ourselves, as individuals, and the world?"
Harris believes everything we do is going to be affected by merged and mixed reality, particularly the everyday tasks that we currently perform with no other options.
"One of the biggest things we've got to solve is the commute to work. I've always wondered why we can't teleport ourselves? The commute is the killer; it is so draining and it sucks up our creativity. Is there a scenario where we all work in a virtual world? If commercially it works with us being more productive and creative, why wouldn't any company go for that? It's so open where it can take us. The whole way we conduct our lives today will be completely different. Our interactions with people and our time will be different. We will be challenged to be creative, because many of the non-creative jobs will be done better by robots. It sounds bleak but it's not. I envisage a world that is full of productivity and creativity. We'll be able to shrink the world down and be everywhere all the time. It sounds idealistic, but this technology isn't about the here and now it's about where we can take society and where we can take humankind."
Hear more from Karen Harris, and about how VR and AR are getting on in retail spaces, in the VR & AR World zone at TechXLR8 this June 13-15. Conference passes are available now on the VR & AR World website.