Nadine Hachach-Haram (below), an NHS plastic surgery registrar and co-founder of Proximie, tells us what her company is doing to transform healthcare using augmented reality.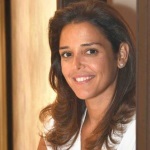 In the UK, the US, and many other countries healthcare access is easy and relatively quick. Doctors and surgeons are well trained to deal with the problems they are presented with. Hygiene is excellent and very rarely does anything go majorly wrong. However, in other countries around the world, things aren't quite as simple. Healthcare can be fraught with issues, and surgeons might not be as well trained or trained in an area which the patient desperately needs an operation on.
This is why Nadine Hachach-Haram founded Proximie. Hachach-Haram was an National Health Service plastic surgery registrar who realized her expertise in the medical industry could help thousands, even millions, worldwide.
"Proximie is our way of bridging the gaps in healthcare and ensuring everyone benefits from the best expertise, and the latest technology, in an exciting and innovative way," she says. Using augmented reality, Proximie can use the expertise of one surgeon to help another, even if the two are separated by thousands of miles.
"Through our interactive augmented reality platform, surgical support can be seamlessly provided from anywhere in the world," she continues. "Using technology, whether that is a tablet, computer screen or mobile phone, you can log on and connect with your team, see expertise first hand or provide assistance to colleagues abroad."
This will be particularly useful for students, who have had to learn complex medical procedures from "text books or video" in the past. With Proximie's use of technology, "students can remotely view and participate in surgical procedures," which means they should learn faster and better than reading it in a book.

Indeed, students are a large part of Proximie's user base. The company is partnering with London's Royal Free Hospital and University College London to provide support for undergraduates in the teaching program. "Surgeries are being streamed from the Royal Free Hospital theaters and the students can log on and interact directly with the operating surgeon. Students can also capture and store photos and videos on Proximie's cloud-based server for future learning," says Hachach-Haram. In the US, meanwhile, Proximie is running a similar program with Yale Medical School, which itself is seventh in the country for research.
Hachach-Haram told us that if Proximie can save just 15 minutes of operating time a week worldwide, that will lead to cost savings of £500,000. In addition, she says Proximie can "[reduce] length of hospital stay and revision surgeries," which frees up beds for those who need them and goes a long way to saving time on behalf of already overworked doctors, surgeons, and nurses.
However, where Proximie really excels is providing expertise to surgeons who need it. A surgeon in London has provided help to a surgeon in Vietnam, and surgeons from the US have helped a surgeon in Peru.
"Proximie was used to provide the first augmented reality surgery in the Middle East where a surgeon in the Lebanon lent his expertise to a surgeon 322km away in Gaza. This was filmed by Al Jazeera's The Cure and the documentary Operation Gaza won the Foreign Press Association Award for Science Story of the Year 2016."
In the future, Proximie wants to use mixed-reality software to provide real-time support for surgeons, using 3D animations to "tap into information."
"We are also looking to expand the technology to include on-demand viewing of surgeries and a 3D anatomical atlas -- all of which will provide a more in depth learning experience and give students more confidence when they find themselves in the operating theater in the future."
Augmented reality is one technology that could really make a difference to the world, especially in the healthcare industry. Proximie is but a number of organizations reinventing how doctors and surgeons work with groundbreaking use of hardware and software.
Nadine Hachach-Haram will be speaking at VR & AR World at TechXLR8 this June 13-15. Conference passes are available now on the VR & AR World website.