Vishal Chatrath (below), the CEO and founder of PROWLER.io, looks at artificial intelligence and attempts to separate the technology from the hype.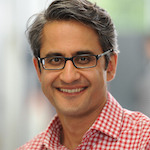 You're not alone: No one fully understands artificial intelligence (AI). In the hype factories of sci-fi, Hollywood and the popular press, AI evokes both awe and deep suspicion. It's by turns god-like, monstrous and a complete hoax. Even tech luminaries can't agree on AI's meaning. Mark Zuckerberg would have us believe his virtual assistant Jarvis -- like Tony Stark's -- is genuinely intelligent. Elon Musk thinks Jarvis is a glorified thermostat and warns that "real AI" might one day bring about an apocalypse that exiles us to Mars... in Musk's handy fleet of rockets.
Back here on planet earth, researchers who actually develop AI technologies -- like those at PROWLER.io -- prefer narrower, more useful terms like machine learning (ML) and decision theory. They're wary of the catch-all phrase "artificial intelligence," in part because they understand that human intelligence is itself largely artificial, an encoded system of man-made concepts, rules of thumb, recipes, customs, calculations, games, lessons, social norms, languages, laws, architectures, religions, even whole cultures. These are the tools we already think with, the algorithms that run on the human platform, as it were.
Turn off the traffic lights in central London and you'll soon see how far "natural" intelligence gets us in a complex system.
Humans have always used thinking tools and rules to keep chaos at bay. Following suit, early AI built simple expert systems out of hand-coded rules. Soon ever bigger decision trees were painstakingly constructed from "if x then y" rules that occasionally even appeared intelligent. The results were often useful but inflexible and could only be applied in static, narrow, predictable scenarios. In complex, dynamic environments, however, scripting or dictating choices from above is either impossible or ridiculously expensive -- often both.
Free agents make better decisions
The smartest complex systems are in fact made of well-coordinated autonomous individuals making their own decisions. That's how bee colonies and free societies work. In ML, those individuals are called "agents." They're not gods or monsters, they're not even minds. They're statistical entities that operate intelligently within computer models of environments like games, self-driving cars, and smart cities.
At PROWLER.io they get their smarts from three core technologies:
Probabilistic models: ML Agents decide on an action by assessing its probabilities for success in a given situation. Powerful statistical tools can generate flexible models of virtual or physical environments. These evolve as agents operate in and on them, effectively programming themselves and updating the model as they go along. No model is perfect, just as no map is a 1:1 scale representation of a territory. One powerful statistical model, Gaussian Processes, can help estimate, account for and even reduce uncertainty. This allows the system to uncover hidden relations between events and explain correlations in the data.
Reinforcement Learning (RL): Agents can get better at this -- they can learn -- using a method borrowed from humans and animals: by associating actions and rewards. You can teach a dog to sit by rewarding it with a treat when it sits. Similarly, machine RL numerically reinforces (rewards) a software agent when it acts in a desired way. Over time, the agent teaches itself to imitate, plan and perform sequences of actions that lead to better decisions and rewards, even in uncertain situations, all without being given explicit instructions.
Related learning methods, such as Imitation and Inverse Reinforcement, allow agents to observe and improve on the strategies used by humans and other agents.
Multi-agent Systems (MAS): Agents can also learn to cooperate and compete using strategies adapted from game theory that benefit both themselves and the system as a whole. This helps them infer what other agents are doing and adjust for the often surprising, irrational behavior of humans. The result is a safe, efficient, multi-agent system that is smarter than the sum of its parts.
The possible applications of machine decision making are virtually limitless, but let's focus on three examples:
Gaming: ML will soon tackle the thorniest problem in the game industry: maintaining player interest. The key play here is offering gamers "manageable difficulty" -- an optimal level of challenge between getting bored when the game is too easy and frustrated when it's too hard. Hit that sweet spot and your player enters a state of "flow" -- he's in the zone. Fine-tune it to her particular abilities and weaknesses and she becomes fully engaged. The more they play, the better they get. That's what gamers want and will happily pay for.
The next generation of ML will open up completely new classes of games with dynamic, evolving characters and storylines that bring out the best in players and game designers. These might include non-player characters (NPCs) that adjust to each player's style of play and provide personalised interactions. Really smart zombies, anyone? Applying ML principles to learning games could even transform education by tailoring it to every student.
For developers, the biggest, meanest challenge in gaming is testing. Soon complex game elements and performance loads will be virtually tested by teams of humans and agents -- who will do the boring, repetitive jobs a thousand times faster than manual testers. Development costs and time to market will plummet.
Autonomous vehicles: Get used to it; self-driving cars will increasingly take over our roads. They'll start with baby steps -- assisting drivers with lane changes and highway access points. In a few years, they'll graduate to navigating busy intersections and urban traffic. Within a decade, autonomous lorries in reserved lanes will revolutionise goods transport. In less than twenty years -- by conservative estimates -- completely autonomous cars will be common: making travel easy, safe, efficient, and cost effective. Jaguar Land Rover is already testing a vehicle that is "nearly self-driving" in city conditions.
None of this is possible without machine decision making. "If x then y" rules are a non-starter here: you can't program or script a vehicle to respond to every eventuality on a country road, much less a city intersection. Put simply, we'll need probabilistic models to help a car "understand" itself and its environment, reinforcement learning to teach it to drive, and multi-agent systems to make sure it safely shares the road with other drivers, human and AI.
Autonomous vehicles won't be forced to learn the hard, dangerous way either. Just as in gaming, ML can provide a variety of simulated environments where new technologies can be safely trained, tested and examined by regulators.
Smart cities: Our growing cities are complexity squared, and they're going to need to get a lot smarter very soon. By pinpointing spots vulnerable to terror attacks, natural disasters or accidents, ML systems will help regulators identify weak points like terror targets or fire hazards and ensure first responders intervene promptly. Again, ML driven simulations will help planners design, evaluate and test changes to infrastructure in ways that take into account millions of real facts on the ground and in the sky. The impacts of weather, pollution, people and vehicle traffic will be understood well before construction begins on projects like the new runway at Heathrow or the pedestrianizing of Oxford Street.
All this is a small glimpse of the foreseeable future of ML. These are the next few steps in a long history of human intelligence that has always been driven by artificial information, technology and culture, by what we create as much as by what we are. ML tools may never "understand" us, but they will help us better understand ourselves and the forces that drive our lives.
The mythical gods and monsters of AI make for bigger movies and noisier hype. However, the real technologies and promising challenges of ML turn out to be a lot more interesting.