Early this year, Fortune reported on a study they conducted with consulting firm Great Place to Work that said that "companies where fewer employees report fair treatment in regard to race or gender tend to score lower on measures of innovation." And of course there is the famous McKinsey study which found that companies in the top quartile for racial/ethnic and gender diversity are 35% and 15% more likely to have financial returns above their national industry medians.
We know that diversity fosters innovation, but how can organizations -- via their leadership teams -- achieve this? I asked several experts what advice they would give to executive leadership.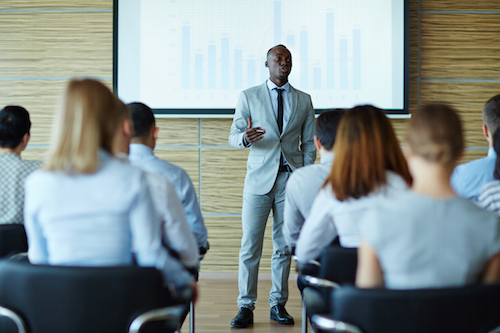 Kimberly S. Reed CDP, Chief Transformation Officer, The Reed Development Group, @KimberlySReed
"It begins with transformational thinking, authentic accountability, value, communication and leadership. Leaders must champion and help to attract, develop and deploy the widest representation of talent within their organization and expanding the roles of high-performing diverse talent. The promotion of high-performing diverse talent into critical leadership roles is how organizations continue to accelerate growth globally and expand their organizational brand.
"Additionally, if you are reaping the benefits of igniting innovative thinking, creating sustainable imperatives, ensuring that your leadership teams are communicating how diversity and inclusion are valuable to how the business makes money, it will forever be in the DNA of your organization. Be proud that your teams are a force for progress. Diversity can't be inclusive if there is no innovation or evolution!"
Stephanie Neal, Research Scientist, DDI Group, @StephanieJNeal
"Senior leaders must commit to creating a culture of diversity, and inclusion, for which they hold themselves accountable. To start, they can encourage diversity into their organizations by adopting practices that help diversify sources of talent, and that rely on making objective decisions based on multi-sourced ratings. They can continue to foster diversity through the use of objective assessment data to make decisions about who should receive a promotion or who has potential for leadership. It's also critical to have a visible champion and executive leader responsible for growing and sustaining diversity. Diversity can't just be treated as a show of hands; it should be treated as an asset, considering new prospects as sources of innovation, diverse perspectives and different thinking. True innovation comes from the inclusion of different voices, and taking action on unexpected or new ideas. The best way to make sure it happens is to seek out and encourage unique and under-leveraged talent. This can be further enabled by recognizing and rewarding those who personally champion and advance diversity, and who seek to build an organization of diverse teams, not just individuals."
David Hekman, Associate Professor, Management and Entrepreneurship, University of Colorado, @davidhekman
"I like what Pete Sayburn, Matt Shields and Maria Chatzou have to say in your recent article Innovation in Action: The Business Leaders' Perspective. I agree with these leaders. They are highlighting the core aspects of an inclusive culture.
"An inclusive culture is basically a culture for opportunity -- where anyone can succeed regardless of how they look. It consists of three dimensions: fair HR practices (i.e. the boss doesn't play favorites), appreciation of differences (i.e. people aren't mocked for being different and expected to assimilate to the dominant culture), and equal decision-making authority (i.e. everyone has a voice regardless of their rank or demographics). In these types of cultures, people actively seek out differences and try to learn from each other. This learning leads to greater innovation, adaptability and performance."
Lee Caraher, CEO, Author The Boomerang Principle: Inspiring Lifetime Loyalty From Your Employees, @LeeCaraher
"1. Set a goal for a diverse workforce. We measure what matters to us. By setting a public goal for diversity, we are more likely to drive towards success.
"2. Become diverse competent. Today's definition of diversity is not binary. Diversity dimensions include race, gender, ethnicity, religion, sexual orientation, personality type, and disability. Sharing experiences from all dimensions of diversity to help employees understand each other is critical to creating a respectful, diverse organization.
"3.The Golden Rule doesn't apply... exactly. Instead of treating people the way you'd like to be treated, it's more important to treat people the way they'd like to be treated. Behavior norms for what is rude and polite vary widely around the world; understanding what respect looks like for each of our team members is paramount."
Gloria Feldt, Co-Founder and President, Take The Lead, @GloriaFeldt @takeleadwomen
"Fostering diversity starts at the top with an explicit CEO commitment not just in words but also actions such as building an intentionally diverse leadership team and showing up at employee resource group events. This creates a culture of inclusion within mutual respect and diversity can thrive. But fostering diversity also starts at the bottom with training to create awareness of implicit biases-we all have them-and skills to reduce them or their effects. For example, Take The Lead offers Gender Bilingual Training that helps men and women understand, appreciate and communicate effectively with each other. Companies that really sail ahead follow up training with formal mentorship, sponsorship, and coaching programs."
Rania Anderson, international keynote speaker and author of Undeterred: The Six Success Habits of Women in Emerging Economies. Company: The Way Women Work, @TheWayWomenWork
"Managers and leaders will drive their businesses success through gender equality, when they shift from being passive to being intentional in advancing women. This means switching from a hands-off, "the company is handling it," mindset to personally encouraging, elevating and sponsoring women. This approach takes much more than acknowledging unconscious bias, and goes even beyond conscious inclusion to taking specific, consistent behaviors that actively advance women. These include: regularly (not randomly) engaging with women to understand their aspirations; encouraging women to take challenging assignments and career progression opportunities; expanding their role from being a mentor who gives advice to a sponsor who creates opportunities; hearing, recognizing and rewarding women's input, ideas and efforts and eliminating workplace practices that unfairly disadvantage women given their work-life demands."
Dr. Omekongo Dibinga, Director, UPstander International, @omekongo
"Leadership teams can foster diversity primarily in their recruiting efforts. You cannot bring diverse groups to the table if they are not even in the building. As the diverse recruiting efforts begin, leadership teams must ensure that there is an open process for staff to voice their concerns. Too often, new groups are brought into organizations and quickly learn that they were hired to fulfill some form of quota and should just be happy to be there. This leads to lack of innovation because people are more committed to doing their best when they are celebrated, not tolerated."
Want to hear more leadership lessons from some of the world's most admired leaders? Check out LeadersIn today!
— Leah Kinthaert, Digital Lead, Communities & Content