In an article on Forbes last month, Chaka Booker wrote: "[Professor James G. March has noted that] homogeneous groups become progressively less able to come up with different alternatives. Not only are new ideas not entering the circle, the ideas already in the circle are redundant."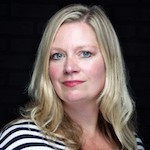 I spoke to 12 business and digital transformation leaders to ask them if they personally have had experiences where they felt the need to break free from an "inner circle" to innovate. The consensus was a resounding "yes" but the way these business leaders did it varied: one executive found that going overseas opened up a whole new world of possibilities for their product, while another discovered that simply alleviating employee fear of retribution got the creative juices flowing. Saher Sidhom of Hackmasters London sums up many of their experiences with this statement: "Mediocrity, 'good enough' is a lot easier than disruption." Read how these 12 leaders worked with their teams to thwart mediocrity and address the attitudes that hold back innovation.
Mike D. Kail, Chief Innovation Officer, Cybric,@mdkail
I've always tried to remain acutely aware of "in-group bias" and have approached lessening the likelihood of that forming in a couple of different ways. First, empower your inner circle with the ability to act with radical candor, challenge ideas and the status quo, and always ensure that there is no retribution, either professionally or personally, for direct discussion and thoughtfully presenting differing viewpoints. Second, make sure that you also discover external, diverse groups and situations to refrain from relying too much on your own personal conviction.
Sally Eaves, Founder, Aspirational Futures; Author Forbes Tech and Kogan Page; Blockchain Mentor, London Blockchain Labs @sallyeaves
Inner circles can offer trusted insights but can become stagnant when lacking diverse and fresh perspectives -- boxing us in and keeping transformative innovation out. "Groupthink" is associated with closed-mindedness, insulation and overestimation (Janis, 1982) alongside issues of confirmation bias. To negate these risks, I have orientated towards evidence-based interdisciplinary research and alternate sector insights that inspire creativity when adapted to new contexts.
I also seek to catalyse intrapreneurial open innovation through hackathons and dedicated experimentation spaces -- "makerspaces." Often met with surprise, the results are empowering for individual and organization alike. I believe this personalised approach enables co-creation, inclusivity and diversity, fostering rather than killing innovation.
Milan S. Lakhani, Senior Client Principal, Business Innovation Centre, Europe Konica Minolta Inc.@KonicaMinoltaEU
Fresh air is a necessity to ensure innovation is given space to breathe, expand and provide an adequate space to grow. In innovating within the inner circle, [good] ideas can be missed. It is important to shape and communicate a strategy clearly, so new ideas have a pre-alignment and quality check, before proposal.
We established an intrapreneurship programme (employees spending 10% of their time working on real business challenges over six months), which has delivered tremendous results to date, whilst triggering an innovation movement for others to follow suit, enhancing our dynamic culture of transformation and expanding the "inner" circle.
Milan Lakhani is a featured trainer at our 5 Day Innovation MBA in June.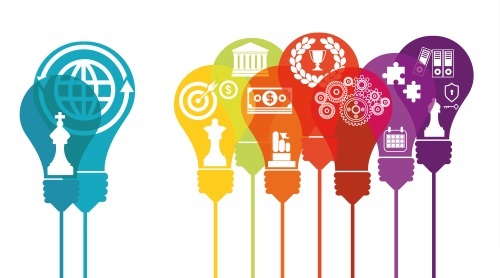 Simon Torrance, Senior independent advisor on Business Model Transformation @Simon_Torrance
The problem relates to what British humorist C. Heathcote Parkinson called the Law of Triviality, which states "at any board meeting the amount of time devoted to an item on the agenda will be in inverse proportion to the difficulty of the issue."
It reflects a simple human truth that change is difficult and most people prefer to avoid it and continue doing what they know best.
My work focuses on business model transformation, which is the most difficult sort of "change" but vital for all organizations today in an increasingly digital and complex world.
My starting point is always to address and reset leaders' mental models.
Simon Torrance will be presenting at KNect365's New Growth Playbook online course which starts in May.
Tom De Ruyck, Managing Partner and Head of Insights Activation, Insites Consulting, Professor, IÉSEG, @tomderuyck 
This is true. 100%.
That's why I am a big fan of crowdsourcing among the creative 1%ers. They bring in fresh ideas that the people within the organization can start to work with.
They still have the ability to think out-of-the-box. People within an organization think too much within certain boundaries and in most cases they have very similar ideas too. For me a company needs to work together with its customers to find out their unmet needs. They need to brief creative people outside the organization to come up with ideas to solve the customers' problem. People within the company can than select, merge and execute those ideas and turn them into new products/services. That's what I call "360 degree innovation."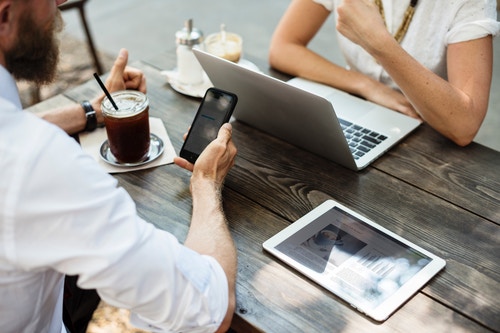 Anderee Berengian, co-founder and CEO, CIE Digital Labs, Managing Partner, Rezven Partners, @anderee
At CDL, we consistently recognize that instead of solely relying on an internal cohort, a different, external perspective better informs our strategic decisions to create innovative and disruptive solutions. This form of collaboration is like genetic diversity -- different species coming together to make it stronger.
A great example is our work with auto industry veteran James Chen, President at ASAP Tire, a mobile tire installation company. We could leverage James's auto industry knowledge to tailor exceptional solutions for ASAP. CDL's expertise and James's novel perspective as someone embedded in the vertical only strengthened our strategy and execution.
Leonardo Zangrando, MSc Naval Architect, MBA. Founder Startup Wharf, @lionZan
A large organization decided to include startup-driven innovation in their innovation strategy. They did it -- as many do -- through the creation of a corporate accelerator.
This seems like a great idea to get started engaging with startups, since it opens up to their fresh ideas, while keeping control of the access to these ideas. However this obsession with control made the initiative's success questionable, as it forced startups to fit to corporate groupthink if they wanted to achieve the objective of working with the organization.
To be successful engaging with startups an organization must be able to let go of the need for control and develop a startup mindset itself. I look forward to CMA-CGM new incubator zeBox, the first corporate maritime incubator built for and around startups rather than as a walled garden of innovation.
Harvey Wade, Innovation Program Lead, Cisco@HarveyJWade
A core innovation principle that I adhere to is the need for diversity of thought in the innovation processes. To find the best solution, you must look at the problem from different perspectives. Groupthink or so called expertise can discourage or kill the necessary diversity of thought, resulting in poorer decisions that could hurt the organisation. Leaders must encourage the naysayers, the agitators, the crazy ones to speak up and allow the arguments to take place. It will be uncomfortable, but it will ultimately get you to a better, unexpected and more successful outcome.
Harvey Wade was a featured trainer at our 5 Day Innovation MBA in 2017.
Cristene Gonzalez Wertz, Electronics Research Director, IBM Institute for Business Value, @hermione1
I think it's not the circle that's the problem in that description… it's the leadership. Culture drives the fear.  And I'll give you an example right now. I am working with a fellow colleague on developing a corpus on  particular subject. In documents, we've used words like "experimental," "test," "hypothesis," "developmental" to make it clear that this is a "knowledge pursuit" and the outcome is very uncertain. My leadership gets that we are trying to do something different and as long as we document our approach, receive the counsel of other experts and continue to see what works and doesn't.
In cases like this, sometimes it's a benefit to be in a large organization where you have that latitude and access. We might not succeed, but we will have at least some information and knowledge to share with the next team who attempts this.
Saher Sidhom, Founder Hackmasters London, @sahersidhom
Three things inhibit transformation from the inside: Identity, people become their job title. To radically transform means a deep re-evaluation of who you are and how you perceive yourself and are perceived by your peers. Legacy, everything that "worked" before stops everything that should work "next' new business models should cannibalise old ones. Mediocrity, "good enough" is a lot easier than disruption. To get to breakthrough innovation you have to break away from your tribe, their respect and the false sense of comfort that an inner circle provides. The moment you do, you enter the world of networks and ecosystems where radically different tribes are changing the world.
Saher Sidhom was a featured trainer at our 5 Day Innovation MBA in 2017.
Constantine Komodromos, Co-Founder and CEO VesselBot, @VesselBot
The shipping market has this kind of inner circle which are the leaders of certain communities who were very successful in what they were doing in their days so a homogenous group of people matching exactly the way Chaka Booker describes.
This was our experience with VesselBot when we started implementing our customer discovery journey and started interviewing the local shipping community. The responses we received were that our proposed product and venture would never succeed and that it would never happen without much reasoning. We could have stopped exploring our business case but did the contrary and decided to do the same research abroad. That was an "aha" moment. Suddenly we identified other clusters which had less closely knitted ties to each other that were more willing to listen to what we had to say -- although I cannot say that everything was easy and the road was paved with roses -- and indeed were happy to consider the product and even to assist in developing it.
Theodora Lau, Founder, Unconventional Ventures, Steering Committee Member, VC Innovations, @psb_dc
No matter what industry you belong to, chances are, you have run into tight-knit circles of trust. Problem is, these circles also tend to shut out ideas that aren't their own. I recall working in a team set in their own ways, operating under the same business model with the same business partners for years. Fortunately, I was able to find a colleague in a different group that shared the same passion and point of view -- and we were able to partner up and pursue our goal. Moral of the story? When one door closes other doors will open.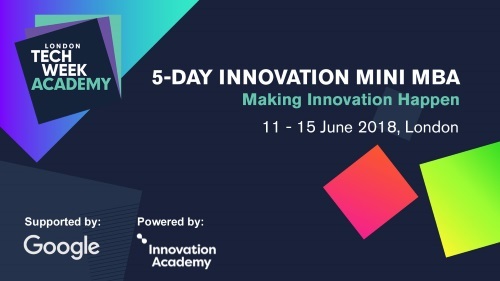 This June don't miss the Google/London Tech Week 5-Day Innovation Mini-MBA, which will empower participants to take corporate innovation frameworks and capabilities back to their organizations. Whether you work in marketing, development, innovation, finance or sales, the London Tech Week 5-Day Innovation Mini-MBA program will set you up with the tools you need to transform your ideas into reality and trigger cultural change.
— Lean Kinthaert, Digital Lead, Informa