Ahead of London Tech Week's flagship event and exhibition, TechXLR8, (June 12-14, 2018, ExCeL, London), TechX365 is featuring the 2018 TechXLR8 Change Makers -- a list of prominent tech thought-leaders challenging the expected and changing the future of industry and society. In this feature, Jeff Travers (below left), head of IoT at Ericsson, discusses how the effectiveness of an IoT application relies on key collaborations and effective interoperability.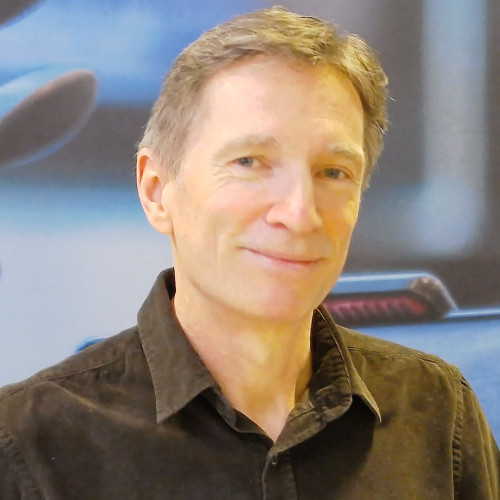 IoT has evolved from simple M2M (machine-to-machine) into the foundation of the digital transformation plans of many enterprises. IoT is already growing fast and will generate great value to those who use it well.
IoT – without the 'I'
But despite the expectations, a true "Internet of Things" doesn't exist yet. What do I mean by that? Currently, we have connected things, many things, but they are connected in silos and not
to each other with the interoperability we know of the Internet
.
The collaborative any-to-any spirit of the Internet is not there yet. To make a difference -- big or small -- we must capture that collaborative spirit as we work to expand the possibilities of connected things.

The smartphone world has achieved enormous scale economies and reach, by building upon some common standards. IoT will need to move beyond its current fragmentation in order to achieve the same economies.
So, how do we get there? As I see it, the change journey to the true Internet of Things consists of four steps. Each of these steps (Connect, Manage, Secure & Monetize) addresses a key pain point for IoT ecosystems.
Step 1: Connect
The first step to IoT collaboration is connecting: sensors, devices, robots, vehicles, machinery and infrastructure. The choice of technology matters, and it usually starts at the level of chipset and operating system for the devices -- choices made here will have lasting impact. Once devices are installed in the field, it's expensive to revisit them to upgrade. So make the right choice early on. Don't connect with just anything -- the IoT connectivity enterprises choose matters. The advantages of
cellular connectivity
are global standards, reliability, security and scalability.
A wide variety of IoT use cases are emerging today. With the unique combination of rich functionality, wide performance range and robust performance, cellular provides a strong foundation for many (if not most of) these cases.
Existing cellular network infrastructure can accommodate the massive amount of sensors being deployed in smart facilities and smart cities. At the same time, cellular can also provide the mission-critical connectivity needed for IoT vehicles and machinery performing important jobs, even in remote locations.
Step 2: Manage
Connecting is just the first step. To reach that goal of a collaborative Internet, you need a way to manage connectivity, devices and data -- all in one place.
As an example, in buildings, we will soon see one sensor per square meter of building space -- but today 20 minutes is the standard time needed to deploy an IoT device. That is not a scalable model.
Anyone who has attended Mobile World Congress in Barcelona knows that the Fira Gran Via building is a massive space. At 240,000 sq m, it would take 18,720 hours (nine years of labor) for onboarding alone for a smart building of such size.
Through our IoT Platform, IoT Accelerator, we can enable telecom service provider to offer connectivity management to enterprises. This allows the enterprises to control and track all of their IoT devices and networked assets locally, regionally and globally. Ericsson IoT Accelerator also provides Zero Touch Onboarding, which makes device onboarding effortless and nearly instantaneous.
We manage these devices to retrieve the key datasets -- for analysis, for making data-driven actions, for feeding back into our R&D cycles, and to share with partners.
Step 3: Secure
Once we start engaging direct with customers, and increasingly with partners, there needs to be trust amongst all parties in the IoT ecosystem. With new technologies come new security threats. Making sure everyone is paying attention to these threats presents a challenge to collaborative innovation.
The characteristics of IoT put new demands on each player in the ecosystem. IoT decisions need secure and reliable data. Ericsson provides an IoT security "trust stack" that collaboration can be built on, helping assure that each link is secure.
Step 4: Monetize
As large datasets and insights are created, and as partner ecosystems are built, monetization quickly becomes a priority. It is among the most challenging aspects of moving into IoT, often due to the emerging "any-to-any" IoT business models, which don't fit well with existing billing systems. Without a solid way to monetize the value to all the parties in the ecosystem, IoT is not going to be funded.
The complexity of the ecosystem model requires an agile and flexible solution to generate revenue. In the non-linear value chain of IoT, a system must be able to bill and make settlements at the same time. Ericsson helps businesses monetize IoT opportunities for any industry, any business model and any revenue stream.
Why does IoT matter?
Because digital transformation often starts with a plan to convert a product sale into an as-a-service offering, to add more value and secure repeat revenues. It can generate product efficiencies, new features to offer, and engage new partner ecosystems. Most visibly, it enables manufacturers who previously sold through dealers or wholesalers to now engage direct with their end users to understand the product value points.
Join the journey to collaborative IoT success
My colleagues and I at Ericsson are dedicated to taking on the IoT together with our partners. Part of that journey so far has been carefully considering solutions to each of the pain points listed above.
Beyond just tools to manage connectivity and connected assets, we help businesses build trusting relationships using our IoT services. With flexible monetization solutions, business models can evolve, and ecosystems can continually expand.
So, are you ready to find your place in the IoT ecosystem? Join us as we go beyond the hype and build a truly collaborative Internet of Things.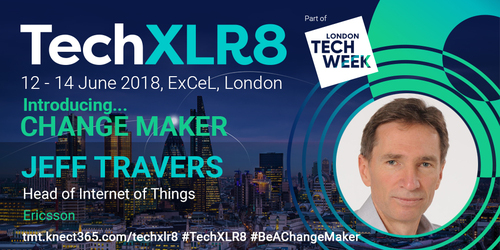 Jeff Travers will be delivering the IoT World Europe Keynote on: 'Telecom Industry's New Reality: A World Built on Robust Ecosystem Collaboration' at 11:30 a.m. on Thursday June 14, 2018. Access the keynote and meet the IoT and global tech Change Makers, by purchasing your TechXLR8 Premium Pass here.
Covering IoT, 5G, AI, Cloud & DevOps, AR/VR, Digital CX, Blockchain, Smart Transportation, startups and more &nsdash; TechXLR8 brings the entire technology sector together for three days of free-to-access keynotes (Featuring: Wikipedia, Hyperloop, GE & BT), a large-scale exhibition, demo zones, a hackathon and hundreds of hours of panel discussions and summits. You can attend TechXLR8 for free by registering for the TechXLR8 Visitors' Ticket here.
— Jeff Travers, Head of Internet of Things, Ericsson