Challenging the Expected – This Was Day 1 of TechXLR8 2018
The first day of London Tech Week's anchor event featured the leading minds challenging the expected and changing the future of how we live, learn and connect.
Covering the entire tech and enterprise ecosystem, TechXLR8 (June 12-14, ExCeL London) welcomed keynote speakers, Jimmy Wales (co-founder, Wikipedia), Bill Ruh (CEO, GE Digital), Martha Lane Fox (co-founder, lastminute.com), Gavin Patterson (chief executive, BT), Rohan Silva (co-founder, Second Home) and more, to the London Tech Week Headliners Stage -- discussing how tech is shaping major industrial giants and telecoms operators, through to startups and the next wave of potential tech entrepreneurs.
Take a look at the conversations that characterized day one at TechXLR8, including a special video message from the Mayor of London, Sadiq Khan. If you want to shape the future of technology, find out more about TechXLR8 2018 here.

— Amy Turner, Head of Digital Content, KNect365 TMT
Maria McSorley, Site Editor, TechX365, 6/18/2018
The cloud has completely changed the way we shop, from the web to mobile and now voice.
Elliott Heath, Reporter, TechX365, 6/18/2018
Blockchain can help startups gain the trust of investors and help them to attract funding, explains San Francisco-based Alexandra Alden.
Phil Oakley, Site Editor, TechX365, 6/18/2018
GoCompare has ranked each UK city in terms of broadband connectivity, mobile connectivity and WiFi hotspots. And it's bad news for Exeter...
Elin Gronow, Content Marketer, Connected Innovation, KNect365 TMT, 6/15/2018
Sam Shah from the NHS and Hayley Cochrane from the Mail Online tell the Digital CX World audience about how their organizations are undergoing digital transformations.
Phil Oakley, Site Editor, TechX365, 6/15/2018
Reporting on data and citing stats is for robots. Be a human. Tell stories. That's the advice from Emily Hunt, chief data storyteller at 36ns, who spoke at the Data Festival London this week.
All resources
Thursday, May 24, 2018
12 pm London / 7 am NY

Tech is transforming the way we live, travel and do business. Industry leaders will discuss the challenges and opportunities we're seeing as our cities become increasingly connected.
João Fernandes, Founder, Buzzstreets, 6/13/2018
Indoor navigation is going to completely change our shopping centres and the entire retail experience.
Neil Murray, co-founder and CTO, Mimecast, 6/12/2018
How can we secure London's tech talent for future generations to benefit from?
Sponsored Blogs, 6/12/2018
The Quintessence AM37 lets you try out the same boat James Bond would use in a full VR experience.
Roger Vigilance, Marketing Director, Vonage UK, 6/12/2018
Companies need to get ahead of the cloud competitors in order to win over customers.
Rob Mellor, VP & GM EMEA, WhereScape, 6/8/2018
Why are hackathons all the rage amongst developers and startups?
Salman Khan, Toronto Global, 6/8/2018
Why is Toronto the place to be for artificial intelligence developers? Salman Khan from Toronto Global explains.
All Sponsor Blogs
Industrial IoT Usage & Maturity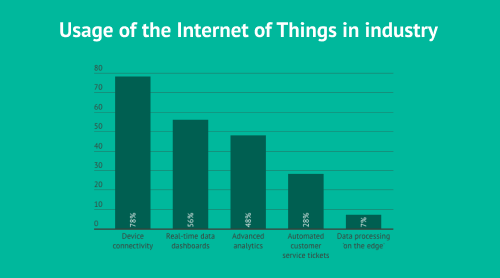 Infographics archive