Member Since: June 11, 2018
Web developer at ComFi.
We have Customer Service Representatives available 24/7 for prepaid phone card assistance and offer a 100% satisfaction guarantee on all of our international phone cards and domestic calling cards and we're sure that you'll love using our refillable phone cards and calling card services.
ComFi is the leading retailer of online international calling cards because we work hard to satisfy the phone card needs of each and every consumer. We carry a wide selection of the best prepaid calling cards available and believe that all customers, whether they're looking to call internationally with cheap phone cards or hoping to save on domestic calls within the United States, deserve to experience quality calling card service.
Phil Oakley, Site Editor, TechX365, 8/20/2018
Bulb is only 4 years old, but already supplies renewable energy to 670,000 homes across the UK.
Phil Oakley, Site Editor, TechX365, 8/17/2018
32% of companies believe AI will be commplace in business within a decade, but 32% of people feel they will be left behind by the rate of technological change.
Phil Oakley, Site Editor, TechX365, 8/16/2018
Healthera's app helps patients track their prescriptions and get in contact with a pharmacist, easing the strain on overworked GPs.
Phil Oakley, Site Editor, TechX365, 8/15/2018
London Sport aims to get 1 million Londoners active by 2020, and believes tech is the way to do this.
Phil Oakley, Site Editor, TechX365, 8/14/2018
95% of respondents to the study by Couchbase said digital transformation can feel like an insurmountable task, increasing the risk of failure.
All resources
Thursday, May 24, 2018
12 pm London / 7 am NY

Tech is transforming the way we live, travel and do business. Industry leaders will discuss the challenges and opportunities we're seeing as our cities become increasingly connected.
Aoife Geary, Content Editor, Jobbio, 6/13/2018
Why is London's startup scene the best in the world, bettering Silicon Valley, New York City, Tel Aviv and Beijing? Aoife Geary from Jobbio explains.
Farah Cuyvers, 6/13/2018
The global startup ecosystem is booming right now.
Joćo Fernandes, Founder, Buzzstreets, 6/13/2018
Indoor navigation is going to completely change our shopping centres and the entire retail experience.
Neil Murray, co-founder and CTO, Mimecast, 6/12/2018
How can we secure London's tech talent for future generations to benefit from?
Trak Ellis-Hill, Executive Creative Director, MOFILM, 6/12/2018
Is it possible to have a full-time job in tech and have children?
Sponsored Blogs, 6/12/2018
The Quintessence AM37 lets you try out the same boat James Bond would use in a full VR experience.
All Sponsor Blogs
Industrial IoT Usage & Maturity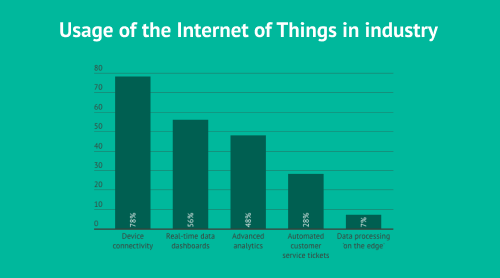 Infographics archive