Over the last 20 years, Formula 1 has become one of the most high-tech sports in the world. The cars are electronically controlled by computers, with drivers who seem almost superhuman piloting them around race tracks all over the world. In 2017, the cars use hugely complicated engines and highly advanced aerodynamics in an attempt to win a race and, ultimately, the Drivers and Constructors World Championships.
Since 2014, the Mercedes team, based in Brackley, Northamptonshire, has dominated Formula 1 with drivers Lewis Hamilton, Nico Rosberg and Valtteri Bottas. On Sunday Lewis Hamilton won the British Grand Prix, held at Silverstone, to come within one point of championship rival and current leader Sebastian Vettel.
Since 2014, the cars have used 1.6 litre V6 engines with turbochargers at their beating heart, but there is a lot more to it than just this relatively small engine. The overall power unit uses complex electrical energy to give the cars additional power, making them what is known in the automobile industry as "hybrids", much like a Toyota Prius or Honda Civic, except much more advanced.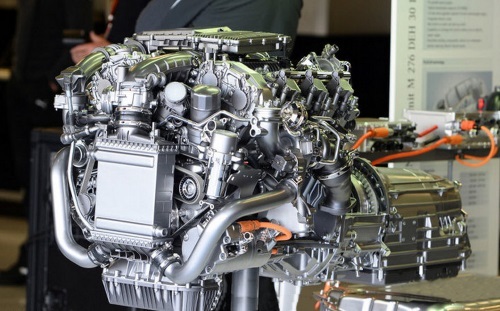 The hybrid technology recovers energy lost under heavy braking, routing this energy back to a lithium-ion battery. This then gives the cars more power to use on long straights; the power units with better energy recovery, such as cars powered by Mercedes, will be able to overcome a car with energy recovery which can't quite stand up to the best. This is frequently seen when a car tries to pass one of the McLarens, which is powered by Honda and has continuously struggled both with the power from the V6 engine and with energy recovery, leading the team's cars to be left behind by its rivals on long straights.
Formula 1 using hybrid technology is incredibly important for the car industry. As manufacturers increase production of hybrid and electrical road cars, they need to develop this technology in order to have the most efficient units they can have, saving customers fuel on the road. This is why F1's four power unit manufacturers -- Mercedes, Renault, Ferrari and Honda -- invest millions a year into F1 technology and beating their rivals. The motorsport adage "win on Sunday, sell on Monday" might sound old-fashioned nowadays, but it still rings true. Since they started dominating Formula 1 in 2014, Mercedes sales have risen astronomically both in Europe and the US. While the correlation of the two may not be direct, it is likely that F1, as the biggest and best-known form of motorsport in the world, has helped in at least some way, even on a subconscious level, to casual fans and viewers looking for a new car.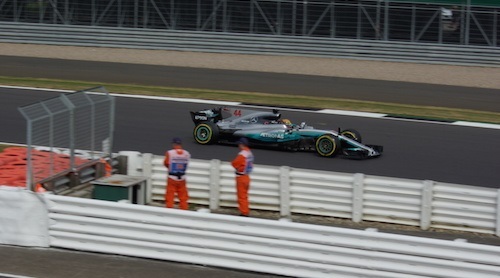 However, the power units are not the only thing which helps an F1 team keep its nose in front. The data collected at the side of the track is vitally important to how a team functions too. This data is called telemetry, and has been used in F1 for over 30 years. Over each lap of the track, a modern F1 car will generate around 35MB of data. Each team has two cars, so over a race weekend, this will generate around 5GB per car. Coupled with extra data from practice on Friday, the total output is around 30GB for both cars. (See Williams Martini Uses BT in Winning Formula.)
This telemetry monitors everything the team could possibly want to know about a car's performance. There are cameras aimed at the tires monitoring thermal performance, sensors for aerodynamics, hundreds in the power units, and many more, placed all over the car. This data is sent back to the team from the car by radio frequency (RF), and can also be collected by the team on the cars return to the pits.
This data is constantly analyzed by the engineers in an attempt to squeeze out a little more performance for the car. Every thousandth of a second matters -- races have been won on less -- so if the engineers can find a way to gain two-thousandths while the car enters or exits a corner because the car could be travelling a fraction of a mph faster, then so be it.
Everything in F1 is top secret, so it's hard to know what developments the teams are looking at to gain them more time on track, but it's likely they are all looking at some form of artificial intelligence to help with the massive amounts of data to be analyzed. Machine learning, for example, could be used to find where a tire is getting too hot, causing the rubber to "grain" and lose grip, thereby warning the team, who can possibly rectify it by changing minute details on the car's set-up.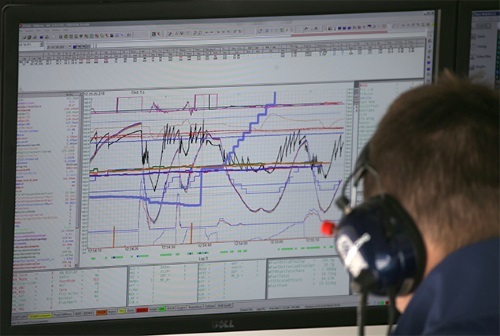 AI could also help with strategic decisions. Strategy in F1 is vitally important; the teams already run thousands or even millions of race simulations overnight between Saturday and Sunday, taking into account their position on the grid -- achieved during qualifying -- and the other variables, such as weather, tire compounds and fuel, among others. While computers currently analyze this data and attempt to make sense of it, showing team engineers the best strategy for finishing as high as possible, in the future the AI could take this to the next level, recommending to the team what it can do to finish in the points, on the podium, or win the race, without any human interaction at all.
F1 is a hugely complex sport -- possibly the most complex in the world, due to the incredible cars and breathtaking speeds, plus the millions of variables that can cause a car to win or crash out at a moment's notice. As time goes on, expect to see more technology used and for the teams to spend even more money on squeezing out more time from their cars.
— Phil Oakley, Site Editor, TechX365