Snap in Talks to Buy Chinese-Based Drone Startup – Report

Snap is mostly known for developing Snapchat and the yellow-camera-equipped "Spectacles," but it seems its ambitions go way beyond that. The Information is reporting that Snap is flirting with the idea of acquiring Zero Zero Robotics, a Beijing-based drone maker which sells its drone exclusively at Apple Stores.
The drone, named the Hover Camera Passport, hovers at eye level and takes selfies and videos of you. Predictably, Zero Zero Robotics' promotion video shows good-looking people jumping off cliffs into the sea and cycling through picturesque villages, but the drone could be used for anything from a quick vlog on a road trip to a longer, fully featured video. In short, it's not hard to see why Snap wants to buy the company and to encourage people to use drones for social purposes.
If the acquisition goes ahead, it would be a major expansion to Snap's hardware team, which created the Spectacles last year. The acquisition of a drone company has been a long time coming for Snap -- it has been considering the idea for since early 2016 according to The Information and Engadget, and bought a tiny outfit based in Los Angeles last year. (See Snap Launches Spectacles in Europe.)
Zero Zero's CEO, Meng Qiu Wang, has denied the reports, but this isn't entirely unusual -- executives involved in deals and acquisitions often deny any negotiations are taking place until the deal is signed and sealed. Likewise, Snap isn't commenting on the rumors at all. That said, it would make a good deal of sense for Snap -- a drone sold by a company that is known for its social media app might encourage people to use a drone to get photos of a concert, festival, or just everyday life. Not to mention that this deal should give Snap a considerable boost in hardware, which it desperately needs if its to compete with the other large technology companies, all of which are at least dabbling in hardware, and to diversify its revenue streams amid a falling stock price.
— Phil Oakley, Site Editor, TechX365
Phil Oakley, Site Editor, TechX365, 8/17/2017
SoundCloud will continue as an independent company after investors agreed to inject more money, as CEO Alex Ljung steps aside.
Phil Oakley, Site Editor, TechX365, 8/16/2017
Industry research firm Gartner has projected that global spending on cybersecurity will reach $86.4 billion by the end of 2017.
Phil Oakley, Site Editor, TechX365, 8/16/2017
imin, an east London startup, is using open data to change how people think about and book physical activity sessions at their local gym, leisure center, football pitch or swimming pool.
Phil Oakley, Site Editor, TechX365, 8/16/2017
Apple R&D partner Asynchrony Labs has announced it has opened its European headquarters in London's Canary Wharf business district.
Phil Oakley, Site Editor, TechX365, 8/15/2017
UK recruitment firm Robert Half has published a report on how the executive suite and workforce in general is changing with the addition of automation, big data and analytics.
+rehabstudio, 6/19/2017
It's going to become increasingly hard for brands to stay relevant by only selling their physical goods without also creating useful services that consumers invite into their lives.
Ryan Loftus, JLL, 6/13/2017
JLL senior analyst Ryan Loftus looks at the potential impact of technology innovation on urban logistics.
Amanda Eliason, New Zealand Trade & Enterprise, 6/13/2017
Technology development is bringing New Zealand and the UK closer together, notes Amanda Eliason of New Zealand Trade & Enterprise (NZTE).
Michael Davis, JLL, 6/13/2017
Michael Davis, Head of London Unlimited at JLL, looks at trends in PropTech.
Innovation Hub, 6/12/2017
Seizing the potential of Big Data is critical to the future of many businesses but it's best to start small.
BlueCurrent, 6/9/2017
And why you should come find out how to do world class PR at the London Tech Week event.
All Sponsor Blogs
All resources
Time to Hire a Data Scientist?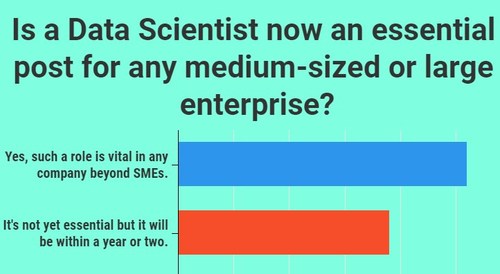 Infographics archive