NHS Data Could Be Given the AI Treatment

The UK's National Health Service (NHS) serves 65 million people, but much of the data it generates is not extensively mined. That, though, may be set to change.
In a new UK government-commissioned review, Oxford University's Sir John Bell has has indicated that NHS data could be used to feed AI networks and develop other algorithms that could be used throughout the NHS.
The NHS serves the vast majority of the UK population -- Bell puts it at 65 million in the report -- so the data it collects would provide a very representative view of the UK's overall health and could provide useful insights for all parts of the NHS and the people it treats.
In the review, Bell, one of the UK's Life Sciences Champions, notes: "The development of platforms to enable deidentified health data to be appropriately used to research and develop technologies would be of great benefit to patients in the system, to those managing the NHS and to researchers attempting to develop new therapies or improve NHS care."
Unlike data from revenue-generating organizations such as Transport for London, a private enterprise that opened up its data in 2007 -- and upon which the app Citymapper was built -- it is unlikely that this data could be made open, due to the strict confidentiality rules to which the NHS adheres. However, there is nothing stopping the NHS from using the data itself, to increase the quality of care for patients or to research new drugs and treatments.
In the report, Bell states, "Enhancing the UK's capabilities for discovery and development of new medicines, creating new diagnostics and medtech capabilities, and building companies that develop whole new areas of medical innovation using data analytics, artificial intelligence and engineering will allow the UK economy to benefit from the next exciting era of health-related innovation and will also provide the tools for transforming our healthcare system."
The NHS will have to be careful here, however: Earlier this year it was caught in a data-sharing scandal, when the NHS Royal Free Hospital engaged in a deal to "to develop and deploy a new clinical detection, diagnosis and prevention application and the associated technology platform for the Trust" with Google-owned DataMind. The Information Commissioner's Office decided that this went against data protection laws and duly made the Royal Free Hospital undergo training to improve management of its data. (See DeepMind NHS Deal Breached Data Protection Laws, Says ICO.)
The entire, 75-page report is available to read here and covers five sections: "Reinforcing the UK Science Offer", "Growth & Infrastructure – making the UK the best place for life sciences businesses to grow", "NHS collaboration", "Skills" and "Regulation".
— Phil Oakley, Site Editor, TechX365
Phil Oakley, Site Editor, TechX365, 9/20/2017
AmberBox uses machine learning to detect gunfire, meaning police turn up to a shooting faster.
Phil Oakley, Site Editor, TechX365, 9/19/2017
What does the public think about 'superintelligence' and its development?
Phil Oakley, Site Editor, TechX365, 9/18/2017
TechX365 talks to Christian Hernandez, co-founder and managing partner of White Star Capital, a venture capital firm with offices in London, Paris, Montreal and New York.
Phil Oakley, Site Editor, TechX365, 9/15/2017
According to a report from TalkTalk Business, only 18% of UK companies believe investment in artificial intelligence is a priority, while 3% of employees believe their company is "leading edge."
Phil Oakley, Site Editor, TechX365, 9/14/2017
Samsung is launching a new 'Automotive Innovation Fund' in order to accelerate the development of its autonomous driving technology and catch up with its rivals.
Wednesday, September 20, 2017
11am BST
The brutal truth for any startup is that the chances of long-term success are relatively slim – factors such as a lack of access to capital, poor management skills, a misguided business plan or sheer bad luck all weigh against fledgling companies. So what can startups do to maximize their survival potential? Tesco Technology, an influential and experienced organization, will talk about what they look for in a successful startup, how and why they work with startups and how rookie companies can make the grade and be a long-term survivor. This is a highly relevant webinar for any startup but a 'must attend' for any young company in the energy and retail technology sectors.
All resources
Microsoft reporter, 7/7/2017
The UK's history of embracing technology and innovation means its capital is well placed to benefit from the "fourth industrial revolution," says Microsoft UK CEO Cindy Rose.
Nopporn Suppipat, Blade Group, 6/12/2017
Since its arrival in the 80s the PC has been evolving -- and its latest transformation, argues Nopporn Suppipat, could well be its last.
Paul Bulpitt, Xero, 6/12/2017
Paul Bulpitt, head of accounting at Xero and co-founder of The Wow Company, explains why using artificial intelligence capabilities can be a positive for accounting firms.
Euan Mills, Future Cities Catapult , 6/6/2017
Smart, digital technologies are starting to transform the city planning process, argues Euan Mills.
All Sponsor Blogs
Public Opinion of Superintelligence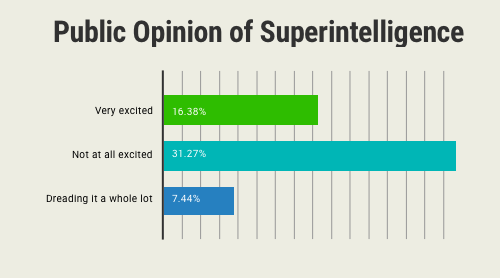 Infographics archive